Trump Claims Barack Obama Knew about FBI Russia Investigation: 'You're Going to Find That Out'
President Donald Trump said former President Barack Obama "had to know" about the FBI "setup" to investigate his campaign, but shied away from directly accusing Obama of initiating the investigation for the time being.
In a wide ranging interview with ABC News' George Stephanopoulos set to air Sunday, Trump repeatedly complained about Special Counsel Robert Mueller's report and the origins of the Russian collusion investigation as a whole. Trump reiterated he "did nothing wrong" and denied ever asking members of his administration to fire Mueller, which directly conflicts with sworn testimony from Don McGahn. Trump said he never testified under oath because investigators were "looking to get us for lies."
"The big thing is collusion, now there's no collusion. That means they set — it was a setup. In my opinion, and I think it's going to come out," Trump said of the Russia investigation and its 2016 origins.
Trump cautioned that if details of the FBI's counterintelligence investigation into his campaign and alleged Russia ties had come out before the election it's very possible he would have lost to Hillary Clinton.
"I don't think I would have had enough time to defend myself," he said.
Stephanopoulos pressed Trump to clarify why he kept bringing up the Mueller report in unprovoked portions of the interview.
"You clearly believe that there was a group of people working against you. Do you think President Obama was behind it?" he asked.
"Uh, I would say that he certainly must have known about it because it went very high up in the chain," Trump said. "But you're going to find that out, I'm not going to make that statement quite yet, but I would say that President Obama had to know about it."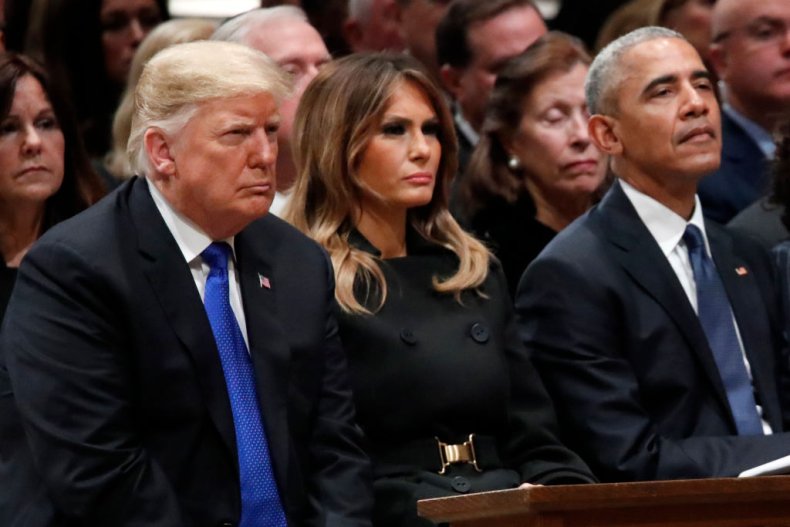 Stephanopoulos questioned why, if Trump is so confident in his honesty, would he answer the ABC News interview questions and not testify to Mueller under oath.
"Because they were looking to get us for lies, for slight misstatements. I looked at what happened to people and it was very unfair, very, very unfair. Very unfair," Trump said, before adding that he is not concerned about being prosecuted once he leaves office.
"I did nothing wrong, George. I did nothing wrong," said the president. "There was no collusion, you don't even hear Russia mentioned anymore. Now it's all about obstruction of what? They built up a phony crime. They hired a man that hated Trump. He hired 18 people that were Democrats that hated Trump. Some of them contributed to Clinton's campaign. A couple of them worked for Clinton, what kind of a rigged deal is this?"
Trump continued, "And on top of it, after two years, after being the most transparent in history I gave them 1.5 million pages of documents, I gave them four or five-hundred witnesses. I let Don McGahn testify."
Trump also lashed out at what he described as FBI "lowlifes," including former agent Peter Strzok and former FBI attorney Lisa Page for helping put together an investigation simply to tarnish the president's time in office.
Trump and several high-ranking Republicans have consistently floated the unsubstantiated claim that Obama and Clinton allies helped spark the Russia investigation. But it was conservatives from The Washington Free Beacon who were behind the initial contracting of a group tied to former British agent Christopher Steele and his dossier that was part of opposition research against then-candidate Trump. The Beacon dropped the project once Trump won the Republican Party nomination for president.
Trump said he doesn't know if he answered questions about obstruction, specifically, but that he answered "a lot of questions" in writing that were submitted to Mueller's team. He rejected the testimony of former White House counsel Don McGahn, who claimed under oath that Trump twice called him and directed him to fire Mueller, demanding that "Mueller has to go."
Trump referenced former Republican President Richard Nixon firing several people to cover up the Watergate scandal in October 1973 as justification for not firing Mueller, "that didn't work out too well."
"Number one, I was never going to fire Mueller. I never suggested firing Mueller," Trump said before accusing McGahn of lying under oath about the conversations to make himself look good. "Robert Mueller was conflicted... Robert Mueller had a total conflict of interest."