Only Half of Donald Trump's Base Supports a Paul Manafort Pardon, New Poll Indicates
A mere half of President Donald Trump's core base believes he should pardon his former campaign chairman Paul Manafort, according to a poll released Friday amid the fallout from Manafort's conviction earlier this month and a guilty plea by Trump's former fixer and lawyer, Michel Cohen.
Trump earned one of his lowest approval ratings—36 percent, compared to a disapproval rating of 60 percent—in The Washington Post /ABC News poll. Only 18 percent of respondents signaled they were in favor of a Manafort pardon.
The poll indicated two-thirds of respondents were against a Manafort pardon, including 53 percent who were "strongly" against it.
Manafort was convicted earlier this month on eight of 18 federal charges brought by special counsel Robert Mueller's probe of Russia's meddling in the 2016 election. After a jury found Manafort guilty of tax and bank fraud, Trump expressed sorrow for his former top campaign official.
"I feel very badly for Paul Manafort and his wonderful family. 'Justice' took a 12 year old tax case, among other things, applied tremendous pressure on him and, unlike Michael Cohen, he refused to 'break' - make up stories in order to get a 'deal.' Such respect for a brave man!" Trump tweeted following the verdict.
Within an hour of Manafort's conviction, Cohen, the president's former personal attorney, pleaded guilty to a number of charges, including campaign finance violations. Cohen also stated that Trump had directed him to pay off women who claimed to have had affairs with the president.
Despite Trump taking to Twitter to appeal to his base and blast Mueller's investigation, the new poll indicated that 67 percent believed the special counsel's prosecution of Manafort was "justified," with only 17 percent asserting it was "unjustified."
Mueller, who had seen his approval numbers dip since his appointment in May 2017, received a show of support from respondents. Sixty-three percent of those polled backed his investigation, including 52 percent "strongly" supporting it.
The poll was conducted from August 26 to 29—a handful of days after Manafort's conviction and Cohen's plea deal—and drew results from more than 1,000 respondents.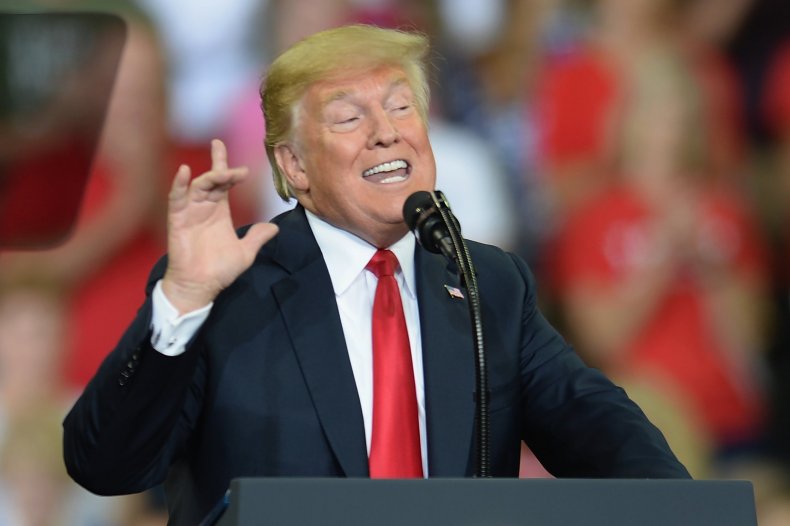 Prior to Manafort's trial and Cohen's plea deal, there was speculation over whether both men would hold out for a pardon from Trump in the wake of his pardoning of conservative pundit and author Dinesh D'Souza, former George W. Bush administration official Scooter Libby and former Arizona sheriff Joe Arpaio.
Trump's 36 percent approval rating in the Post/ABC poll marked the lowest he has clocked in months. A Reuters/Ipsos poll found 35 percent approval in December 2017, as did a Quinnipiac University poll conducted between late November and early December of that same year.