Donald Trump to NCAA Women's Championship Team: 'I Love Those Short Sleeves, Such Beautiful Arms, Great Definition'
President Donald Trump welcomed a women's sports team to the White House for the first time in his more than two years as president Monday and made a comment about their "beautiful arms," which he said had "great definition."
The comments came as Trump hosted the 2019 NCAA women's tournament champion Baylor Bears from Waco, Texas, in the Oval Office. There he was presented with an honorary basketball jersey, which had "Trump #1" on the back.
"First of all, thank you for inviting us and we would like to present you with one of our jerseys," said Baylor coach Kim Mulkey while presenting the top to Trump.
"I love those short sleeves," said the president. Mulkey responded by saying that, "It may not be the right size but maybe Melania will wear it."
Trump replied, "You know I love those short sleeves, such beautiful arms," he said while stroking his own arm to demonstrate, to laughter as the president smiled and commented "great definition."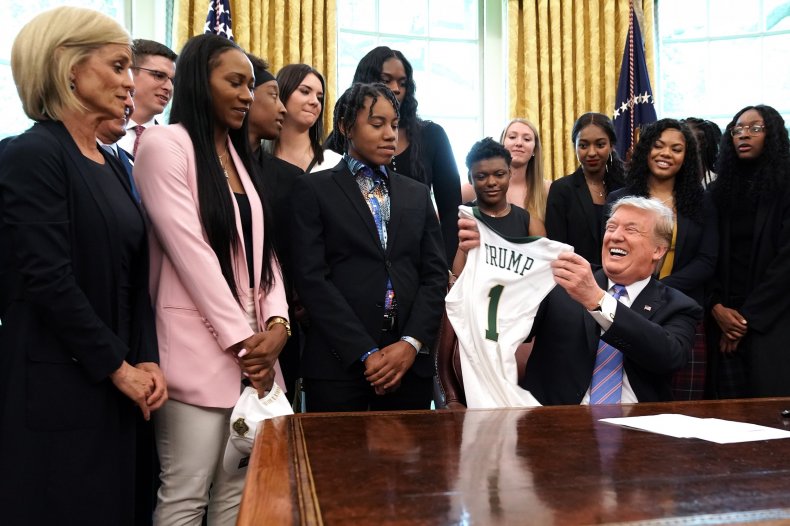 All basketball jerseys, including men's, are sleeveless.
Mulkey replied with a joke. "Like I said, Melania may look better in it," she said, to which the president pointed towards her and laughed. "That's beautiful, thank you," he said.
A number of the team's members appeared to smile and laugh during the Oval Office scene, but not all.
The group also presented the president with a basketball and a hat.
"I'll mess up my hair but that's okay," said the president while putting it on.
President Trump welcomed the group to the White House after coming under some scrutiny for not hosting any solo female sports teams. The president did host both male and female teams in November 2017 when he honored 18 NCAA championship teams, but never a women's team on their own.
On Monday afternoon, Trump read from prepared text while the Baylor team members stood behind him. He praised the team and described how they won the championship. He called Mulkey an impressive coach and asked her if she would like to come work at the White House. She responded with a simple, "No."
The president later discussed the prestige of the Oval Office and told the women that even "strong, tough people start crying" when they visit. Congressman Louie Gohmert, a Republican from Texas who was present, asked, "Was that Hillary?" to laughter.
The president has a history of commenting on the female body at official events. When he met French First Lady Brigitte Macron in 2017 he said to her, "You know, you're in such good shape. Beautiful."
In 2015, he commented on Heidi Klum that "sadly, she's no longer a 10."