Trump Is Being Tricked Into Keeping Obama Programs He Hates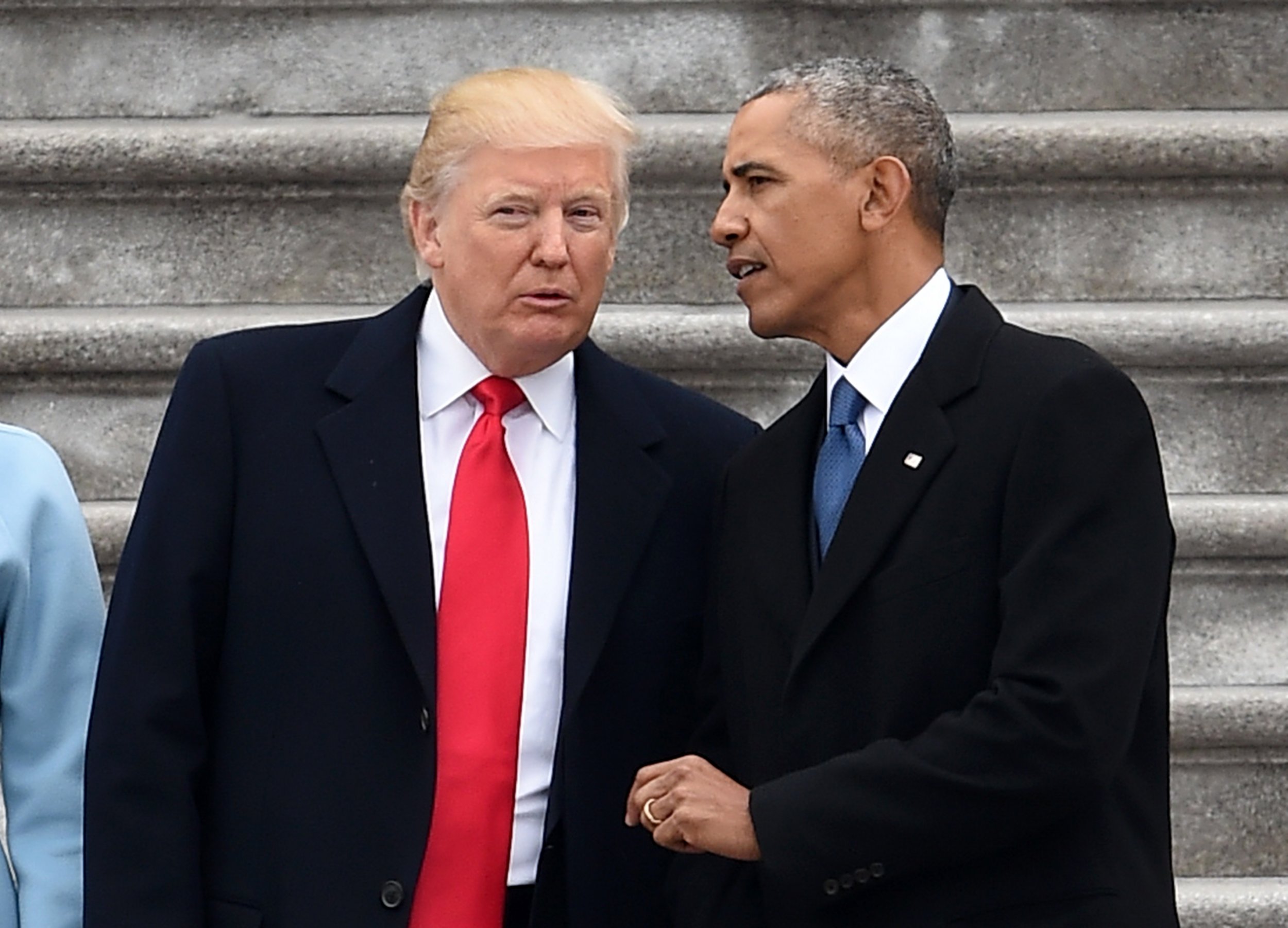 Career Washington bureaucrats—or the "deep state," as Republicans like to derisively call them—are subtly resisting the Trump administration and advancing Obama-era programs that the president hates, often by renaming them or redefining their purpose. On issue after issue reports have emerged that go against Trump's previously-held beliefs, instead bringing to mind his predecessor, President Barack Obama.
For evidence of this, look no further than recent reports from the National Oceanic and Atmospheric Administration. "Everything coming out of NOAA does not reflect this administration. It reflects the last one," David Schnare, who served on Trump's transition team, told Bloomberg.
Many of these reports have reached similar conclusions, that climate change is a serious threat.
Well before Trump announced his candidacy for president, he claimed that global warming was a hoax, tweeting on Election Day 2012 that it "was created by and for the Chinese in order to make U.S. manufacturing non-competitive." In 2014, Trump echoed his claim that global warming is a "hoax," tweeting, "NBC News just called it the great freeze - coldest weather in years. Is our country still spending money on the GLOBAL WARMING HOAX?"
But despite this, reports from the NOAA continue to point to rising global temperatures and defend wind and solar power. When employees were instructed to write a report many thought would be used by Energy Secretary Rick Perry to discredit their legitimacy, they reached a conclusion that ran contrary to Perry's position.
The "resistance," often marked by the hashtag "resist" on Twitter, certainly exists on the web, but it is also subtly at work within the walls of U.S. government buildings. Programs that run counter to the Trump administration's stated goals have been repurposed, purporting to shift focus to adhere to Trump's goals.
A program from the General Services Administration introducing more electric vehicles to the governments fleet of automobiles has continued, being packaged as a means to cut costs and improve efficiency as opposed to its messaging during the Obama administration, when its stated goal was to create a "clean energy economy."
Much of the blame can be laid directly at the feet of President Trump, who has steadfastly refused to name nominees to more than 200 government positions.
As of Dec. 14, Trump had failed to even name a nominee to 250 of the 624 key positions requiring Senate confirmation, according to the political appointee tracker, a joint project between the Washington Post and Partnership for Public Service. Further, Trump has had just 259 nominees confirmed. At this point in the Obama presidency, 418 appointments had been confirmed by the Senate.
Trump's refusal to nominate new officers has left many career bureaucrats without clear leadership and has made it difficult for the administration to create order within government agencies. But even that might not have saved Trump from the pushback he faces across agencies.
Trump has hurled invective at government agents since before he was sworn in, and his barrage of insults has encouraged pushback from bureaucrats who have been in government long before him and who will likely remain once he is gone. It remains to be seen if Trump plans to soften his approach. If not, he may continue to use the "deep state" as a convenient talking point while further emboldening those who resist him.
"I don't think Trump actually takes this seriously. It is a convenient crutch for him. In fact, the biggest problem seems to be a lack of engagement with the bureaucracy," Paul Musgrave, professor of government at the University of Massachusetts Amherst, told Newsweek in August.