Ben Carson Thanks The Lord for Tax Reform—And Trump Says Reporters Need Religion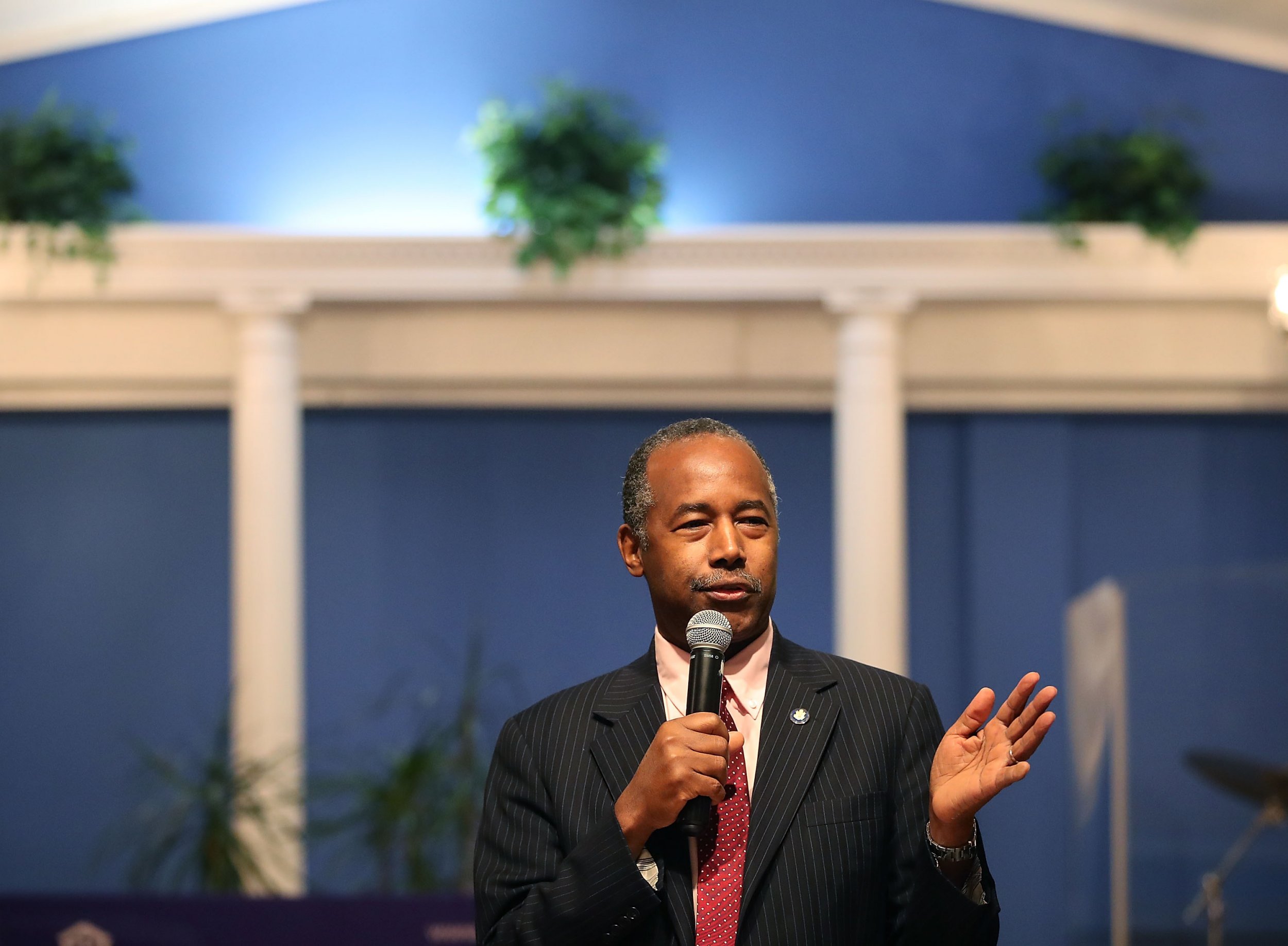 Praise the Lord and pass the tax cuts!
President Donald Trump celebrated the passing of the GOP tax bill on Wednesday by asking Housing and Urban Development Secretary Ben Carson to say grace—and taunting reporters to stick around because they need a refresher course in faith.
"You need the prayer more than I do, I think. You may be the only ones," Trump told reporters, scoring laughs from his top advisers. "Maybe a good solid prayer and they'll be honest. Ben, is that possible? So Ben, we'll ask you to say grace."
According to a press pool report, Carson offered a prayer that celebrated America's "courageous" president, along with Cabinet members willing to "face the winds of controversy [to] guide a better future for those who come behind us."
His blessing also noted "the unity in Congress that presented an opportunity for our economy to expand so that we can fight the corrosive debt that has been destroying our future."
The bill was anything but a unifying force, however. It passed the Senate 51-48 before going to the House for another party-line vote, 224-201.
Carson also appealed to a higher power to "give us a spirit of gratitude, compassion and common sense" in what he called "this time of discord, distrust and dishonesty. He closed with the traditional "in the name of the Father, the Son and the Holy Spirit."
The HUD secretary sought the Republican nomination for president in 2016 and enjoyed brief popularity before dropping out and backing Trump. The retired pediatric neurosurgeon even took a knock from Trump on the campaign trail, with the Manhattan mogul questioning Carson's Seventh-day Adventist Church affiliation.
Trump, of course, has long had a rocky relationship with the press, denigrating media outlets as purveyors of "fake news."
The Cabinet meeting was truly awash with gratitude of the heavenly sort.
"You promised the American people in that campaign a year ago that you would deliver historic tax cuts, and it would be a 'middle-class miracle.' And in just a short period of time, that promise will be fulfilled," Vice President Mike Pence told Trump from across the table. "Thank you, Mr. President, and God bless you."
Trump didn't invoke God, but he did call the tax cut, which he will sign shortly, a "Christmas present" for the nation, 70 percent of which is Christian, surveys show.
Trump has apparently come some way in his religious progress since the days of referring to taking Communion as a ceremony at which "I drink my little wine [and] have my little cracker," or referring to a section of Scripture as "Two Corinthians" instead of "Second Corinthians."
CBN News noted in April that Trump's Cabinet was even coming together for weekly prayer sessions that included Pence and Carson as well as Secretaries Betsy DeVos, Rick Perry and Scott Pruitt.