Donald Trump Is Lying a Lot Ahead of the Midterm Elections: Here Are His Biggest Lies
With less than two weeks before the highly contested midterm elections, Donald Trump has been amplifying the Republican message on key campaign issues from immigration to trade at rallies across the country. But many of the president's statements are ringing false, as fact checkers find that he made as many as 170 false claims during the second week of October, according to The Star Online.
The president has been spouting erroneous statements on everything from rally crowd sizes to pre-existing health conditions as strategists predict a potential blue wave at the polls this November. Generally, Democrats are expected to flip 23 seats to regain control of the House, while Republicans are predicted to maintain a majority in the Senate.
This week alone, Trump falsely told The Wall Street Journal that his administration's unpopular trade tariffs on steel and aluminum don't actually exist while also taking the lead in crafting the unsubstantiated claim that a migrant caravan heading to the U.S. is full of "unknown Middle Easterners" and that Democrats are to blame. He's also professed that Republicans will pass a new tax cut before the midterms even though Congress has already adjourned until after Election Day.
Here are some of the biggest lies that Trump is spreading ahead of the midterms:
Migrant Caravan
In a series of tweets on Monday morning, Trump declared that "criminals and unknown Middle Easterners are mixed in" to the 7,000 undocumented immigrants making their way through Central America to the U.S.-Mexico border.
"Every time you see a Caravan, or people illegally coming, or attempting to come, into our Country illegally, think of and blame the Democrats for not giving us the votes to change our pathetic Immigration Laws! Remember the Midterms! So unfair to those who come in legally," he wrote in one social media post.
Trump repeated the claim later that day, telling the White House press pool that there are going to be MS-13 gang members and terrorists included in the caravan. But reporters traveling with the caravan say they have not encountered any people of Middle Eastern descent.
And while it is not unheard of for people from the Middle East to enter the U.S. through the southern border, statistics from U.S. Customs and Border Protection show it is a rare occurrence. Of the 300,000 people apprehended in 2017 for crossing the border illegally, less than 100 were from countries in the Middle East.
Vice President Mike Pence has followed suit, supporting Trump's false assertions. Pence said on Tuesday that it is "inconceivable that there are not people of Middle Eastern descent in a crowd of more than 7,000 people."
Later, Trump conceded there was "no proof of anything."
In other immigration news, Trump falsely claimed during a rally in Nevada on Saturday that Californians were "rioting" and "demanding they be released from sanctuary cities." There has been no evidence of rioting in the state, and when asked by reporters to point to specific instances of protest, the president did not name any.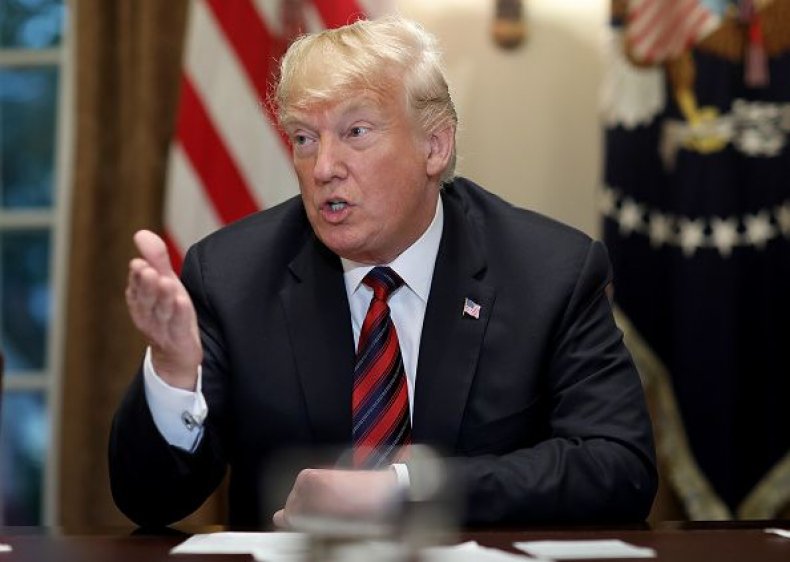 Trade
The Trump administration's many tariffs against countries like China, Canada and the European Union over the past few months have escalated economists concerns of a trade war. The trade penalties on billions of dollars worth of goods have hit two of the president's largest voting groups the hardest: the farmers and the manufacturers.
But Trump repeatedly insisted that the tariffs were necessary, telling the public that the United States has been treated "very unfairly" when it comes to international trade and touted his "America first" agenda.
Now, weeks ahead of the midterm elections, Trump told The Wall Street Journal in a 30-minute interview in the Oval Office that the tariffs don't even exist.
"We don't even have tariffs. I'm using tariffs to negotiate," the president said. He also referenced the aluminum and steel tariffs he imposed earlier this year, which economists estimate may cost up to 400,000 American jobs, as "small."
"Where do we have tariffs? We don't have tariffs anywhere," Trump added. "You know what happens? A business that's doing badly always likes to blame Trump and the tariffs, because it's a good excuse for some incompetent guy that's making $25 million a year."
Health Care
In an op-ed published by USA Today in early October, Trump claimed that Democrats would end insurance coverage for people with health problems and virtually kick seniors off health insurance plans.
While Democrats have supported the "Medicare for All" proposed by independent Senator Bernie Sanders, the plan would, in theory, expand benefits for senior citizens across the country.
In the op-ed, Trump also insisted that he would protect Medicare and insurance coverage for people suffering from pre-existing conditions. But his administration refused to defend Obamacare against a lawsuit that would undermine protections for those with pre-existing conditions.
Senate Minority Leader Chuck Schumer released a "fact-check" of Trump's op-ed shortly after it was published, claiming to have found over a dozen incorrect statements in need of clarification. On Twitter, Schumer wrote, "All of the false and misleading words in the world can't cover up how your administration and Republicans in Congress are forcing millions of Americans to pay more for health care."
Trump has also just announced a new policy on Monday that will make it easier for individual states to avoid coverage requirements and consumer protections in the Affordable Care Act.
But the president continued to ramp up conservative health care efforts, tweeting on Wednesday: "Republicans will totally protect people with Pre-Existing Conditions, Democrats will not! Vote Republican."