Donald Trump Is 'Biggest Threat to American Jews Today,' Jewish Democrats Say in New Ad
In a new ad, Jewish Democrats criticize President Donald Trump for fueling anti-Semitism and emboldening the far right, which they say presents a danger to Jewish people.
"The biggest threat to the security of American Jews today is, incredibly, the president of the United States," a voice-over on the ad said.
Trump has received mixed reactions from members of the Jewish community. Some praised him for his decision to move the U.S. Embassy from Tel Aviv to Jerusalem and for being a friend to Israel. Others argue his rhetoric, including his comments about Jewish people being disloyal if they vote Democratic, is anti-Semitic and encourages people to harm Jewish people.
The Jewish Democratic Council of America, which describes itself as a voice for progressive, pro-Israel values, included a clip of Trump's disloyalty comment in its ad. The segment, the ad claimed, showed that Trump was aiming his rhetoric "directly at Jews."
In August, during a conversation with reporters about Democratic Representatives Ilhan Omar and Rashida Tlaib, Trump said Jewish people who vote for Democrats either have a "total lack of knowledge or great disloyalty."
At the time, Anti-Defamation League (ADL) CEO Jonathan Greenblatt, who had criticized Omar for comments she made about the American Israel Public Affairs Committee, tweeted that it was time people stopped using Jews as a "political football."
"[Trump] made it clear he thinks Jews have a dual loyalty to Israel. This [anti-Semitic] trope has been used to persecute Jews for centuries & it's unacceptable to promote it. He should apologize immediately," Greenblatt wrote in the tweet.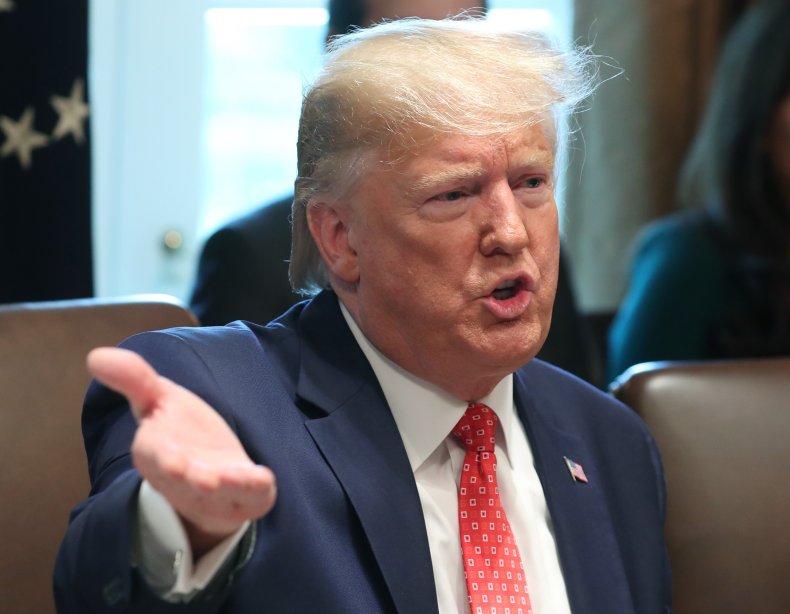 The ad, which was released on Monday, also criticized Trump's infamous "very fine people" comment after the Charlottesville, Virginia, rally in 2017. White nationalists came together for a Unite the Right event, during which they carried tiki torches and engaged in collective chants, including "Jews will not replace us."
Others protested against the rally and violence between demonstrators and white nationalists resulted in the death of Heather Heyer, who was killed when a car plowed into a group of demonstrators. During a press conference, Trump claimed both groups shared blame for the violence and said there were "very fine people" on both sides, drawing heavy criticism.
The ad also called Trump out for using words such as "infest" and "invade" in social media posts about immigration and claimed it was "no wonder" that anti-Semitism has increased in America. In 2017, the ADL identified a 60 percent surge in anti-Semitic incidents, the largest single-year increase on record, the organization said.
Historically, Jewish people often vote Democratic, but the Republican Jewish Coalition sought to persuade these voters to go Republican with an ad of its own. Released on November 3, the ad targeted leading Democrats, including Speaker of the House Nancy Pelosi and Senators Bernie Sanders and Elizabeth Warren, for turning "their backs on Israel."
"The radical left has taken over the Democratic Party, and now they're moving to undo decades of bipartisan support for America's crucial ally," the voice-over said.
Titled Shanda, which in Yiddish refers to shame or a shameful act, the ad called the state of the Democratic Party "sad" and questioned how "low" its members could go.
During the 2018 midterm elections, 79 percent of Jewish voters backed Democrats, up 13 percentage points from the 2014 midterms, according to the Pew Research Center.