Trump Says AG Barr Has to 'Act Fast' to Uncover Biden's 'Major Corruption' 14 Days Before Election
President Donald Trump is putting the pressure on Attorney General William Barr to investigate former Vice President Joe Biden's alleged involvement with international deals regarding his son, Hunter, and to do it before November 3.
"We've got to get the attorney general to act and he's got to act fast," Trump told Fox News' Fox & Friends on Tuesday. "He's got to appoint somebody. This is major corruption and this it has to be known about before the election."
At the center of Trump's renewed claims for Biden to be investigated and potentially prosecuted is a New York Post report that the former vice president financially benefited while in office from his son's business dealings. Critics undercut it for being part of a Russian disinformation campaign or a political hit job, while Twitter and Facebook immediately suppressed the story — but 11 Republicans in the House and Trump himself consider it to be worthy of an investigation.
Newsweek reached out to the Biden campaign for comment but did not receive a response in time for publication.
The New York Post story was based on emails that were found on a recovered hard drive and laptop reportedly belonging to Hunter that was left at a repair shop. Among the emailed comments was one that referred to an equity split from a Chinese energy firm that included "10 held by H for the big guy." "H" supposedly referring to Hunter and "the big guy" supposedly referring to the former vice president. Another email from Vadym Pzharskyi, an adviser to the Burisma board, to Hunter said Pzharskyi had the opportunity to meet Biden and spend "some time together."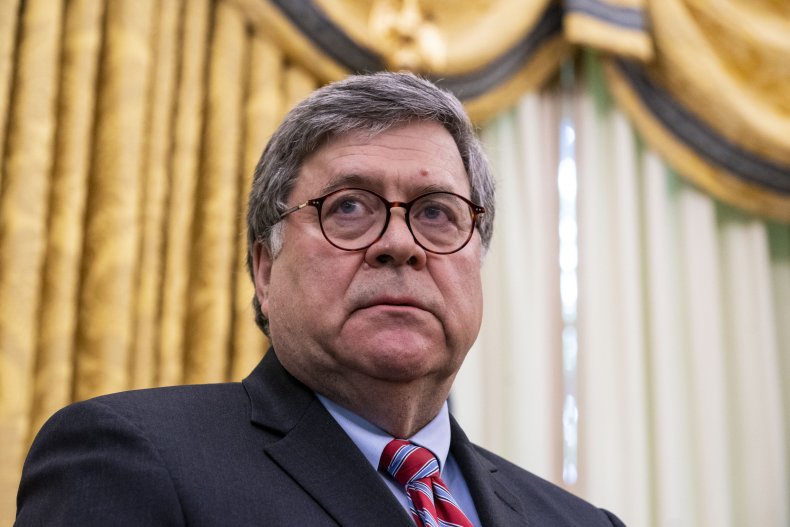 In a letter to Barr, 11 Republican representatives said the allegations about Hunter organizing a payout to his father and compromising the "integrity of his father's role as vice president" raise "serious issues" and Biden's participation in Hunter's business. Chiefly, the representatives were concerned whether Biden received foreign money while serving as vice president and "allowed his son to peddle access to his father with foreign business entities."
"It is imperative that the American people receive answers and a full accounting of former Vice President Biden's dealings with his son and his son's business partners, and if the former vice president misused his office for personal gain," the legislators wrote.
The 11 Republicans called for the Department of Justice to appoint an independent special counsel to investigate the issue, along with any legal or ethical issues that "might be uncovered" from Biden's tenure as a politician.
If Biden was put under a special counsel investigation as Trump was, the president told Fox Business' Stuart Varney in an interview on Thursday that they'd find "in a day" that Biden benefitted from Hunter's financial success.
Biden's denied he had any influence in his son's dealings and his campaign said his schedule showed "no meeting as alleged by the New York Post ever took place." Campaign spokesperson Andrew Bates added that Hunter's position on Burisma's board has been investigated by Congress and the press and has been repeatedly resolved.
America's steadily moving toward the final days of the 2020 election cycle and imploring Barr to go after Biden has become a staple of sorts of Trump's interviews. It's time, he told Fox Business' Maria Bartiromo on October 8, to not only investigate Biden but to pursue criminal charges.
"Unless Bill Barr indicts these people for the greatest political crime in the history of our country then we're going to get little satisfaction unless I win because I won't forget it," Trump said. "...and this includes [former President Barack Obama] and Biden."