Donald Trump, Bill O'Reilly's 'History' Tour Is Over. Here's What Happened
Donald Trump's "History Tour" with former Fox host Bill O'Reilly concluded in Dallas on Sunday.
"Lots of energy and enthusiasm!" Trump said in a statement issued through spokeswoman Liz Harrington after the event, which also featured a photo showing the American Airlines Center appeared to be filled to capacity.
However, that event, like the preceding three stops on the tour, was reportedly far from sold out.
Despite the touting of massive crowds by both Trump and O'Reilly, photos and videos on social media show empty seats were a regular feature at venues throughout the tour.
Steven Monacelli wrote in Rolling Stone that he moved from the "cheap seats in the second section" to a "half-empty" center row closer to the stage.
A similar scenario had played out when the tour kicked off in Sunrise, Florida, on December 11. The top level of the "cavernous" FLA Live Arena was closed off and ticket holders were "upgraded" to the lower bowl, the Sun-Sentinel reported.
The following day's event in Orlando's Amway Center also didn't sell out. The tour sold just 5,406 tickets despite a listed capacity of 8,700 and people who bought tickets to an upper bowl seat were upgraded to empty seats in the lower bowl, the Orlando Sentinel reported.
The Houston Chronicle reported that upper sections were blocked off on the tour's penultimate stop at Houston's Toyota Center on Saturday and "there were plenty of available seats when the doors opened."
Another regular feature of the tour was the former president's spouting of baseless conspiracy theories and lies about the 2020 presidential election. He also offered a revisionist history of the deadly insurrection at the U.S. Capitol on January 6.
Trump insisted the election had been "stolen" from him throughout his conversation with O'Reilly in Dallas, according to The Dallas Morning News. He claimed the events of January 6 were not an insurrection, but a protest against the "rigged" election.
"There was love in the air," he told the crowd in Sunrise of the mob of his supporters that stormed the Capitol in a bid to stop the certification of Joe Biden's victory.
In both Houston and Dallas, Trump also falsely claimed that only one person, Ashli Babbitt, had died during the riot—even though three others also died that day. A Capitol Police officer, Brian Sicknick, was found to have died of natural causes a day after being injured while confronting rioters.
In Dallas, Trump doubled down on his stance that China should pay damages to the rest of the world for the COVID-19 pandemic. He referred to the coronavirus as the "Wuhan virus" and "China virus," according to the Morning News.
"They're going to have to do something to pay," he said. "There has to be some form of reparations."
Trump also took credit for the development of the coronavirus vaccine, saying "we saved tens of millions of lives."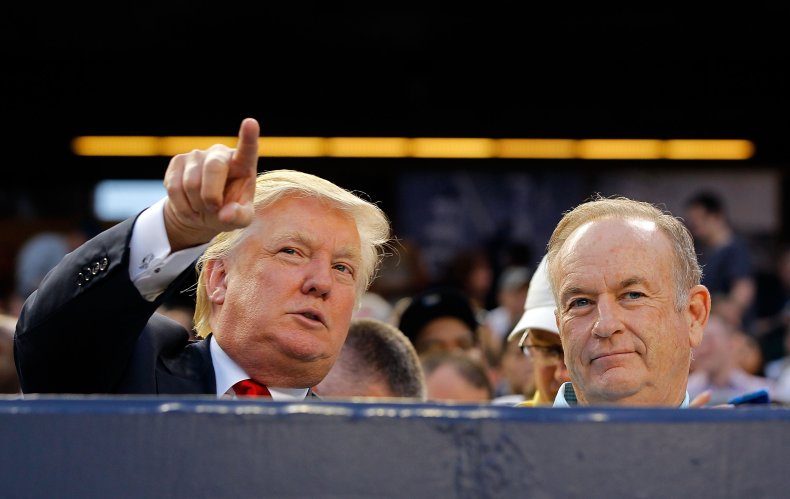 But he was met with boos and outrage when O'Reilly told the crowd that both he and Trump had received booster shots of the coronavirus vaccine, Rolling Stone reported.
The crowd was more receptive, according to The Times of London, when Trump added: "If you don't want to take it, you shouldn't be forced to, no mandates."
More popular with the crowd was Trump's hammering of Biden on issues ranging from the withdrawal from Afghanistan, inflation and immigration.
He painted a picture of the nation under Biden as crime-ridden and far less respected than when he was president. "It's a horrible thing to say but I don't feel America, right now, is great," he told the crowd in Sunrise.
He also said his "smart and sharp" predecessor Barack Obama had caused "tremendous division" in the country, but faced boos when he admitted that he liked him.
Trump didn't seem to confirm whether he would run for president in 2024, but he defended his brash style when asked by an audience member in Houston if he would rethink it should he run for office again. "I had to run the country and I had to survive," he said.
Trump's office has been contacted for comment.