Donald Trump Shares Bizarre Train Meme of Joe Biden Pumping a Handcar
President Donald Trump posted a meme of Joe Biden pumping a handcar in the wake of a Keep America Great campaign train on Wednesday, picking up more than 5 million views and around 200,000 shares.
The video created by the pro-Trump meme creator "Something Wicked" opens with a digital red cargo train emblazoned with the Trump/Pence campaign logo speeding through a town, before zooming in on Biden working a handcar to the sound of Eddy Grant's "Electric Avenue" track.
Biden's digitally-created stand-in is then heard talking about his hairy legs and children jumping on his lap.
"I learned about roaches. I learned about kids jumping on my lap," Biden says. "And I love kids jumping on my lap."
A logo reading "Biden Train" then appears on screen before falling apart. At the time of writing, the video shared by the president has been retweeted more than 79,000 times and liked by over 196,000 Twitter users.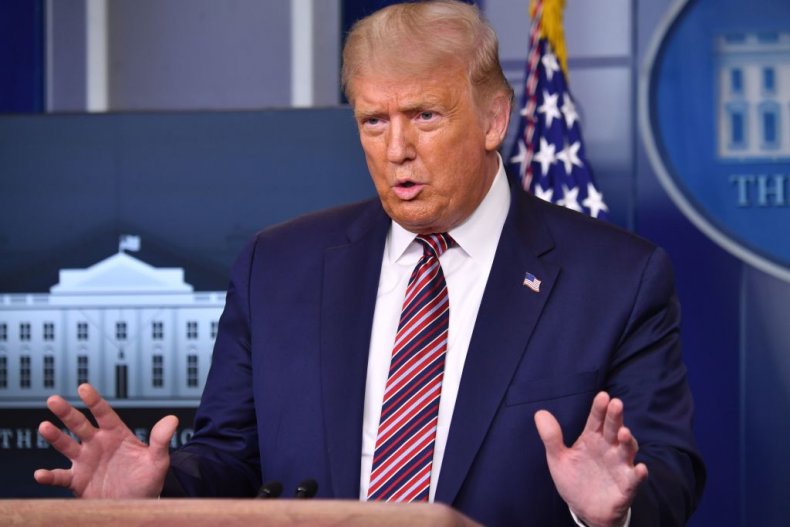 The remarks played over the 54-second clip were taken from an appearance Biden made at a swimming pool renamed after him in June, 2017.
Speaking at the time, Biden said: "I got hairy legs that turned blond in the sun. And the kids used to come up and reach in the pool and rub my leg down... and watch the hair come up again. So I learned about roaches, I learned about kids jumping on my lap. And I love kids jumping on my lap."
Newsweek has contacted the Biden campaign for comment. This article will be updated with any response.
The president shared the meme of the former vice president pumping a handcar as his campaign released a slew of attack ads targeting Biden and his running mate Kamala Harris in the wake of her selection earlier this week.
In one advert released minutes after the senator's nomination was revealed, the Trump campaign attempted to portray Harris as in-step with the "radical left" of the Democratic Party, making inaccurate claims about her position on healthcare.
"Kamala Harris ran for president by rushing to the radical left, embracing Bernie's plan for socialized medicine, calling for trillions in new taxes, attacking Joe Biden for racist policies," the advert said. "Voters rejected Harris, they smartly spotted a phony."
The Biden campaign released a statement on Wednesday arguing that the Trump reelection team had failed to "land a punch" on Harris, and were struggling to keep "their own made-up story straight."
"Senator Harris has gone toe-to-toe with Trump officials, asking the tough questions, demanding the truth, and not stopping until she gets answers for the American people," the Biden camp said.
"They know Sen. Harris' track record of holding the Trump Administration to account in the halls of Congress, and they're terrified of her doing it on the campaign trail."