Donald Trump Suggests He's Done More for Black Americans Than Barack Obama
President Donald Trump took to Twitter on Monday to talk about the low unemployment rates among black and Hispanic Americans, suggesting he has done more for the two groups than previous Democratic presidents. Trump posted the tweet following a "Fox & Friends" segment about the latest unemployment statistics, The Hill reported Monday.
"African American unemployment is the lowest ever recorded in our country. The Hispanic unemployment rate dropped a full point in the last year and is close to the lowest in recorded history. Dems did nothing for you but get your vote!" Trump's tweet said.
The black unemployment rate dropped below seven percent in December, the lowest it's been since the early 1970s, when this data was first tracked by the Bureau of Labor Statistics, NPR reported Saturday.
Trump tweeted on Saturday "The African American unemployment rate fell to 6.8%, the lowest rate in 45 years. I am so happy about this News! And, in the Washington Post (of all places), headline states, "Trumps first year jobs numbers were very, very good."
Economist Valerie Wilson said that the real reason for this trend could be the recovery from the recession that occurred during former President Barack Obama's time in office, Newsweek reported Saturday. The same report credited economics professor Brendan O'Flaherty as stating that black students remained in high school longer under Obama, and that the workforce is more highly educated now.
In stating "Dems did nothing for you but get your vote!" in his Monday tweet, Trump referenced his struggle to gain votes from the Hispanic and black communities. Of the black voters in the 2016 election, 88 percent voted for Hillary Clinton and 8 percent voted for Trump, with 4 percent falling into the category of "other/no answer." Sixty-five percent of Latino voters chose Clinton, with 29 percent voting for Trump and 6 percent giving another response or no response.
In contrast, 58 percent of white votes went to Trump and 37 percent went to Clinton, with 5 percent going to neither.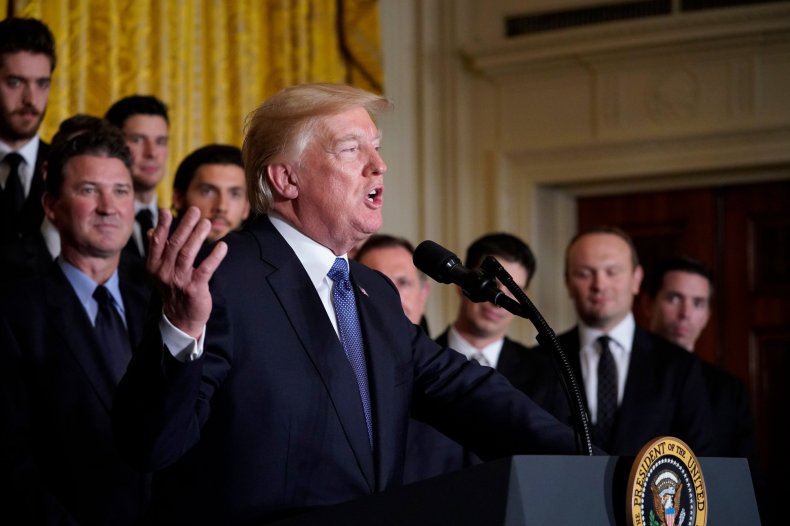 At a campaign rally in August 2016, Trump said to black voters "You're living in poverty, your schools are no good, you have no jobs, 58 percent of your youth is unemployed—what the hell do you have to lose?"
Many critiqued this appeal for its generalization of black communities in the U.S. Among the critics was Trump's opponent Clinton, who tweeted "This is so ignorant it's staggering."
In a statement, Clinton aide Marlon Marshall said that the black community has "everything" to lose by voting for the Republican candidate, referring to Trump's questioning of Obama's citizenship, his connection to white supremacists and the lawsuits against Trump in the past for alleged housing discrimination based on race.