Donald Trump Blames 'Incompetent Generals' For Kabul Drone Strike
Former President Donald Trump has blamed President Joe Biden and "incompetent Generals" for the drone strike that killed civilians in Kabul, Afghanistan late last month.
Gen. Kenneth McKenzie, commander of the United States General Command, admitted on Friday that the attack killed 10 civilians, including as many as seven children, although the military had previously said that the August 29 strike was necessary to prevent Islamic state militant group ISIS-K from launching new terrorist attacks.
Trump responded to the news by releasing a statement through his Save America PAC that argued the attack went awry due to the Biden administration attempting to act like "tough guys" because the country had "surrendered" to the Taliban and caused the military's chaotic withdrawal.
"How disgraceful that so many people have been killed by our incompetent Generals," Trump said. "The Biden administration wanted to show that they were tough guys after they surrendered to the Taliban, which left many soldiers injured or dead, and left Americans and the best Military equipment in the World behind. Our country has never been so embarrassed or humiliated."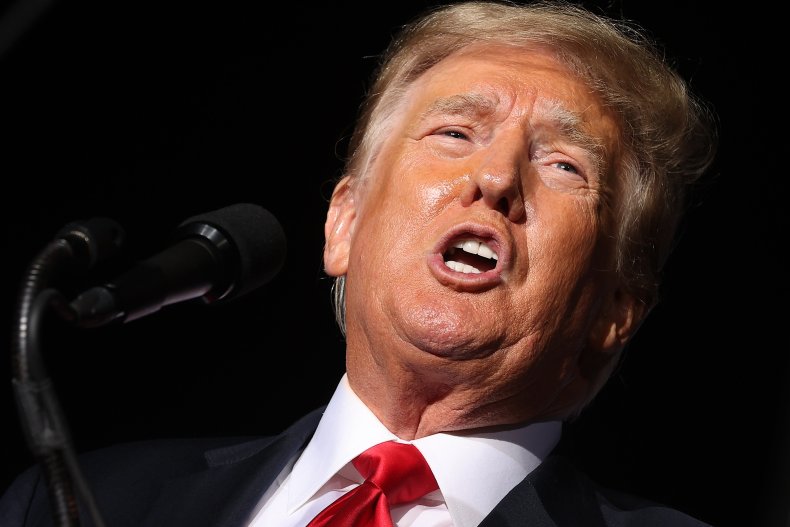 Although the withdrawal was executed under Biden, it was the Trump administration that brokered a deal with the Taliban to leave the country. After the bulk of American forces left, the U.S.-backed Afghan government and military quickly fell at the hands of a Taliban attack.
On August 26, ISIS-K, an enemy of both the Taliban and the U.S., carried out a suicide bombing at the Kabul airport that killed 13 American service members and at least 169 Afghan civilians. The U.S. launched two airstrikes on what the military said were ISIS-K targets, the second of which killed the civilians.
McKenzie said during a Friday news briefing that he was "fully responsible" for the strike and the "tragic outcome." He said that the military "struck under the theory of reasonable certainty" and had wrongly believed that the strike was preventing "an imminent threat to our forces and the evacuees at the airport."
"The strike team were convinced, at the time of the strike, that the area was clear of civilians, and they had taken prudent steps in regards to weapons during the strike to minimize the potential for civilian casualties," McKenzie said. "Our investigation now concludes that the strike was a tragic mistake."
McKenzie went on to say that the U.S. was "exploring the possibility" of offering compensation to the families of the victims. Biden has not publicly addressed the strike. After the military's first airstrike in Afghanistan, which it indicated killed two ISIS-K targets on August 27, the president said that the strike was "not the last" and vowed to "continue to hunt down" those responsible for the airport attack.
Newsweek reached out to the White House for comment.