Donald Trump ripped into Facebook on Friday after the company extended its ban on his account until at least 2023.
"Facebook's ruling is an insult to the record-setting 75M people, plus many others, who voted for us in the 2020 Rigged Presidential Election," the former president said in a statement. "They shouldn't be allowed to get away with this censoring and silencing, and ultimately, we will win. Our Country can't take this abuse anymore!"
In a follow-up statement, Trump said, "Next time I'm in the White House there will be no more dinners, at his request, with Mark Zuckerberg and his wife. It will be all business!"
The social media giant has suspended Trump until January 7, 2023—two years from the date his access was first taken away, following the violent attack on the U.S. Capitol on January 6.
"We are today announcing new enforcement protocols to be applied in exceptional cases such as this, and we are confirming the time-bound penalty consistent with those protocols which we are applying to Mr. Trump's accounts," Nick Clegg, Facebook's vice president of global affairs, said in a blog post.
"Given the gravity of the circumstances that led to Mr. Trump's suspension, we believe his actions constituted a severe violation of our rules which merit the highest penalty available under the new enforcement protocols," Clegg added.
The social media giant will reassess whether the risk to public safety has receded by the end of the two years. If not, the suspension will be extended for a set period of time and the company will continue to reevaluate.
In addition to his two-year suspension on Facebook and Instagram, Trump has been permanently banned from Twitter.
Twitter announced its decision to permanently suspend Trump on January 8. The social media company also said that if it becomes clear that Trump has created another personal account to evade the suspension, that new account would also be removed.
"After close review of recent Tweets from the @realDonaldTrump account and the context around them—specifically how they are being received and interpreted on and off Twitter—we have permanently suspended the account due to the risk of further incitement of violence," Twitter said at the time.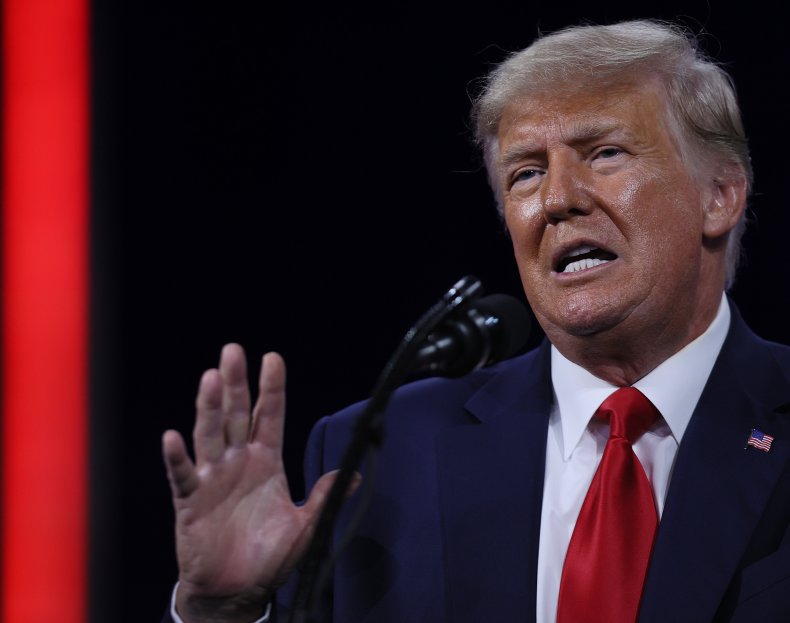 Facebook's announcement came two days after Trump's "From the Desk of Donald J. Trump" blog shut down for good, just a month after it was launched.
The site featured a video with archive material announcing Trump's ban from Twitter, overlaid by a caption: "In a time of silence and lies, a beacon of freedom arises. A place to speak freely and safely. Straight from the desk of Donald J Trump."
When the communications platform was taken down Wednesday, Trump's team hinted that something bigger was in the works.
"It was just auxiliary to the broader efforts we have and are working on," Trump spokesperson Jason Miller told news outlets.
This story was updated with a second statement from Donald Trump on his suspension from Facebook.