Donald Trump Blasts Jeff Sessions, Nicknaming Him 'Mr. Magoo'—Why Is He So Angry At the Attorney General?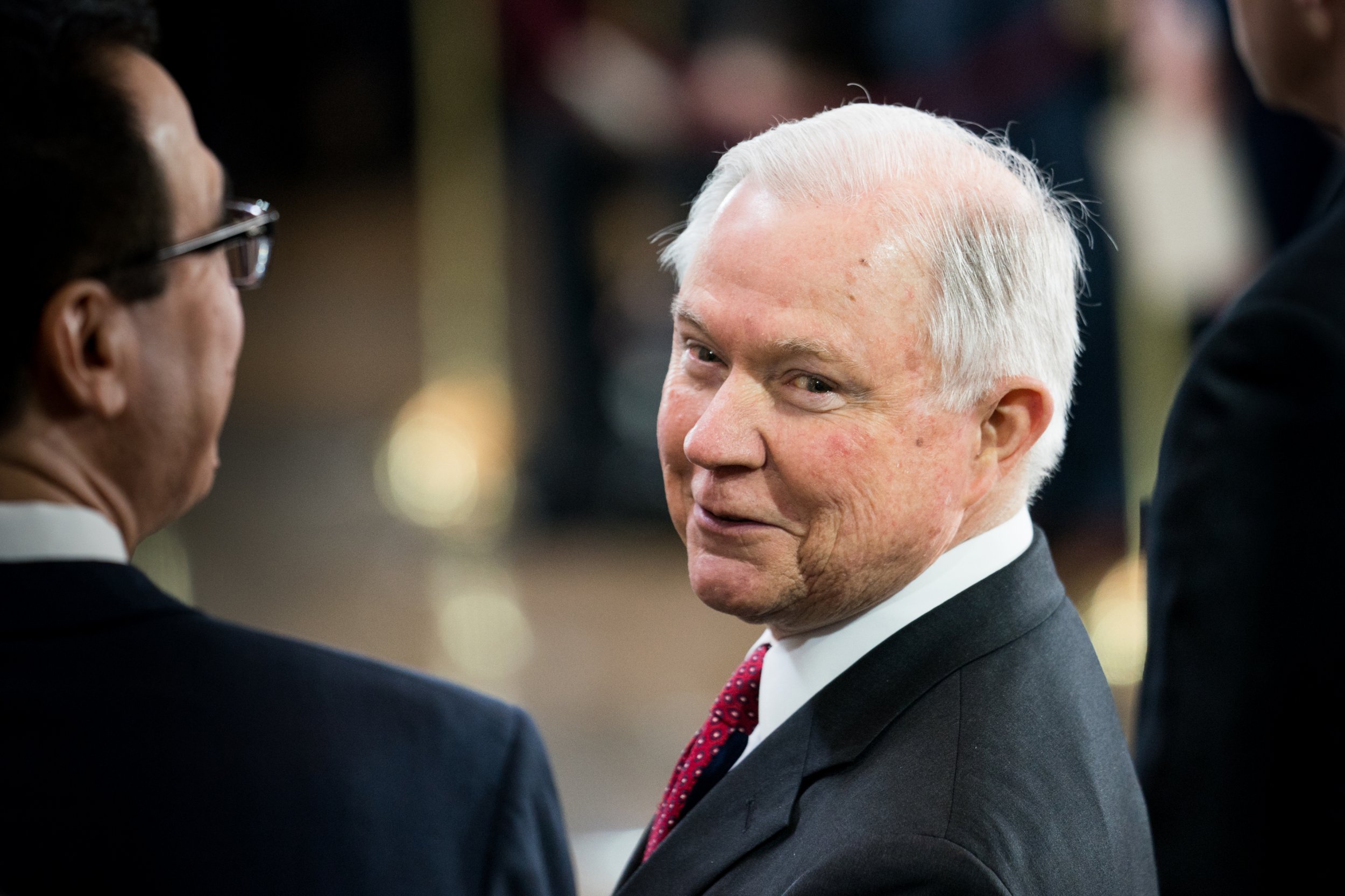 Attorney General Jeff Sessions is feuding openly with President Donald Trump after the president called his conduct in the White House "disgraceful" on Twitter.
"As long as I am the Attorney General, I will continue to discharge my duties with integrity and honor," Sessions shot back in a statement following Trump's tweet on Wednesday.
Trump criticized his top justice official for asking the Inspector General to investigate Republican allegations of Foreign Intelligence Surveillance Act abuse in surveilling Trump associates as part of the Russia investigation.
"Why not use Justice Department lawyers?" Trump urged Sessions, calling on the department to investigate itself rather than the independent watchdog—calling it too slow and run by "an Obama guy."
"This Department will continue to do its work in a fair and impartial manner according to the law and Constitution," Sessions added in his message to the president.
Trump has repeatedly called on Sessions to investigate his political opponents such as Hillary Clinton and former President Barack Obama. He called the Russia investigation led by special counsel Robert Mueller a "hoax" and politically motivated "witch hunt." Mueller has filed 22 indictments in the investigation so far.
Trump has yet to publicly call Sessions by the mocking nickname "Mr. Magoo"—a hapless, nearsighted classic cartoon character—that he has given the attorney general in private conversations, sources told The Washington Post Wednesday.
Read more: Mueller asking about Trump's Russia business deals and Miss Universe pageant
At the end of the day Wednesday, Sessions dined in Washington with Deputy Attorney General Rod Rosenstein, who is overseeing Mueller's investigation.
Mueller is probing whether Trump's campaign aided Russian meddling in the 2016 election and if the president obstructed justice by working to stymie the investigation started by the FBI.
"Question: If all of the Russian meddling took place during the Obama Administration, right up to January 20th, why aren't they the subject of the investigation? Why didn't Obama do something about the meddling? Why aren't Dem crimes under investigation? Ask Jeff Sessions!" Trump tweeted February 21. The tweet followed Mueller's indictment of 13 Russians for election interference the week before.
On Wednesday The Post reported Mueller has been asking witnesses about Trump's anger at Sessions last summer. Trump lashed out at the attorney general after he handed the Russia investigation to Rosenstein. Sessions stepped away from it because he worked on the Trump campaign. Sessions also did not disclose multiple meetings with Russia's ambassador during the 2016 campaign during his confirmation hearing and on security clearance forms.
During an interview with The New York Times on July 19, 2017 Trump said that he never would have hired Sessions if he knew he was going to be "unfair' to him.
Days later he called Sessions "beleaguered" and called on him to investigate "Crooked Hillarys crimes & Russia relations."
Trump has told those around him, according to The Post, he is angry Sessions isn't loyal enough.
"This is Trump at his worst," tweeted conservative Fox News commentator Brit Hume of Trump's comments about Sessions Wednesday.
"He is asking that the DOJ investigate itself. The inspector general, who has his own staff of lawyers and investigators, at least enjoys a measure of independence from the department," he added, noting Trump "wants the AG to act his political goalie."