Donald Trump Repeats 'Lock Him Up' Chant About George Soros Minutes After Calling for Unity Around Bomb Threats
Just minutes after President Donald Trump called for unity in the wake of attempted bombings targeting a number of Democratic officials, he took a swing at "globalists" and used the phrase "lock him up" while chuckling. Trump was responding to a crowd yelling to lock up George Soros, a victim of the bombing attempt.
"We must never allow political violence to take root in America, we cannot let it happen, and I am committed to doing everything in my power to stop it and to stop it now," the president said at the beginning of his speech to a group of young black leaders.
Later in his speech, however, the president contradicted his message of unity by going after people he called "globalists," and claiming they were hurting the economy. As he railed on "globalists," someone in the crowd yelled out "George Soros!" and the crowd began chanting "Lock him up!" The president chuckled, pointed to the crowd, and repeated the phrase "lock him up," back to them.
The president also attacked Democrats and called voting polls fake.
On Friday morning the president sent out a Tweet expressing his anger with news coverage of the attempted bombings. The coverage, the president said, was taking away from news about the midterm elections and hurting Republicans. "Republicans are doing so well in early voting, and at the polls, and now this 'Bomb' stuff happens and the momentum greatly slows - news not talking politics," Trump wrote. "Very unfortunate, what is going on. Republicans, go out and vote!"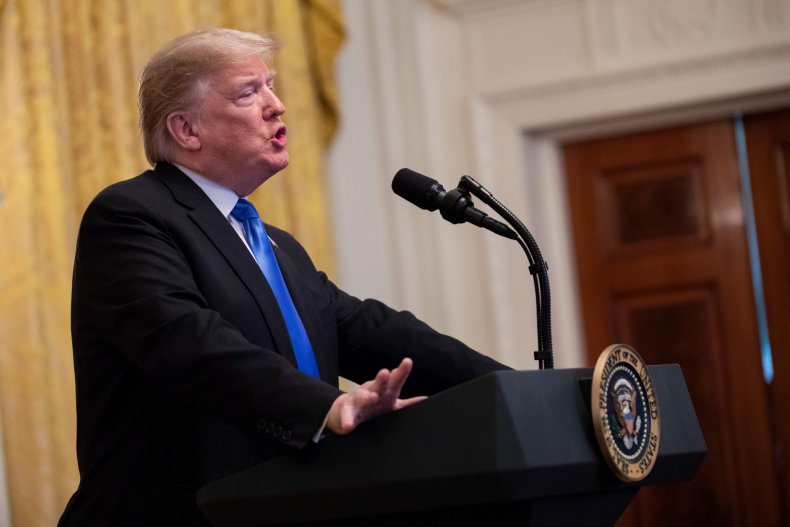 Law enforcement officials took a 56-year-old male, Cesar Sayoc, Jr., of Aventura, Florida, into custody on Friday for his connection to the pipebombs that were mailed out to at least 12 people who had all been critical of Trump.