As Donald Trump Heads to Vietnam, Here's How He Used Bone Spurs to Avoid War, Military Service
President Donald Trump is flying Air Force One to Hanoi, Vietnam, Monday for his second summit with North Korean dictator Kim Jong Un. But he avoided the trip to Vietnam in the summer of 1968, as tens of thousands of American men his age were drafted and died in war.
Update: During Wednesday's Michael Cohen congressional hearing, Trump's ex-personal attorney told the House the president once bragged about avoiding Vietnam. "He told me not to answer the specific questions by reporters but rather offer simply the fact that he received a medical deferment. He finished the conversation with the following comment: 'You think I'm stupid? I wasn't going to Vietnam'."
Trump received both educational and medical deferments from having to serve in the military despite his repeated touting of attending the New York Military Academy boarding school just a few years before. Trump graduated from the University of Pennsylvania's Wharton School of Business in May 1968. Two months later, the Jamaica, Queens, New York Local Draft Board No. 3 updated Trump's classification from 2S—"registrant deferred because of activity of study"—to 1A, meaning he was now "available for military service."
But a pair of podiatrists, Drs. Larry Braunstein and Manny Weinstein, penned letters claiming the 22-year-old Trump suffered from bone spurs in his heels and was unable to serve in active duty, The New York Times reported last year.
By October 1968, the same year in which U.S. troop numbers and deaths in Vietnam peaked under President Lyndon B. Johnson, the doctor letter secured Trump's reclassification to 1Y, or "registrant qualified for service only in time of war or national emergency." This was later upgraded to 4F, "registrant not qualified for military service," ensuring Trump was safe from being drafted.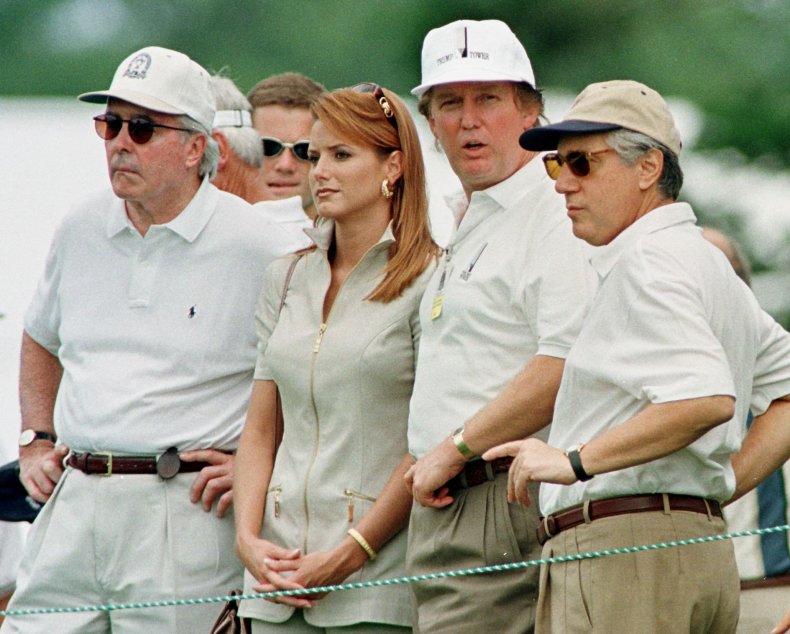 During Trump's presidential campaign, he told reporters he could not recall exactly who signed off on his medical documentation that allowed him to avoid the Vietnam War draft. In 2018, Trump biographer Michael D'Antonio told CNN's Don Lemon that Trump once took off his shoes to show him the bone spurs, but he saw nothing of the sort.
Trump also once bragged that avoiding sexually transmitted diseases was his "personal Vietnam."
Although both doctors involved in the deferment are now deceased, Braunstein's daughters told The New York Times last year their father often spoke of doing a Vietnam War–era "favor" for Fred C. Trump—who leased the Queens office to Braunstein. The foot doctor's children told the Times the medical documentation and diagnosis had been given to the young Trump as a courtesy to his landlord father.
Trump's far more luxurious stay in the Vietnamese capital this week seeks to partially normalize relations between North Korea and the U.S., which have remained sour for more than a half-century.
Several of Trump's cadet peers at the New York Military Academy have accused him of receiving special treatment during his time at the upstate New York boarding school in the 1960s. But Trump claimed the school provided him "more training militarily than a lot of the guys that go into the military."
"I did very well under the military system," Trump said in an interview leading up to his 2016 election. "I became one of the top guys at the whole school."
According to U.S. military archives through Defense Casualty Analysis System (DCAS) Extract Files, there were 58,220 total American fatalities as a result of the Vietnam War.
Debates in 2019 continue decades-old arguments from the 1960s era about the constitutionality of enforcing a military draft in America. The military draft itself has also come under court scrutiny, with a federal Texas judge ruling this week that male-only selective service is unconstitutional given that men and women now fight equally in the U.S. armed forces.