Donald Trump Says Border Wall Is a 'Medieval Solution' But Claims It Still Works
President Donald Trump acknowledged on Tuesday that his long-proposed idea for a massive border wall is "medieval"—but he spun that as a positive. The comments came amid a prolonged partial government shutdown sparked by Trump's demand for funding for a wall.
Trump reiterated on Wednesday that he thought a wall was a must—indicating that there may be no end in sight for the shutdown.
"We can all play games but a wall is a necessity," he said, via a pool report. "If you don't have the wall, it doesn't matter. A drone isn't stopping a thousand people running through."
Many critics have commented that the wall is wildly outdated, ineffective and expensive. Democratic Representative Hakeem Jeffries tweeted this week: "We are not paying a $5 billion ransom note for your medieval border wall. And nothing you just said will change that cold, hard reality. Not happening. Get. Over. It."
The president pushed back against such a description of his long-promised wall on Wednesday.
"This is not a fight I wanted. I didn't want this fight," Trump said. "We gotta get the politics out of this and go back to common sense. They say it's a medieval solution. It's true. It's medieval because it worked then and it works even better now."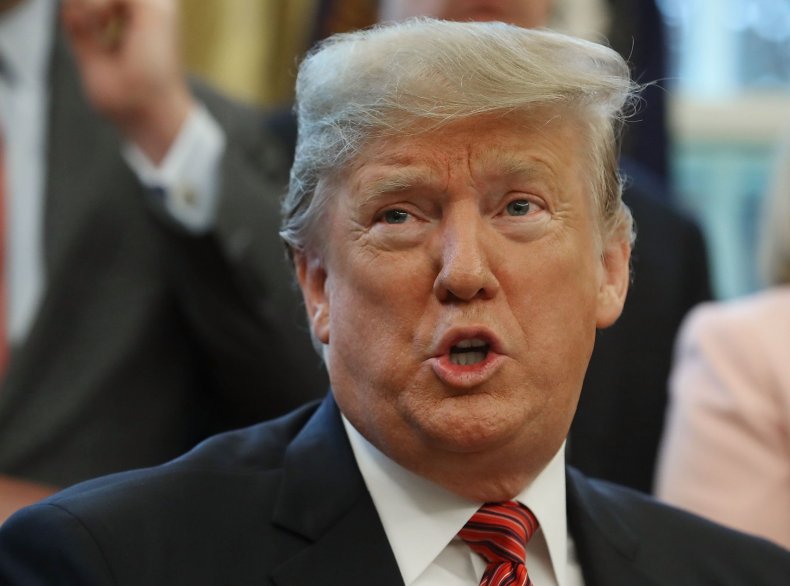 Speaking to reporters, Trump also claimed that many furloughed workers weren't that bothered by not getting paid.
"They're all going to get their money and I think they're going to be happy," he said. "You take a look at social media, so many of those people are saying it's very hard for me, it's very hard for my family but Mr. President you're doing the right thing."
The shutdown has dragged into its 19th day, causing—among a host of other problems—some 800,000 federal workers to go unpaid. And while Trump said now that he did not want this fight, he previously welcomed a shutdown.
"I will take the mantle," Trump said in a mid-December meeting with Democratic leadership about a shutdown. "I'm not going to blame you for it.... The last time you shut it down, it didn't work. I will take the mantle of shutting down, and I'm going to shut it down for border security."