Trump Says Migrants Getting Stuck Climbing New Border Wall Is A 'Beautiful Sight'—And Proof It Works
President Donald Trump celebrated news of a group of migrants getting "stuck" trying to climb over a section of his new border wall, branding the incident a "beautiful sight" during a campaign rally in Milwaukee, Wisconsin on Tuesday.
Speaking to a packed crowd, Trump told supporters that "two days ago, illegal aliens with drugs on their back were climbing the wall" and "couldn't get off."
While it is true that three migrants did recently get arrested after getting stuck trying to climb over the border wall, that incident unfolded more than a week ago on January 5, and there is no evidence to suggest that the migrants were carrying drugs.
Asked whether the U.S. Customs and Border Protection could confirm which incident the president was referring to, CBP sent Newsweek a press release on the January 5 incident and referred any other questions to the White House.
Neither the White House nor the Trump campaign team immediately responded to a request for comment.
CBP's press release archives also do not appear to suggest that any migrants were stopped after getting stuck on the wall while trying to smuggle drugs into the U.S. since the January 5 incident.
Appearing to describe that incident during his rally, Trump said: "They go to the top, you know, that panel on top is called a 'climb resister.' It's very slippery and very hot. It's very hot," Trump said. "And they got stuck on the wall, they couldn't get off the wall. You see that?"
"I was watching the news. I was surprised that the fake news showed it. And I said, 'isn't that a beautiful sight'," the president said. "They couldn't get over the wall. Couldn't get over it,"
"They had to get the fire department to get them down," Trump added. "Do you believe it? Thirty feet up, that's almost like a four-story building."
If the January 5 incident is the one Trump was referring to, according to the U.S. Customs and Border Protection agency, Border Patrol agents and the San Diego Fire Department (SDFD) had to help three migrants get down from a new border barrier after they became stuck at the top.
The rescue unfolded at around midnight the San Diego Sector, with Border Patrol agents spotting three people "in a precarious situation."
The group, including a 36-year-old man, and two women, aged 20 and 18, had apparently become "stuck at the top of the wet, slippery wall after smugglers abandoned them."
"Due to the danger of the situation, agents requested the assistance of the [SDFD] in order to get them down safely," CBP said.
Fire crews used their ladder truck to help the three people down from the wall "without injury," it said.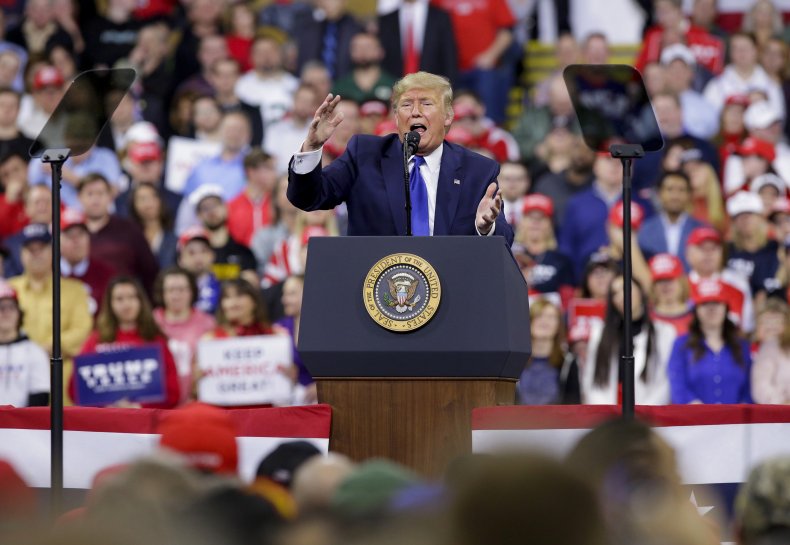 When it was determined that the group were Mexican nationals bypassing designated ports of entry, CBP said the individuals were taken into custody and transported to a nearby Border Patrol station for processing.
"These three were very fortunate to not have fallen from the top of the wall which could have resulted in serious injury or death," said San Diego Sector's Acting Chief Patrol Agent Aaron Heitke in a statement provided by CBP. "These dangers are not important considerations to smugglers, who place an emphasis on profits over safety."
Updated: This article has been updated with a statement from CBP.