Trump Celebrates 'Great Progress' on Border Wall After Site Visit Despite Having Hundreds of Miles Left to Build
President Donald Trump has celebrated the "GREAT progress" he claims his administration has made on construction of his long-promised border wall on Wednesday. The announcement followed a visit to crews in Otay Mesa, a neighborhood in San Diego, California situated on the U.S.-Mexico border.
Shortly after the visit, the U.S. leader took to Twitter to share a video montage of his meeting with construction crews, with one scene showing the president signing his name onto a newly constructed section of his border wall.
"GREAT progress on the Border Wall!" Trump exclaimed in his tweet.
In a daily news summary sent out by the White House, the Trump administration also touted Trump's border wall visit, saying the project was possibly "President Trump's most important promise kept to the American people."
"As a matter of policy, it adds to and replaces outdated, often embarrassingly ineffective fencing to protect our country from human smugglers, drug traffickers, and criminal cartels," the White House's 1600 Daily report said.
Meanwhile, it said, "as a matter of symbolism, it reassures Americans that after years of empty promises from Washington to fix immigration, their voices mean something."
However, while Trump and his administration already appear to be celebrating the border wall project as a success, the fact remains that more than three-quarters of the 450 to 500 miles of barriers the president has vowed to build before the end of 2020 has yet to be put up.
In late August, Newsweek reported that the Trump administration had seen less than 15 percent of its border wall constructed, with the U.S. Customs and Border Protection agency asserting that it had so far overseen the construction of just over 60 miles of the long-promised partition as of August 23.
Since then, that total has increased only to 66 miles as of September 13, according to progress report from CBP shared with Newsweek.
"As of September 13, 2019, CBP has 654 miles of primary barriers on the southwest border, including approximately 317 miles of pedestrian fencing and approximately 280 miles of vehicle barrier constructed prior to January 2017, as well as approximately 57 miles of new border wall system constructed since January 2017," the report states. "An additional 9 miles of new secondary border wall system have also been built since January 2017, bringing the total new construction to 66 miles."
As the report notes, however, the 66 miles that CBP has seen built has only been constructed "in place of dilapidated and outdated designs," meaning no new extensions of existing barriers have been put up.
Despite that, in its report, the agency says that "by the end of 2020, CBP expects to have completed 450 miles of new border wall system and to have an additional 59 miles under construction in high priority locations across the Southwest border, pending availability of real estate."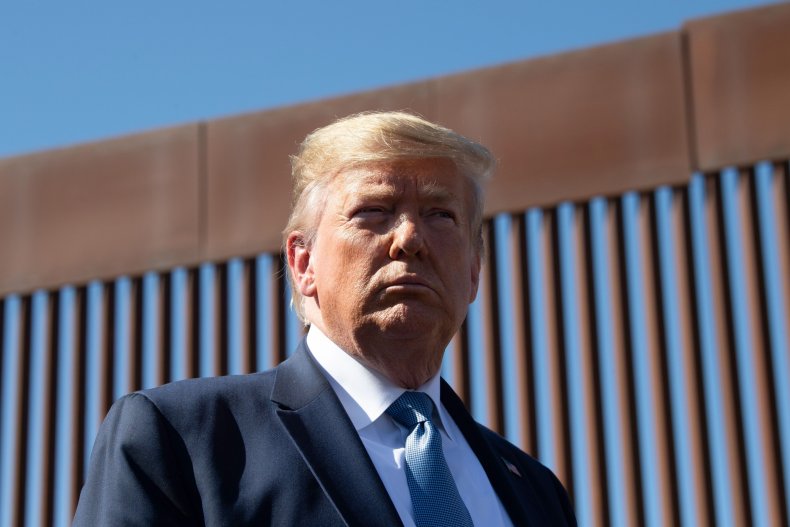 Whether the Trump administration will actually be able to reach its goal by the time the 2020 presidential election rolls around remains to be seen.
However, just this week, the border wall bid was hit with yet another setback, with the Defense Department deciding to ax three border wall projects in California and Arizona, citing "insufficient contract savings," according to CNN.
Secretary of Defense Mark Esper had approved the construction of an additional 20 miles of barriers using $2.5 billion pulled from a counter-drug initiative, using the authority to spend money on the border wall bid to block off "drug-smuggling corridors."
While the Pentagon had thought it would be able to afford the extra miles due to a previous request for 135 miles of fencing costing less than the Defense Department had anticipated, a Monday court filing reportedly revealed that there were not enough funds, in the end, to cover to costs of the endeavor.
The Pentagon's reversal is just one of many snags that the Trump administration has hit in seeing the president's border wall ambitions come to full fruition. However, the U.S. leader continues to maintain that the project is making steady progress.
This article has been updated with information from CBP.