Donald Trump is Bored and Distracted When Discussing 2020 Re-Election Campaign With Staff: Report
For all his obsession over his approval ratings, President Donald Trump is reportedly bored and distracted when it comes to discussing his 2020 re-election campaign.
Trump was "consistently distracted and wanted to discuss other things" during a briefing on the 2020 presidential election in Florida with his campaign manager Brad Parscale, people with knowledge of the meeting told The New York Times in a report published Monday. His focus instead was on his approval numbers.
The president has displayed "no interest" in coming up with a new campaign message over "Make America Great Again" and "keep America great," and "his interest is entirely in the present," The Times reported.
On Monday night, Trump tweeted an image of himself at a campaign rally with a 50 percent approval rating, based on a poll from the conservative-leaning Rasmussen Reports tracking that day. Trump's daily ratings on Rasmussen have stayed around 50 percent since the start of the year, while other leading polls have shown him well below that.
"Despite the Phony Witch Hunt," Trump tweeted, referring to special counsel Robert Mueller's Russia probe, "We will continue to MAKE AMERICA GREAT AGAIN! Thank you!!"
Trump also shared a Fox Business Network segment on Twitter with host Lou Dobbs praising him on an effort to balance the economy and trade relations.
"#AmericaFIRST #MAGA," Trump commented, along with an American flag emoji.
Trump has apparently been "indifferent" to the logistics behind his campaign partly because he believes he won the presidency in 2016 through his own personality and messages. The president's longtime advisers and aides said they expect Trump will be invigorated about re-election when he faces a clear opponent, starting on Tuesday when he will appear in Iowa at the same time as former vice president and leading 2020 Democratic candidate Joe Biden.
"President Trump is always strongest when he has a direct foil," 2016 Trump campaign communications aide Jason Miller told The Times. "I can't imagine him not taking advantage of the opportunity to jab at Biden."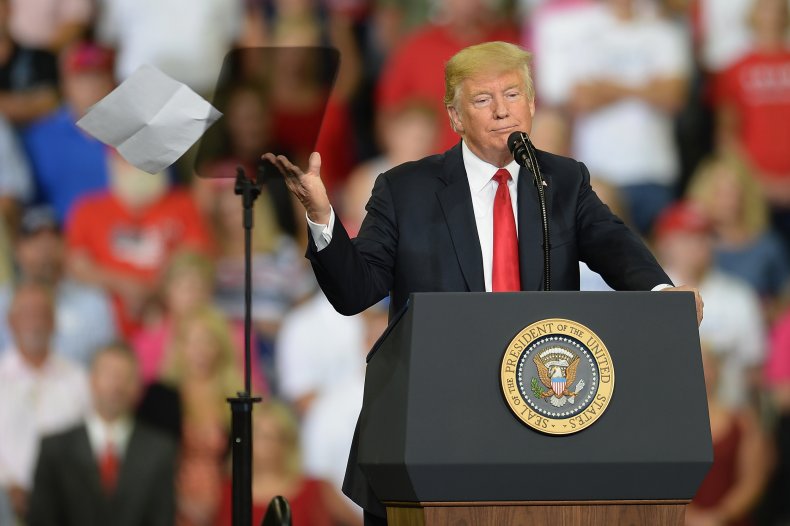 Trump reportedly has not spoken to aides much about what he hopes to accomplish in a second term, unlike most modern presidents in the same situation. But Trump is not the only recent commander-in-chief who displayed little interest in the details of his campaign at the same point in time.
A former top adviser to President Barack Obama, David Axelrod, told The Times that the 44th president "was pretty consumed by governing" received briefings on the stat of his re-election campaign but did not have a major meeting until fall of the year before the election.
Trump is scheduled to officially launch his re-election campaign in a massive rally in Florida on June 18.
The Trump campaign did not immediately respond to a request for comment from Newsweek on Tuesday.