Donald Trump's Comments on Second Kavanaugh Accuser Are 'Incredibly Disturbing,' Alleged Victim's Lawyer Says
The attorney representing Deborah Ramirez, the second woman to publicly accuse Supreme Court nominee Brett Kavanaugh of sexual misconduct, called President Donald Trump's comments about his client "incredibly disturbing."
Ramirez detailed the alleged assault in a report for The New Yorker. She accused Kavanaugh of exposing himself to her and thrusting his genitals in her face at a dorm party during their freshman year at Yale University. She described how as she tried to push him away, she touched his penis. She said she remembered the incident with the judge vividly, though admitted to having gaps in her memory of that night because she'd been drinking.
Trump suggested that because Ramirez had been drinking she was not credible.
"The second accuser has nothing," Trump said when asked if Ramirez should be allowed to testify before the Senate Judiciary Committee. "She admits that she was drunk. She admits time lapses."
The president went on to praise his Supreme Court nominee's first television interview since the two women, Ramirez and Christine Blasey Ford, came forward with their allegations. Kavanaugh appeared alongside his wife, Ashley, in an exclusive interview on Fox News on Monday night.
"He was so truthful," Trump said of Kavanaugh. In the interview, the judge said that he had never assaulted anyone, and that he was a virgin in high school and "for many years thereafter."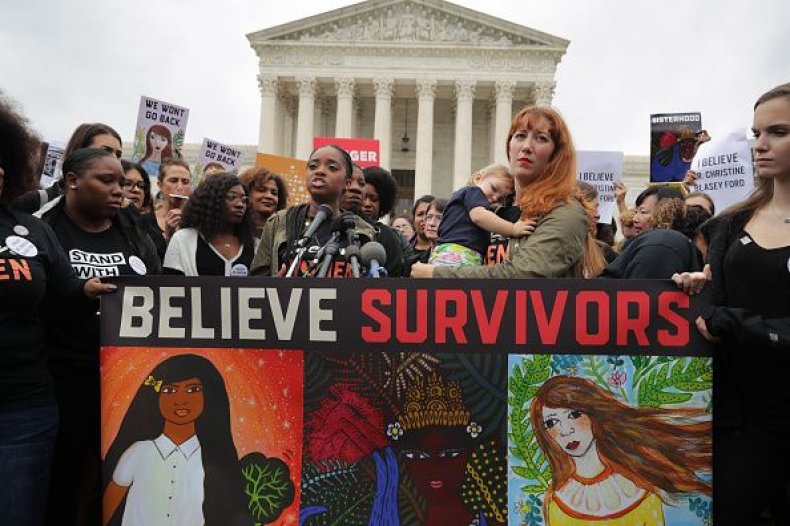 In an appearance on NBC's Today show on Wednesday, Ramirez's attorney, John Clune, said that the president's comments were "disturbing" and that his client had been "very careful" in the information she had shared so far.
"It was incredibly disturbing. Especially since he doesn't seem to be interested in having any kind of investigation into what happened," Clune told NBC's Savannah Guthrie.
"She has intentionally been very, very careful about what information she's putting out there, and what she said in The New Yorker is exactly what she recalls with clarity," he said.
Clune also said on Wednesday that his client would be willing to testify before the Senate Judiciary Committee. Kavanaugh's first accuser, Ford, is set to testify on Thursday, along with Kavanaugh.
"She would be willing to testify, but she wants…us to be able to have this conversation about what this is going to look like, what the process is going to be and if there's going to be an FBI investigation into what happened in her case," Clune told CBS This Morning.
The Judiciary Committee will be questioning Ford on Capitol Hill on Thursday. The Republican senators on the panel, all of whom are male, have hired a female attorney to question the alleged victim, as well as Kavanaugh.
The committee has also scheduled a vote to confirm Kavanaugh for Friday morning, but it could change, depending on Thursday's testimony.