A Brief Tour Through Donald Trump's Questionable Understanding of American History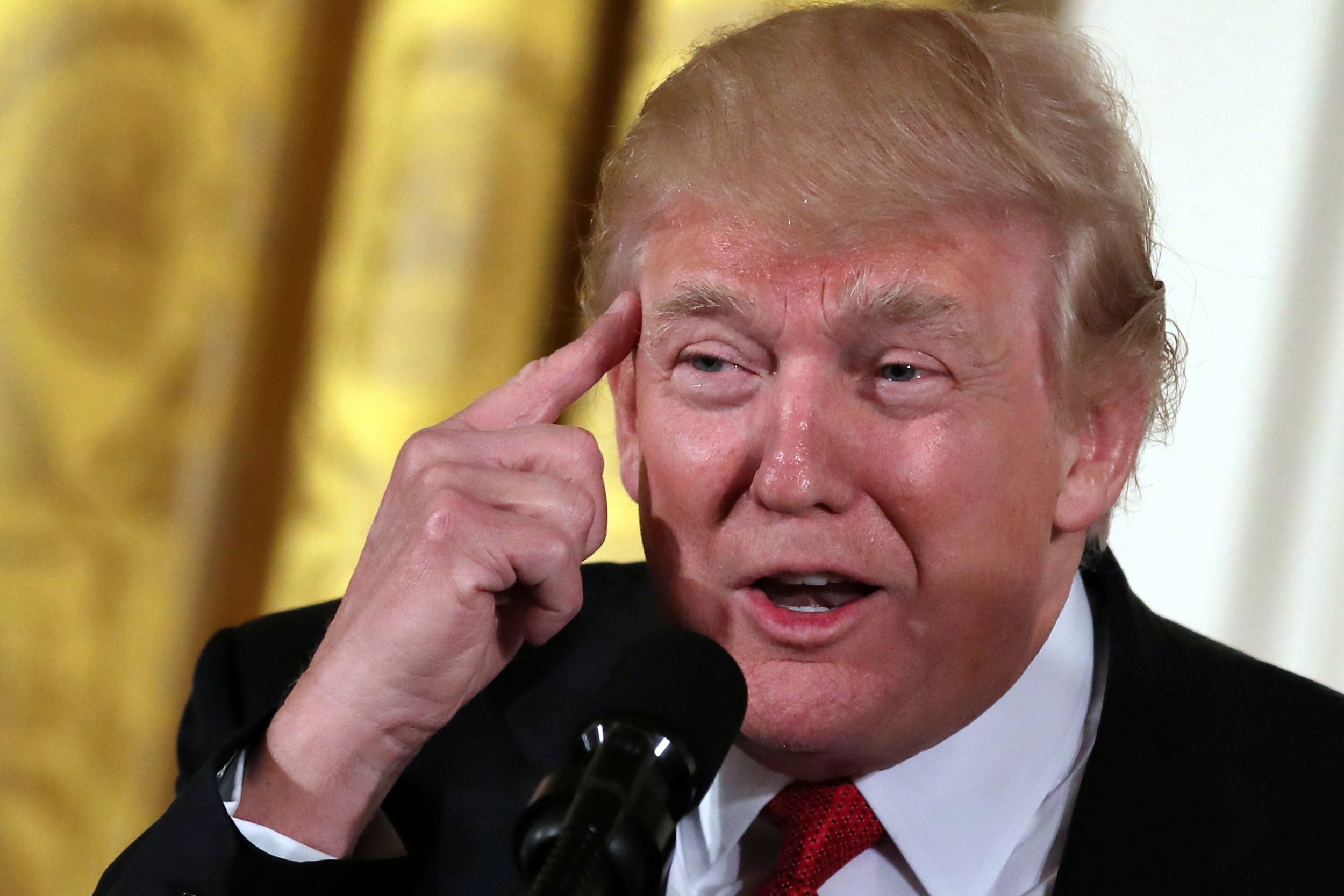 Unlike Bill Clinton, Barack Obama or even George W. Bush, Donald Trump is not much of a history buff. He doesn't really read. Only "passages" and "areas" and "chapters," as he told Megyn Kelly in May 2016 when she asked for the last book he read. "I don't have the time," he says.
This doesn't mean Trump doesn't have favorite books. Kind of. He has mentioned All Quiet on the Western Front as one of the best, along with the Bible (!) and, of course, The Art of the Deal. He's yet to crack a presidential biography, though. "I never have," he admitted during the campaign when asked by The Washington Post if he'd read about any of his potential predecessors. "I'm always busy doing a lot. Now I'm more busy, I guess, than ever before."
Related: Why Donald Trump can't save the coal industry
So it shouldn't have come as a surprise, during Wednesday's Women's Empowerment Panel at the White House Trump, when Trump didn't come across as particularly learned about the women who have shaped American history. "Since the very beginning, women have driven—and I mean each generation of—Americans toward a more free and more prosperous future," he said before running down the accomplishments of Abigail Adams, Harriet Tubman and Susan B. Anthony, his eyes never straying from the teleprompter.
On Adams: "Legendary."
On Tubman: "She was very, very courageous. Believe me."
On Anthony: "Have you heard of Susan B. Anthony?"
The remarks about Anthony drew criticism, but Trump was clearly joking here. We think. It's entirely possible—perhaps even likely—that Trump had no idea who Susan B. Anthony was before it was suggested to him that he mention her on Wednesday. It also wasn't the first time that Trump has made a history-related gaffe since he entered the political arena.
In honor of the "very, very courageous" Tubman—whom Trump suggested should be placed on the out-of-print $2 bill but not the $20 bill, as had been proposed—here are a few other times the president has demonstrated a lack of respect for, knowledge of or reverence to those who struggled to make America so breathtakingly free that a reality star could be elected to its highest office.
Abraham Lincoln
Trump loves Abraham Lincoln. "He was a man who was of great intelligence, which most presidents would be," he explained to Bob Woodward last April. "But he was a man of great intelligence, but he was also a man that did something that was a very vital thing to do at that time. Ten years before or 20 years before, what he was doing would never have even been thought possible. So he did something that was a very important thing to do, and especially at that time."
Trump has also said on multiple occasions that he would be more presidential than anyone "other than the great Abe Lincoln."
But Trump's knowledge of the 16th president only goes so far. On Lincoln's birthday in February. he posted a picture of the Lincoln Memorial along with a quote: "And in the end, it's not the years in your life that count, it's the life in your years." Lincoln never uttered this motivational poster fodder, of course, and the tweet was soon deleted.
Then, in March, during a speech to the National Republican Congressional Committee, Trump seemed surprised that Lincoln was a Republican. "Great president," Trump said. "Most people don't even know he was a Republican, right? Does anyone know? A lot of people don't know that. We have to build that up a little more."
Seth Meyers lampooned Trump's remarks in one of his "A Closer Look" segments, ending the bit by imagining Lincoln wearing a red "Make America Great Again" stovetop hat.
As has been proved time and time again, Trump comedy is no match for Trump reality:
Jewish History
Trump's relationship with the Jewish people has been checkered, to say the least. He's made plenty of questionable comments about the religion; his chief strategist, Steve Bannon, has demonstrated anti-Semitic tendencies; and since Trump was elected, anti-Semitic hate crimes have intensified.
He also blew it on Holocaust Remembrance Day. Somehow the official statement released by the White House failed to mention Judaism or the Jewish people, 6 million of whom were killed during the Holocaust.
Black History
This hasn't been one of Trump's strong suits either. On Martin Luther King Jr. Day in January, a feud raged between Trump and U.S. Representative and civil rights hero John Lewis, whom Trump bashed after learning that Lewis was planning on boycotting Trump's inauguration.
Trump is entitled to be pissed off that Lewis doesn't consider him a legitimate president, but publicly attacking a civil rights hero on Martin Luther King Jr. Day was not a good look.
A month later, Trump made a slew of bizarre remarks about African-Americans. In January, it was erroneously reported that Trump had removed a bust of Martin Luther King Jr. from the Oval Office. While invoking King during an event commemorating Black History Month, Trump quickly turned the focus of his speech to this incident.
"Last month we celebrated the life of Reverend Martin Luther King Jr., whose incredible example is unique in American history," he said. "You read all about Martin Luther King when somebody said I took a statue out of my office. And it turned out that that was fake news. The statue is cherished. It's one of the favorite things, and we have some good ones. We have Lincoln, and we have Jefferson, and we have Dr. Martin Luther King."
During the same address, Trump appeared to be confused about who Frederick Douglass was, implying that he was still alive. "I am very proud now that we have a museum on the National Mall where people can learn about Reverend King, so many other things. Frederick Douglass is an example of somebody who's done an amazing job and is getting recognized more and more, I notice. Harriet Tubman, Rosa Parks and millions more black Americans who made America what it is today. Big impact."
Press Secretary Sean Spicer failed to offer clarity on Trump's understanding of Douglass:
"I think there's contribu—I think he wants to highlight the contributions that he has made, and I think through a lot of the actions and statements that he's going to make, I think the contributions of Frederick Douglass will become more and more," Spicer said.
Andrew Jackson vs. Henry Clay
Trump's populism has drawn comparisons to that of Andrew Jackson, the nation's seventh president. Once inaugurated, Trump embraced the comparison, hanging a portrait of Jackson in the Oval Office. In March, Trump even visited Jackson's grave in Nashville, Tennessee. "It was during the Revolution that Jackson first confronted and defied an arrogant elite," Trump said. "Does that sound familiar?"
That night, Trump held a rally in Nashville in which he vowed to repeal Obamacare and replace it with another plan, which would cause as many as 15 million Americans, mostly the poor and elderly, to lose health care coverage.
Less than a week later, in Louisville, Kentucky, Trump praised Henry Clay, a fierce rival of Jackson's. "Henry Clay believed in what he called the 'American system' and proposed tariffs to protect American industry and finance American infrastructure," Trump said. "Like Henry Clay, we want to put our own people to work.... Clay was a fierce advocate for American manufacturing. He wanted it badly, he said, very strongly, free trade.... He knew all the way back, early 1800s, Clay said that trade must be fair, equal and reciprocal. Boom."
Christianity
Despite listing the Bible as his favorite book, Trump has demonstrated little to no knowledge of its contents. When pressed for a favorite verse in August 2015, Trump couldn't name one. "I wouldn't want to get into it. Because to me, that's very personal," he said. "The Bible means a lot to me, but I don't want to get into specifics."
Asked if he preferred the Old Testament or the New Testament, he said that they were "probably equal" and that he thinks "it's just incredible."
In April 2016, however, Trump mentioned the "eye for an eye" punishment from Exodus when asked on a radio program for a part of the Bible that informed his character. The only problem with this is that Jesus directly rejected that principle during the Sermon on the Mount in the Gospel of Matthew. "You have heard that it hath been said, 'An eye for an eye, and a tooth for a tooth.' Jesus said. "But I say to you not to resist evil: But if one strike thee on thy right cheek, turn to him also the other."
None of this matters, though. Trump is all square in the eyes of the Son of God. In February 2014, a Twitter user with two followers told him so.
Read more from Newsweek.com:
- Former C.I.A. analyst on finding David Nunes's source
- What happens if Democrats filibuster over Neil Gorsuch?
- Trump could get 'ugly' to shore up base, Chomsky says