Donald Trump Buckingham Palace Banquet: Queen Elizabeth II Puts on Lavish Spread for Her American Guest
On Monday evening, President Donald Trump will attend an opulent dinner hosted by Queen Elizabeth II in the ballroom of her official residence, Buckingham Palace.
Every minute detail, from the wine to the food to the flowers, will have been approved by the monarch, as part of a laborious effort that has taken the best part of six months to plan, The Press Association reported.
Some 170 guests—including, of course, the president and First Lady Melania Trump—will enjoy a gourmet feast lubricated with plenty of fine wine. According to the royal family's official website, guests will have been chosen "on the basis of their cultural, diplomatic or economic links," to the U.S.
Six glasses are provided for each guest, ready for water and five different types of wine: champagne, red and white wines, dessert wine and port. Each glass must be placed a certain distance from the end of the table. During the meal, 76 staff serve courses and attend to guests via 19 stations dotted around the table.
Diagrams, measuring sticks and special written instructions help a team set the enormous, horseshoe-shaped table over three days. Each place setting is laid exactly 18 inches from the next, the PA reported. Each seat must be placed at exactly the same distance from the table.
The Queen observes the entire set-up to make sure everything is in order before the feast can begin.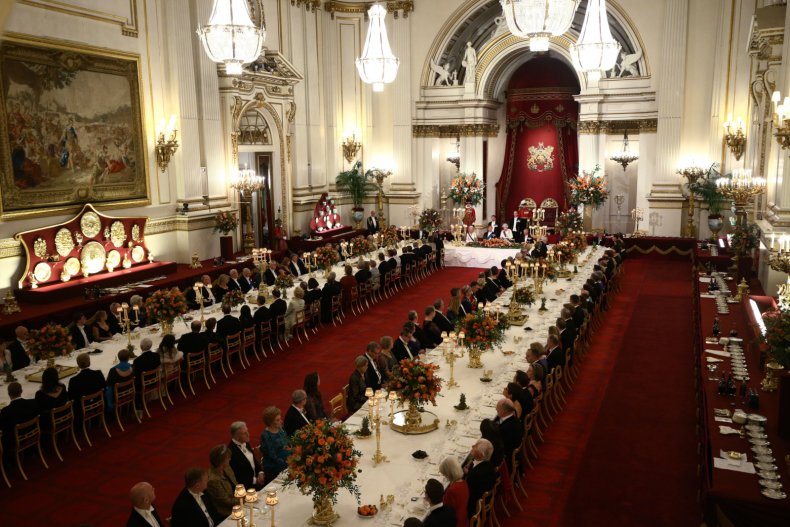 After the Queen, the president and his wife have shaken the hand of every single guest as they enter the ballroom, they will walk to the top end of the horseshoe, where they will join other guests.
The monarch will make a speech before toasting the president, who will do the same, according to the royal family's website.
In recent years, the queen has entertained other leaders including the King and Queen of the Netherlands, the King and Queen of Spain and Chinese President Xi Jinping and his wife Peng Liyuan. She hosted President Barack Obama and his wife Michelle Obama back in 2011 and 2016, having previously met them in 2009 at a G20 summit, according to the website.
She has met numerous American presidents on official visits to the U.K. before, including President Dwight D Eisenhower in 1959, President John F Kennedy in 1961, President Richard Nixon in 1969 and 1970, President Jimmy Carter in 1977, President Ronald Reagan in 1982, President George H W Bush in 1989, President Bill Clinton in 2000 and President George W Bush in 2001, 2003 and 2008.