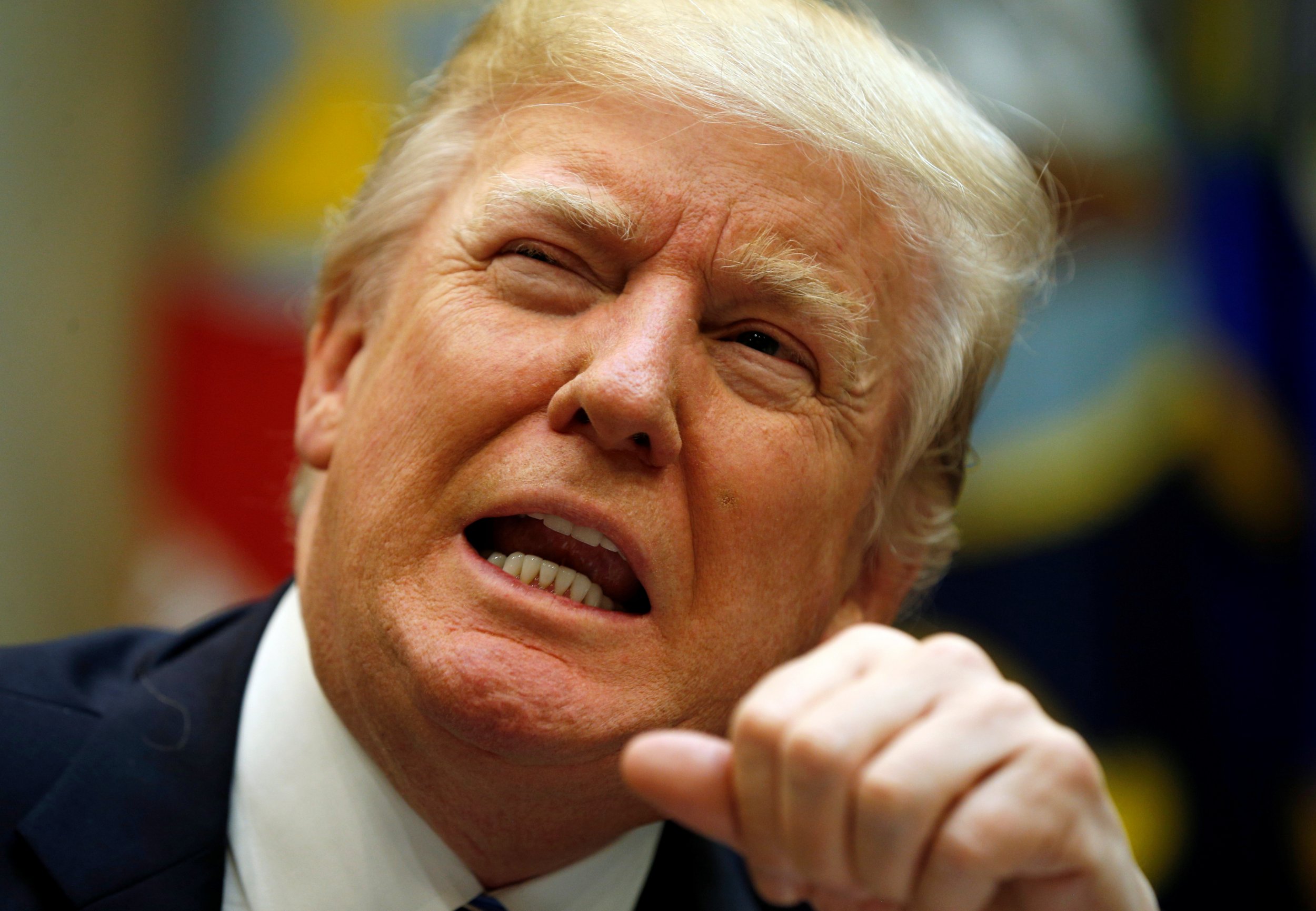 A budget proposal to be released by U.S. President Donald Trump on Thursday includes deep cuts for the State Department and Environmental Protection Agency as his administration seeks to raise military spending, the New York Times said on Wednesday.
The budget plan for fiscal 2018 will call for cuts of 28 percent for the State Department and 31 percent for the Environmental Protection Agency, the Times reported, citing congressional staff members familiar with the plan.
It will also propose a big reduction in the State Department's Food for Peace program and the elimination of a Transportation Department program that subsidizes flights to rural U.S. airports, the Times said.
Trump's budget proposals include cuts in federal government agencies that have been targeted by Republican Party politicians for decades but historically protected by Congress which under law holds the federal purse strings.
His administration is seeking to boost military spending by $54 billion and seek cuts of the same size in non-defense programs. Early drafts described by government officials call for dramatic cuts at some agencies.
"They're really going to be cutting into bone," said Kenneth Baer, a former associate director at the Office of Management and Budget who helped draft President Barack Obama's first four budgets.
The document will begin months of debate on government spending, with Democrats and moderate Republicans worried the budget could force tough decisions on popular programs such as aid for disabled children and hot meals for the elderly, and conservatives pushing for more cuts down the line.
New administrations typically submit to Congress what is known as a "skinny budget", a broad outline of spending proposals, in their initial months in office, with lengthy volumes of fiscal plans and projections following a couple of months later.
But the Trump budget for the fiscal year that begins on Oct. 1, 2017 may be more truncated than usual, said three budget experts interviewed by Reuters.
The document is expected to look only at one narrow piece of the budget: "discretionary" programs that are subject to renewal every year and not the massive "entitlement" programs such as the Social Security retirement program and the Medicare and Medicaid health programs.
"This one appears as though it will be one of the skinniest budgets of recent memory. Possibly emaciated," said Maya MacGuineas, president of the Committee for a Responsible Federal Budget.
Social programs such as Social Security and Medicare account for the majority of overall U.S. federal government costs. Trump pledged to protect the two programs during the campaign.
"If they put out a budget as skinny as advertised, it might not really tell us a whole lot about the president's overall budget and the direction of fiscal policy," said Robert Bixby, executive director of the Concord Coalition, a nonpartisan budget reform advocacy group.
Could Face Resistance
The "skinny budget" is not expected to address other potentially expensive promises Trump made during his campaign.
Trump wants to boost infrastructure spending while cutting taxes. Although he has not given details on how or when that would happen, the pledges worry Romina Boccia, a fiscal policy expert at the conservative Heritage Foundation. "You could blow up the deficit even more," she said.
If Trump sticks with his campaign spending promises but decides to make a bigger push to rein in the deficit, more cuts could be in store for programs such as food assistance for the poor, college Pell Grants for the poor, and some income assistance for poor senior citizens, said Sharon Parrott, senior fellow at the Center of Budget and Policy Priorities.
"That's what's left," Parrot said in an interview.
The budget blueprint represents Trump's priorities for government spending in the coming fiscal year but it will ultimately be up to Congress to decide how to allocate funds.
Even though Trump's Republicans control both the House of Representatives and the Senate, the budget could face resistance. Some moderate Republicans have already expressed unease with some of the proposed spending cuts.
Trump's "skinny budget" will also make funding requests for the remaining months of the current fiscal year.
The White House is expected to ask Congress for additional money for the current fiscal year for waging combat operations abroad and for starting to build a wall on the southwestern U.S. border with Mexico.
As long as increases in military spending are offset with cuts elsewhere for 2018, keeping the deficit in check, Republican Representative Steve Pearce said he was willing to wait patiently for broader fiscal belt-tightening down the road.
"We're playing a very long game here in the debt and deficit," Pearce said in an interview.