Fires that have burned across the state of California for more than a week destroyed hundreds of thousands of acres of land and threatened homes and lives of those in the area. As of Friday, there were 66 deaths confirmed due to the fires and hundreds of other people were missing.
President Donald Trump spoke about the fires during an interview Friday with Fox News' Chris Wallace a day before he was expected to travel to the state to see the damage himself. Trump summarized in the interview, which airs Sunday on Fox, his thoughts about the fire by saying that if the land had been managed better "you wouldn't have the fires."
The president said he had seen the firemen at work and saw them raking under trees near the flames of the fires. Trump said that had the areas around the trees been raked out earlier, there would have been no fire burning.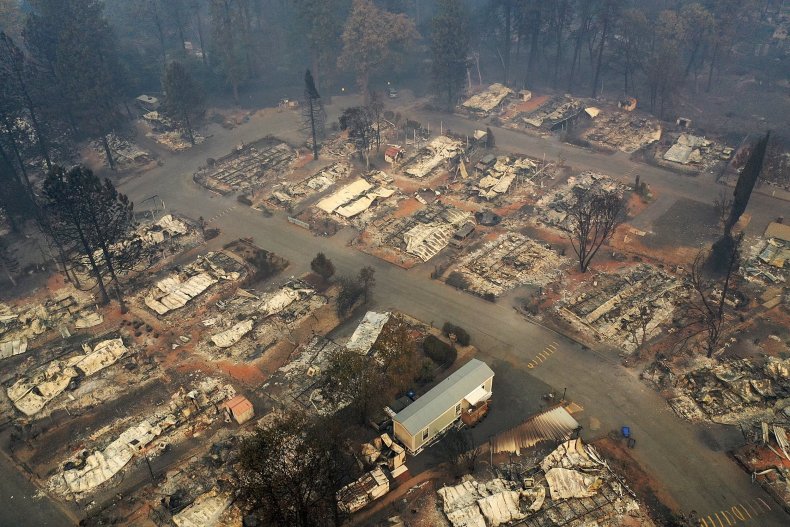 "Nobody's ever seen what's going on over there," he said about the record-breaking wildfires. "Burned beyond recognition, they can't even see the bodies, it's incredible," he continued during the interview.
One of the fires, the Camp Fire, was burning north of Sacramento, while the Woolsey Fire was burning west of Los Angeles. As of Friday, the Camp Fire had burned about 142,000 acres and the Woolsey fire about 98,000 acres. Fire officials have said that dry conditions accompanied by strong winds had contributed to how quickly and aggressively the fires were burning.
When Wallace asked Trump what he thought about the argument that climate change may have contributed to the fires Trump said, "Maybe it contributes a little bit. The big problem we have is management."
"You need forest management, it has to be, I'm not saying that in a negative way.... I'm just saying the facts, and I've really learned a lot," Trump said.