Donald Trump Didn't Call Jeff Sessions to Fire Him or Thank Him for His Service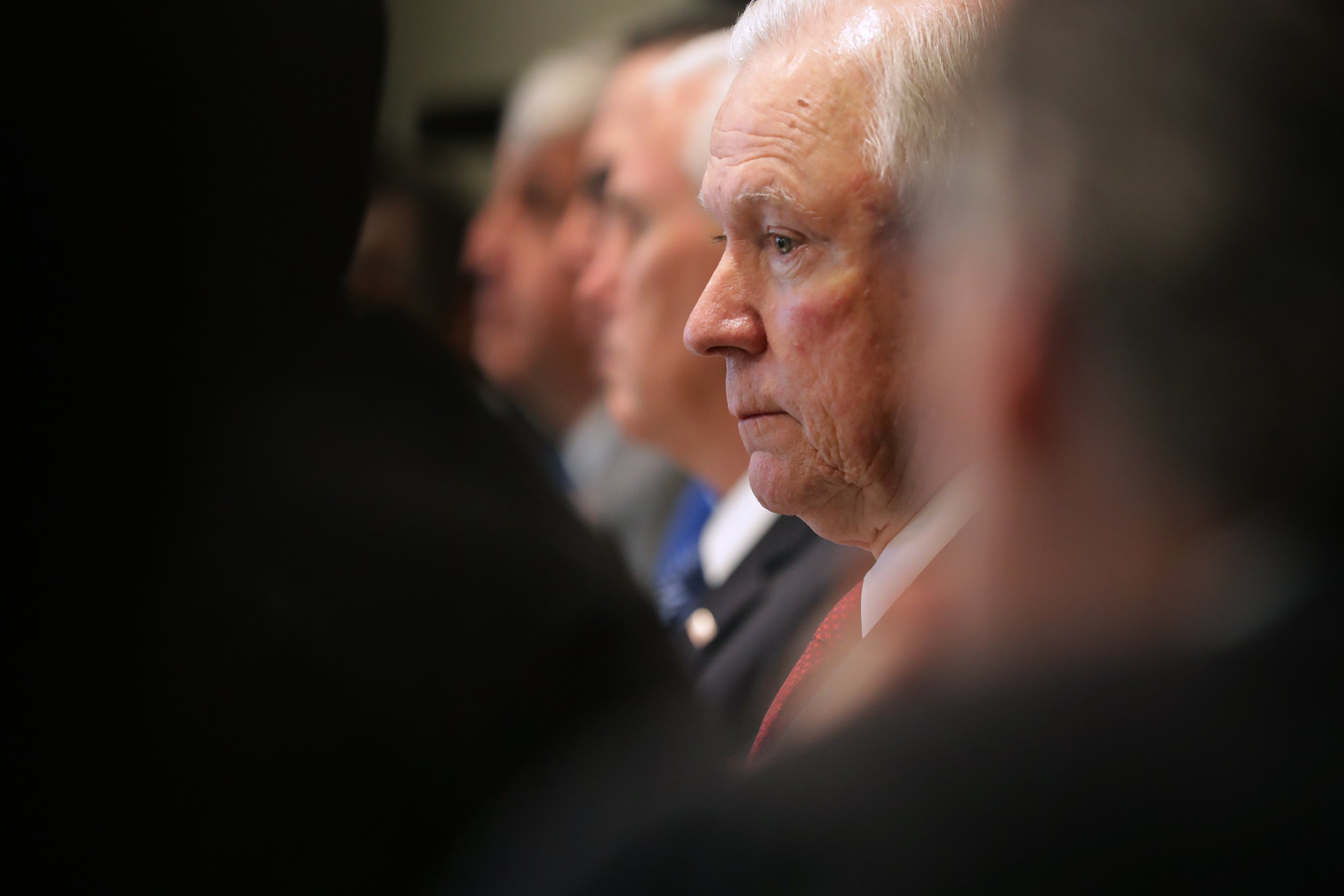 President Donald Trump did not directly speak to or thank Jeff Sessions when he forced his resignation Wednesday, according to an interview with the former attorney general published Friday by The Wall Street Journal. Sessions also did not receive a call of thanks from Vice President Mike Pence.
The interview was conducted Wednesday, as Sessions ended his tumultuous tenure with Trump, which began during the president's victorious campaign and continued as the country's top law enforcement officer.
The report described Sessions as going about his normal workday at the Justice Department on Wednesday, which included a regular briefing from the FBI.
Later in the day, Sessions received two unexpected calls from White House Chief of Staff John Kelly. The former general told Sessions that Trump wanted him to resign immediately, according to the report.
Trump did thank Sessions for his service with a tweet Wednesday, but only after he had named Sessions's former chief of staff at the Justice Department, Matt Whitaker, as the acting attorney general.
"We thank Attorney General Jeff Sessions for his service, and wish him well! A permanent replacement will be nominated at a later date," Trump said.
Pence issued a statement thanking Sessions for his service and work in the Senate.
"I am grateful to Attorney General Jeff Sessions for his service at the Department of Justice and years of service in the U.S. Senate. Karen and I send our warmest regards to Jeff and Mary and wish them all the best," Pence said.
Sessions told the Journal that he did not regret recusing himself from the Russia investigation and said: "No one is above supervision." His decision to recuse himself from any probe involving Russia's interference in the 2016 election—due to his close work on the president's campaign—led to public and private insults from Trump. The president many times said he never would have appointed Sessions if he knew about a possible recusal.
The former Alabama senator said in the interview that the length of the ongoing investigation was "unhealthy," but he expressed confidence that it would continue "appropriately and with justification."
Sessions's ouster immediately led the president's critics to question Whitaker's appointment. Whitaker has publicly derided Robert Mueller's investigation, stating that the special counsel never should have been appointed and that Mueller had no business investigating the president's finances.
Whitaker reportedly does not plan to recuse himself, which would likely lead to him taking supervision duties from Deputy Attorney General Rod Rosenstein.
Despite Trump describing him as "beleaguered," Sessions was integral to the current administration. Trump campaigned on law-and-order and immigration policies, and Sessions eagerly enforced a "zero tolerance" immigration policy at the southern border that led to the detention of thousands of migrant children.