Donald Trump Called Fox Business Host Lou Dobbs to Get His Views Before Ending Government Shutdown: Report
President Donald Trump reportedly called one of his favorite television hosts, Lou Dobbs of Fox Business Network, for his views on the shutdown negotiations before deciding to temporarily open government Friday without the border wall funding he had demanded.
Trump was "angry" with House Speaker Nancy Pelosi and Democrats' refusal to heed to his demands, and called friends, including Dobbs, to get their feedback about the negotiations, two White House officials in tune with the talks but not allowed to discuss the matter publicly told The Washington Post in a report published Sunday.
The president also reportedly pressed Pat Cipollone, who is leading the White House Counsel's Office in preparing drafts for a national emergency declaration, for guidance about any legal repercussions that could follow. Trump spent a significant amount of time Thursday night reviewing the declaration drafts while watching shutdown coverage on TV, according to the two officials.
Though it is unclear what Dobbs said to Trump on their alleged phone call, the Fox host clearly saw Trump as the loser in the standoff, calling Pelosi "the queen of the hill" on his show Friday night.
"She has just whipped the president of the United States," Dobbs said, fending off former White House adviser Sebastian Gorka, who was a guest on the show. "No, no, stop, stop, and then I'll let you finish. You know I'm an animated, energetic supporter of this president...but you've got to call it as it is."
Dobbs continued, "This president said it was going to be conditional, border security, building that wall, and he just reversed himself. That's a victory for Nancy Pelosi. It will be perceived as such on every television monitor and screen in the country—and to deny it is to try to escape from reality, and that we ain't going to do here."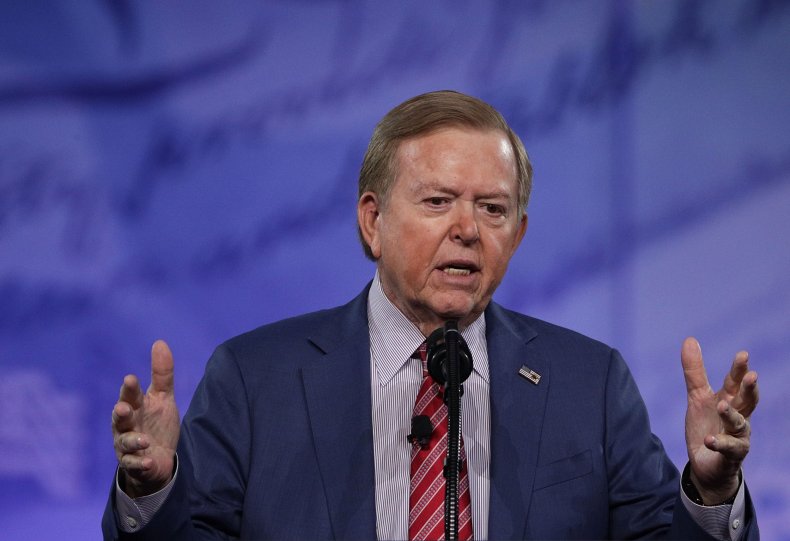 Other conservative media peronalities offered similar critiques of Trump and his agreement to temporarily reopen government for three weeks.
Conservative political commentator and author Ann Coulter ripped Trump with the tweet: "Good news for George Herbert Walker Bush: As of today, he is no longer the biggest wimp ever to serve as President of the United States."
The conservative website The Daily Caller issued the following headline: "TRUMP CAVES: President Will Temporarily Reopen Government With Zero Funding For The Wall."
Trump apparently bases many of his decisions on what he sees on television and after phone calls with Fox News personalities. In May, New York magazine reported that Sean Hannity had Trump's direct phone line at the White House and talked to the president several times a day, including after his nighttime show.