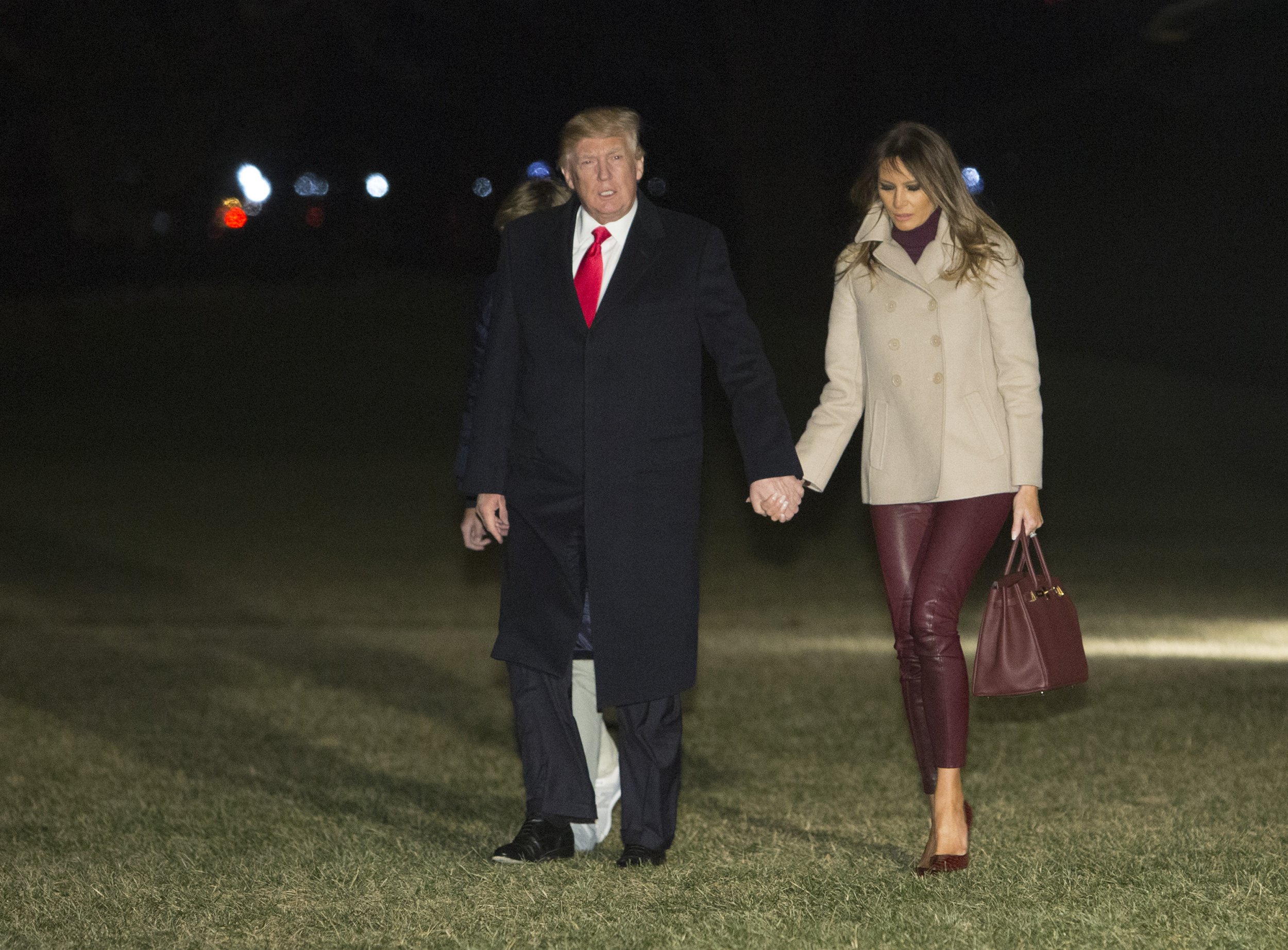 President Donald Trump boasted to people first lady Melania Trump was his "trophy wife," and the couple often went days without seeing each other while living at Trump Tower before he was elected in November 2016, a new book claims.
The extraordinary claims about the first marriage are made in Michael Wolff's highly publicized new book, Fire and Fury: Inside the Trump White House, published Friday. The author reportedly conducted over 200 interviews with people familiar with the inner workings of the Trump presidency, including former Trump chief strategist Steve Bannon.
Wolff paints a solemn picture of the Trumps' 12-year marriage, writing that the president "and Melania spent relatively little time together. They could go days at a time without contact, even when they were both in Trump Tower."
In an excerpt published by the U.K.'s Times newspaper Friday, Wolff continues to describe the Trumps' marriage prior to the White House being "perplexing to almost everybody around him."
"Often she did not know where he was, or take much notice of that fact. Her husband moved between residences as he would move between rooms. Along with knowing little about his whereabouts, she knew little about his business, and took at best modest interest in it," Wolff writes.
According to Wolff, Trump would boast to people "proudly and without irony" that Melania—his third spouse—was a "'trophy wife.'" And though they spent little time together, Wolff claims Trump would jubilantly praise his wife's appearance to others "often, awkwardly for her."
The book goes on to claim that Trump was something of an absentee father to his youngest son, Barron, aged 11. Wolff says that much of the first lady's life before the presidency was "entirely focused on her young son," however.
In an earlier excerpt from Fire and Fury published by New York magazine Wednesday, Wolff says that Trump did not actually want to be president, nor did the first lady expect him to win. On election night in November 2016, he says, "Melania was in tears—and not of joy."
The first lady's communications director Stephanie Grisham responded in a statement: "The book is clearly going to be sold in the bargain fiction section. Mrs. Trump supported her husband's decision to run for president and in fact encouraged him to do so. She was confident he would win and was very happy when he did."
Trump, for his part, branded the book it "phony" and "full of lies."
The spokesperson for the first family was not immediately reachable for comment.