Donald Trump Calls Asylum Claims a 'Big Fat Con Job,' Says Mexico Should Stop Migrant Caravans From Traveling to U.S. border
President Donald Trump took time during his campaign rally Thursday in Grand Rapids, Michigan, to dispute the asylum claims from immigrants who are trying to enter the United States.
During an 83-minute speech, Trump called some of the claims a "big fat con job" amid a larger monologue on his proposed border wall and immigration policies established by Democrats, including former President Barack Obama.
"You have people coming, you know they're all met by the lawyers… And they come out, and they're met by the lawyers, and they say, 'Say the following phrase: I am very afraid for my life. I am afraid for my life.' OK. And then I look at the guy. He looks like he just got out of the ring. He's a heavyweight champion of the world. It's a big fat con job."
The president again insisted that new portions of the wall were currently being built, despite no evidence that any new construction had begun along the U.S.-Mexico border.
"If you look at the border, if you look at the hundreds of thousands of people that are invading, or at least trying to invade our country, you would know that we need it and we're building it," Trump said. "And we're building it a lot faster than anybody would—and better! And better. It's better, it's faster, and it's less expensive. And it's also much more beautiful."
Repairs and renovations have begun on existing sections of the border wall, something Trump said the news media had "not given us credit for."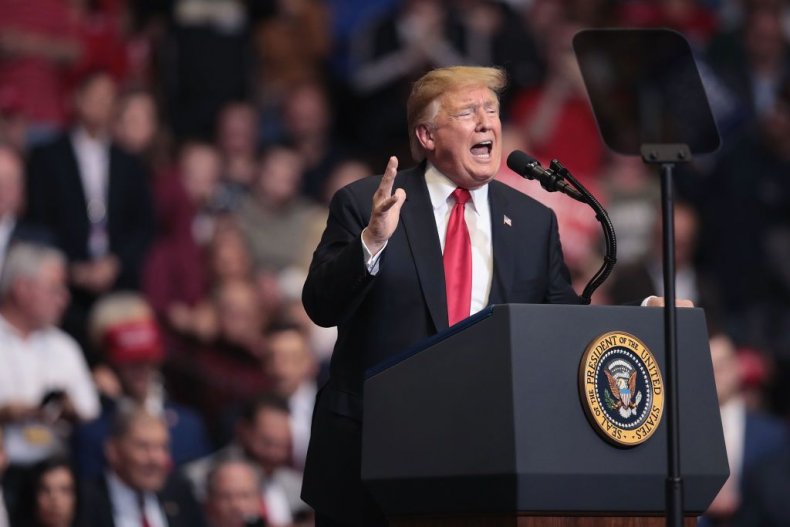 Trump said later in his speech that the increase in immigration was connected to the U.S. economy, which he called the "hottest economy anywhere on earth." Trump said that immigrants must enter the country "legally and they have to come in based on merit," though he did not elaborate on what "merit" might mean.
The president also slammed Democrats for several immigration policies, including catch and release, which took effect in the administration former President George W. Bush and was reinstated by Obama and visa lotteries.
"Think of it. Visa lottery; you're in a lottery system from these countries, you pick up a name. 'Oh isn't that nice, she's from...' Guess what? Do you think they're giving us their best people? No, they're not. They're giving us their worst people and so would you and so would I. Visa lottery, that's another beauty," Trump said. "We have nothing but bad coming out of those laws."
The president blamed Mexico for failing to stop migrant caravans headed to the United States, saying Mexico could stop them "so easy" before saying that Mexico would lose "a hell of a lot of money" if they continue to allow the caravans through.
"They could do it so easily. So easily. And if they don't, I'm telling you right now; we will close the damn border," he said.
Trump said that 30 percent of car manufacturing jobs in the United States went to Mexico and, should the border be closed, the cars would not be allowed to enter the country and that would result in automotive industry jobs returning to the U.S.
Trump later referred to the number of immigrants at the southern border as an "invasion," which he has called it before, saying the U.S. would see a million undocumented immigrants attempting to rush the border, and said, against evidence to the contrary, that open borders would lead to an increase in crime.
"We are also protecting America's borders, and we are taking on the extremists. They are, really radical extremist Democrats who want open borders and crime, because that's what happens," he said.
The infographic below, provided by Statista, illustrates the number of people granted asylum in the United States since 1975.