Donald Trump Calls Coronavirus Infection a 'Blessing From God'
President Donald Trump said that his bout with COVID-19 was a "blessing from God" on Wednesday.
Trump made the claim in a video taken in front of the Oval Office, which Trump returned to less than a week after his initial coronavirus diagnosis. After Trump announced his positive test on Friday, he was treated for COVID-19 at Walter Reed National Military Medical Center for three days. Trump said Wednesday that he was given the monoclonal antibody from Regeneron, which he believed was "the key" to overcoming the virus.
"I think this was a blessing from God that I caught it," Trump said. "This was a blessing in disguise."
Trump said it was his idea to be given the antibody from Regeneron. "I said let me take it and it was incredible the way it worked, incredible," Trump said. "And I think if I didn't catch it, we'd be looking at that like a number of other drugs."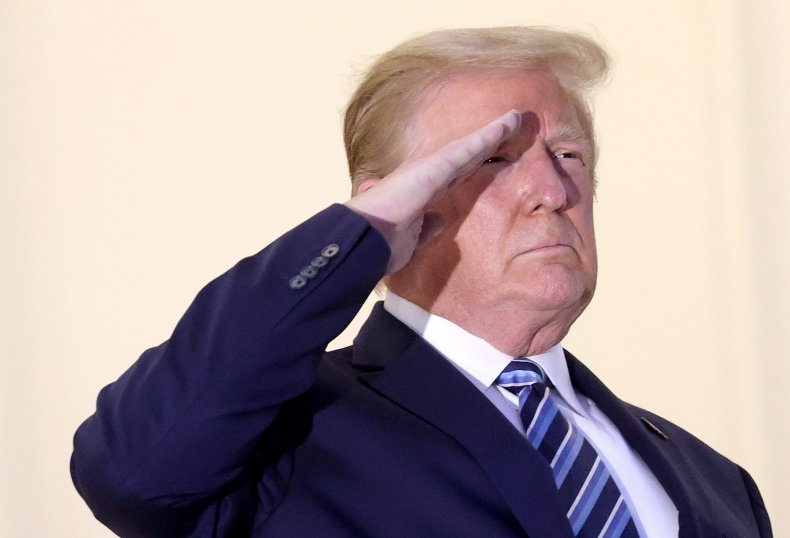 According to Trump, Regeneron's experimental antibody will be made available to coronavirus patients free of charge "especially if you're a senior." Trump added that he had emergency use authorization for the therapeutic "all set" and ready to be signed.
"I want to get for you what I got," Trump said, "And I'm gonna make it free. You're not gonna pay for it. It wasn't your fault that this happened. It was China's fault."
Newsweek reached out to the Biden campaign for comment.
Regeneron's treatment, REGN-COV2, contains two antibodies that attack the coronavirus according to studies. While REGN-COV2 is in the third phase of clinical trials, it has yet to be approved by the FDA.
Some observers said that Trump had been released from the hospital too soon. Guidance from the Centers for Disease Control and Prevention advises that individuals who have tested positive for COVID-19 quarantine themselves for 14 days.
On Wednesday, White House Chief of Staff Mark Meadows indicated that coronavirus mitigation precautions were in place in preparation for Trump's return to his workspace in the Oval Office.
"If he decides to go the Oval," Meadows told reporters, "we've got safety protocols there that are not only from the PPE standpoint, but from a ventilation standpoint, in the open where we can actually work to that end as well." Meadows later said that he wears personal protective equipment in Trump's presence.