Donald Trump Calls Ex-Aide Alyssa Farah a 'Clown' After She Claims He Admitted 2020 Defeat
Former President Donald Trump has lashed out at his former aide, Alyssa Farah after she claimed that he initially admitted to losing the 2020 presidential election.
Farah said during a Saturday interview on CNN that Trump privately admitted his defeat shortly after the election took place, only later becoming convinced by false claims that the contest was "stolen" from him. Trump responded to Farah in a statement on Monday, denying that he ever accepted the reality of his loss while blasting his former White House communications director as a "clown" and a "nobody."
"I watched this clown on television saying exactly what they wanted her to say and I watched the lies," Trump said. "Was she paid by low-ratings CNN? By the way, as soon as the Crime of the Century happened on November 3rd, I knew the Election was Rigged and Stolen, and never changed my view on that one bit. I did not go soft on the 'Real' Big Lie, the Election Scam, and never will."
"[Farah] said I told her I lost the Election—never did," he added. "I virtually never even spoke to Farah (it's like she didn't even exist in the White House). Anybody who ever says that I thought the Election was legit, even for a moment, is wrong."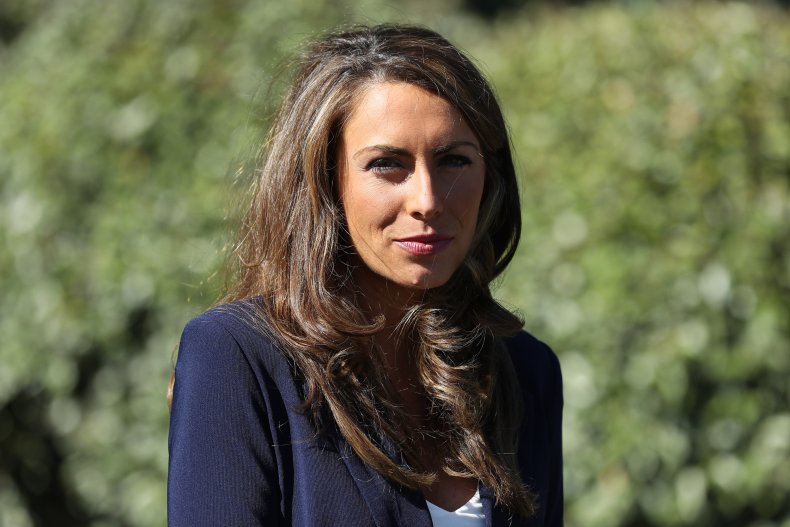 Trump also denounced Farah for appearing as a guest host on The View last month, where co-host Sunny Hostin compared her time in the White House to serving as a "stormtrooper" under Star Wars villain Darth Vader.
"Alyssa Farah was terrible on The View—they could have asked the people who know her and saved a lot of time," said Trump. "She was a 'backbencher' in the White House, and is now a nobody again. We put her out there to face the public as little as possible."
Farah, who served as press secretary for former Vice President Mike Pence and the Department of Defense before taking on the White House communications director role, resigned from the Trump administration in December 2020.
During her CNN interview, Farah said that the former president directly told her that he "knew" he lost to President Joe Biden after the election had concluded. She said that Trump may have later changed his mind after receiving advice from unspecified people.
"He told me shortly after he knew he lost," Farah said. "But then, you know, folks got around him. They got information in front of him. And I think his mind might have genuinely been changed about that. And that's scary because he did lose."
Farah noted that Trump and his allies "lost every court case" in the wake of the election and had been unable to present proof of fraud despite "countless" opportunities. She added that it was "kind of more scary that he believes" he won the election.
The former White House aide, who is currently on a honeymoon after marrying consultant Justin Griffin, responded to Trump on Twitter shortly after the ex-president issued his fiery statement.
"I see I have honeymoon well wishes from my former boss! Too kind!" Farah tweeted alongside an upside-down smiley face emoji.