Donald Trump Calls Former Rep. Barbara Comstock a 'RINO' After Her 'Meet the Press' Appearance
Former President Donald Trump has denounced former Rep. Barbara Comstock (R-Va.) as a "RINO loser" following months of criticism that culminated in her joking that few Republicans would "join a search party" if he disappeared.
Comstock, who left Congress in 2019 after losing her 2018 reelection bid, has repeatedly criticized Trump for spreading the falsehood that his 2020 election loss to President Joe Biden was due to massive voter fraud. On Tuesday, Trump fired back, lumping the former congresswoman in with other GOP figures that he has spoken against after receiving criticism.
"RINO Former Congresswoman Barbara Comstock of Virginia, who lost her race conclusively to someone she should have easily beaten, now goes around telling Republicans how to get elected," Trump said in a statement. "She had no problems being with me while in the Oval Office, or when she needed something."
"She and other RINO losers like Mitt Romney, Little Ben Sasse, Lisa Murkowski, Liz Cheney, Adam Kinzinger, and Karl Rover are what's really wrong with the Republican Party, not the great MAGA Republicans, Conservatives, and Patriots!" added Trump.
Newsweek reached out to Comstock for comment.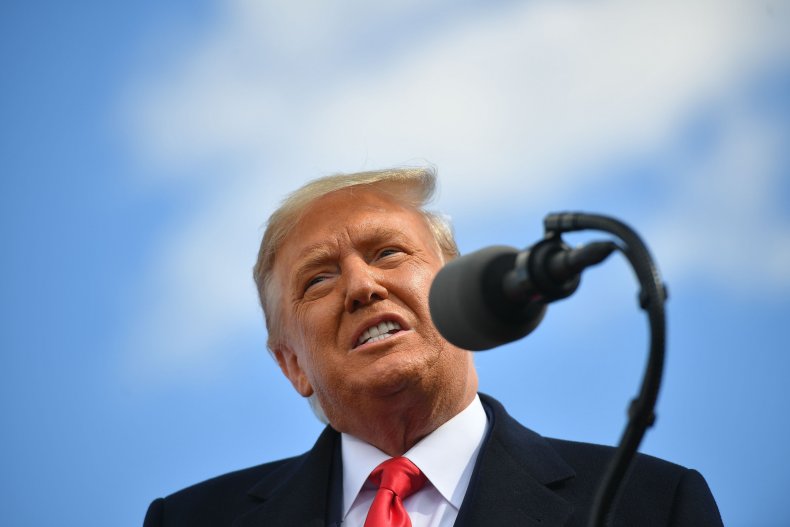 On Sunday, Comstock joked that few Republicans would be joining a "search party" for Trump if the former president were to go missing. Comstock made the remarks during an appearance on NBC's Meet the Press.
Comstock appeared on the show to discuss her efforts to convince Republicans to support a January 6 commission on behalf of the mother of deceased Capitol Police Officer Brian Sicknick, who died one day after defending the Capitol against a violent mob of Trump supporters.
"I understand Republicans want to get away from Donald Trump," Comstock said. "I mean, if Donald Trump disappeared tomorrow, I don't think you'd have many Republicans in the search party. Maybe a few prosecutors, but not Republicans... They want to get away from him, but the problem is he's not going to go away."
During a May 7 interview on CNN, Comstock described Trump as a "sore loser" and expressed disbelief that Republicans would want the party to continue under his influence after his comprehensive 2020 election loss. Trump lost the election by more than 7 million national popular votes and 74 Electoral College votes.
"I don't understand... Trump got 46.9 [percent of the vote], so that is a minority," Comstock said. "He divided the country and now he's dividing the Republican Party. So, you are dividing up what is a minority... to hang our hat on a two-time impeached guy who lost the popular vote twice does not make any sense. But it's become a cult of personality."
"I can't come up with any explanation for why you want to hitch your wagon to somebody who has already demonstrated he can divide your party, divide the country and be destructive," she added. "It makes no sense to say, 'Let's go hang with the loser.' He is a sore loser. He was a big loser and it is time to move on."
On Tuesday, Comstock commented that Trump was "delusional and ignorant" while sharing a tweet from New York Times reporter Maggie Haberman that claimed the former president "expects" he will inexplicably be "reinstated" to the White House by August of this year. Newsweek has not independently verified Haberman's claim.