Donald Trump Calls Joe Biden's Record 'Catastrophic' in Acceptance Speech
President Donald Trump became the Republican Party's official presidential candidate for the second time on Thursday at the final night of the 2020 Republican National Convention.
Trump delivered his nomination acceptance speech from the South Lawn of the White House before an appreciative crowd. Many attendees were at the speech were observed not wearing face masks. Seating for the event did not appear to be in accordance with social distancing guidelines recommended by health officials.
"Tonight, with a heart full of gratitude and boundless optimism, I profoundly accept this nomination for President of the United States," Trump said.
In his speech, Trump reiterated his commitment to enforcing law and order while decrying the platform put forth by Democrats as inherently socialist. President Trump also defended his response to the coronavirus pandemic.
Trump drew a hard line between his agenda and that of Democratic Presidential candidate Joe Biden, citing Biden's support of Chinese foreign and economic policies.
"Joe Biden's agenda is made in China," Trump said. "My agenda is made in the U.S.A."
"At no time before have voters faced a clearer choice between two parties, two visions, two philosophies or two agendas," Trump said. "This election will decide if we save the American dream or allow a socialist agenda to demolish our cherished destiny."
"We have spent the last four years reversing the damage Joe Biden inflicted over the last 47 years," Trump added. "Biden's record is a shameful roll call of the most catastrophic betrayals and blunders of our lifetime. He has spent his entire career on the wrong side of history."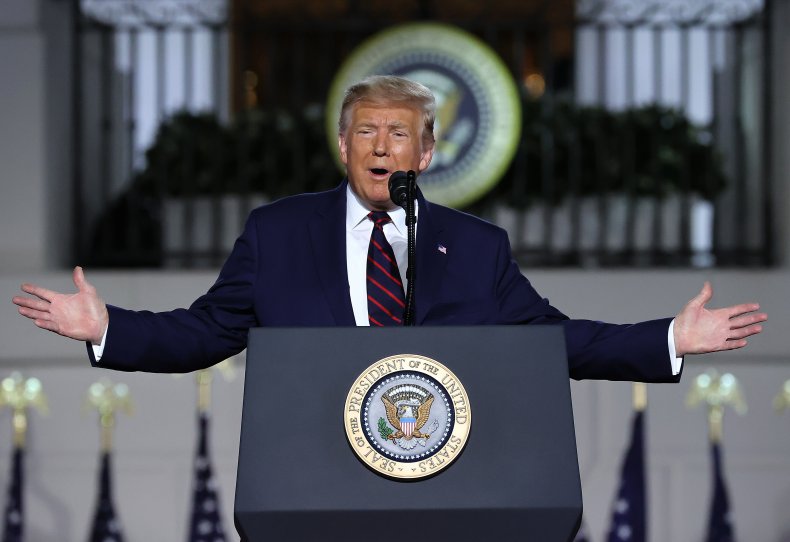 The Biden campaign reacted to Trump's claims in a Thursday statement calling Trump "the weakest president in U.S. history when it comes to China."
"When the coronavirus was spreading like wildfire and other nations mobilized, Trump repeatedly cited Chinese government propaganda and praised Xi's containment efforts as successful to justify his own inaction—despite numerous warnings from Joe Biden and Trump's own advisers," the statement read.
Trump referred to recent civil unrest in U.S. cities, including the shooting of Jacob Blake in Kenosha, Wisconsin. Blake was shot in the back multiple times by a member of the Kenosha Police Department. Protests against police brutality ensued. Blake survived the shooting but was left paralyzed from the waist down.
"During their convention, Joe Biden and his supporters remained completely silent about the rioters and criminals spreading mayhem in Democrat-run cities," Trump said. "They never even mentioned it during their entire convention. Never once mentioned. Now they are starting to mention it because their poll numbers are going down like a rock in water."
Trump's administration has often alleged that Biden agreed with the movement to defund the police. "You won't be safe in Joe Biden's America," President Trump said Thursday, repeating a catchphrase his campaign has used in a Biden attack ad.
Biden denied that claim in June, stating in an op-ed published by USA Today that does "not support defunding police."
"Every single police department should have the money they need to institute real reforms like adopting a national use of force standard, buying body cameras, and recruiting more diverse police officers," Biden said.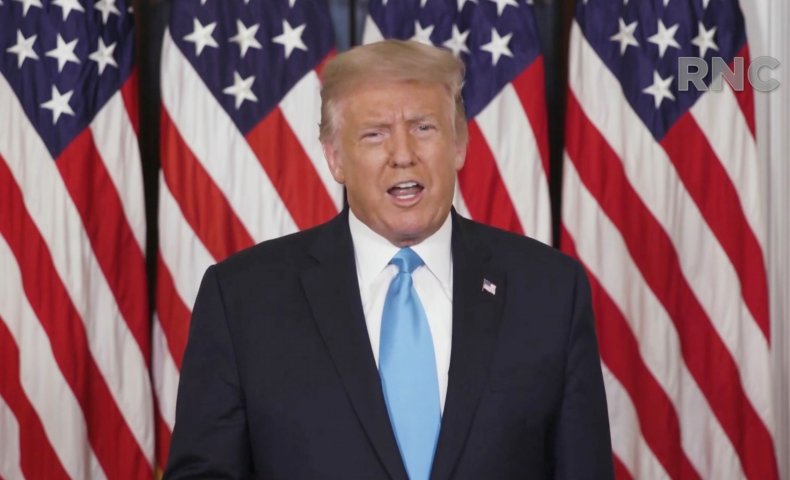 In a speech Thursday afternoon, Democratic Vice Presidential candidate Kamala Harris said that the U.S. had not yet fulfilled the "promise of equal justice under law."
"We will only achieve that when we finally come together to pass meaningful police reform and broader criminal justice reform and acknowledge, yes, acknowledge, and address systemic racism," Harris said.
Trump also defended his administration's reaction to COVID-19, claiming that his administration would provide a viable vaccine before the end of the year. Trump said Biden's coronavirus plan was "not a solution to the virus, but rather a surrender to the virus."
President Trump exhorted Americans to support Republicans regardless of their previous party affiliation.
"The Republican Party goes forward united, determined, and ready to welcome millions of Democrats, independents, and anyone who believes in the greatness of America and the righteous heart of the American people," Trump said.