Donald Trump Calls Liz Cheney 'Threat to Free and Fair Elections'
Former President Donald Trump called Representative Liz Cheney "a threat to free and fair elections" one day after the Wyoming congresswoman blasted him for his repeated false claims about the 2020 election.
Cheney denounced Trump during a speech in New Hampshire on Tuesday and lamented that some of her fellow Republicans had become "willing hostages to this dangerous and irrational man" by supporting evidence-free assertions of massive fraud. Trump responded on Wednesday by falsely claiming that there was "proof of fraud and irregularities" in the election and slammed Cheney for having "caved so easily on the Crime of the Century."
"With an approval rating at 19% in Wyoming, people are wise to Liz Cheney," Trump said in a statement. "She is a threat to Free and Fair elections, which are the cornerstone of our Country, because she caved so easily on the Crime of the Century."
"Democrats would never put up with a Liz Cheney in their ranks," he added. "If we had a Free and Fair media, instead of a corrupt media, those election results would never have been allowed to happen. The proof of irregularities and fraud is massive!"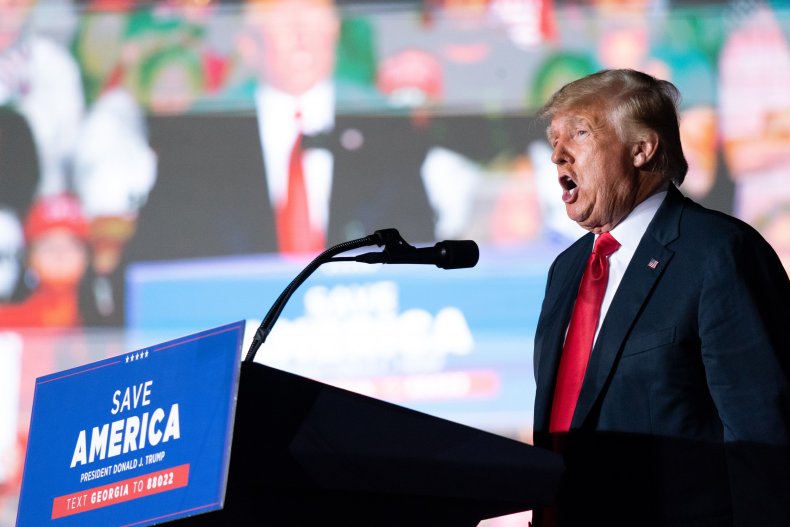 Trump also admonished Cheney for serving as vice-chair of what he called "the Unselect Committee," referring to the House Select Committee to Investigate the January 6 Attack on the Capitol. Cheney and Illinois Representative Adam Kinzinger, both of whom voted to impeach Trump for inciting the Capitol riot just before he left office, are the only Republicans taking part in the committee.
The former president said that Cheney was "far more unpopular than her father," former Vice President Dick Cheney. Trump said that Dick Cheney "just lost his position as the least popular Vice President in American history" to current Vice President Kamala Harris.
Despite becoming a target of Trump and his loyalists, Cheney has remained steadfast in her criticism of the former president since denouncing his actions on January 6 and voting in favor of his second impeachment. Cheney's opposition to Trump resulted in her being forced out of her position as chair of the House Republican Conference in May.
During a speech at Saint Anselm College's Institute of Politics in New Hampshire on Tuesday, Cheney described Trump's election claims as "a domestic threat that we've never faced before," arguing that he was "attempting to unravel the foundations of our Constitutional Republic."
"Political leaders who sit silent in the face of these false and dangerous claims are aiding a former president who is at war with the rule of law and the Constitution," Cheney said. "When our constitutional order is threatened, as it is now, rising above partisanship is not simply an aspiration. It is an obligation, an obligation of every one of us."
Newsweek reached out to Cheney's office for comment.