Donald Trump Calls NYC Black Lives Matter Street Painting a 'Symbol of Hate'
President Donald Trump took to Twitter on Tuesday to call a Black Lives Matter street painting on New York City's Fifth Avenue a "symbol of hate."
On June 25, New York City Mayor Bill de Blasio ordered the words "Black Lives Matter" to be painted in yellow letters in front of Trump Tower on Fifth Avenue, between 56th and 57th Streets.
Trump said the mayor's decision "to paint a big, expensive, yellow Black Lives Matter sign on Fifth Avenue, denigrating this luxury avenue" will antagonize the New York Police Department.
The president also criticized de Blasio's $1 billion NYPD budget cut, which was announced on Tuesday as the city faces mounting pressure to defund the police. The president suggested the money used toward the mural should be shifted back to the city's police department.
"This will further antagonize New York's Finest, who LOVE New York & vividly remember the horrible BLM chant, 'Pigs In A Blanket, Fry 'Em Like Bacon,'" Trump added. "Maybe our GREAT Police, who have been neutralized and scorned by a mayor who hates & disrespects them, won't let this symbol of hate be affixed to New York's greatest street. Spend this money fighting crime instead!"
Newsweek reached out to the White House for comment but did not receive a response in time for publication.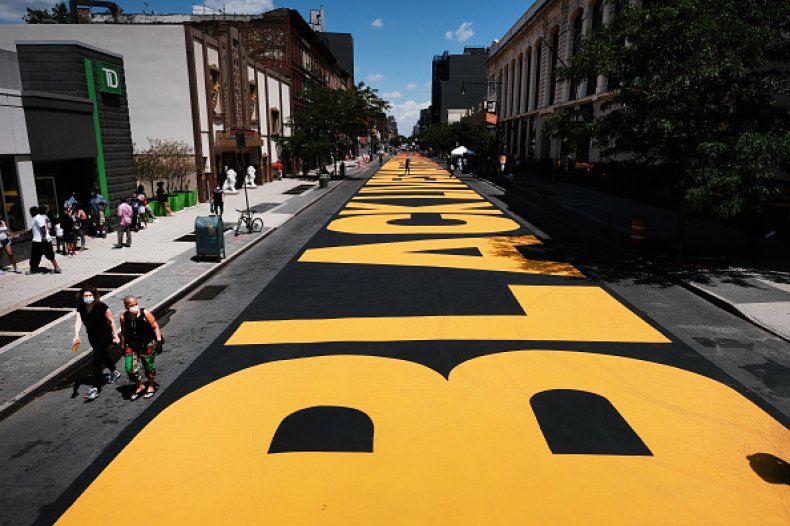 De Blasio's office defended the mural last week when Trump originally denounced the Black Lives Matter tribute.
"The president is a disgrace to the values we cherish in New York City," Julia Arredondo, a spokeswoman for de Blasio, said in a statement on June 24. "He can't run or deny the reality we are facing, and any time he wants to set foot in the place he claims is his hometown, he should be reminded Black Lives Matter."
The mayor's move follows that of Washington D.C. Mayor Muriel Bowser, who commissioned city workers to paint "Black Lives Matter" in large, yellow block letters on a street just blocks from the White House after the president clashed with protestors in Lafayette Square on his way to St. John's Episcopal Church.
The painting will be one of seven Black Lives Matter murals ordered by the city to commemorate the movement. Two others have been planned for the borough of Manhattan.
In the city's official announcement on June 9, de Blasio said, "The streets of our city will now affirm the vital work activists have done to bring us forward. With a street in every borough painted with the words Black Lives Matter, we are recognizing where we have been and looking forward to where we will go."
Another Black Lives Matter tribute was painted by volunteers in the Bedford-Stuyvesant neighborhood of Brooklyn last month.
Newsweek reached out to de Blasio for comment but did not receive a response in time for publication.
Murals that have popped up in cities across the country in response to protests against police brutality and systemic racism have come under criticism from activist groups. Black Lives Matter have called the paintings a "performative distraction from real policy changes."
There has been an increasing push for city officials to implement changes in policy that would defund the police. Despite the $1 billion cut to the NYPD budget, some, including New York Representative Alexandria Ocasio-Cortez, still do not believe that the decrease in funding goes far enough.