Donald Trump Calls Out 'Democrats Playbook' Over Brett Kavanaugh Assault Claim
President Donald Trump has urged people to pay attention to the "Democrats playbook" amid the furor surrounding the sexual assault allegation against Supreme Court nominee Brett Kavanaugh.
At the end of last week, Christine Blasey Ford, a research psychologist in Northern Calfornia, alleged that Kavanaugh had sexually assaulted her at a house party in the 1980s, when they were both in high school.
Although President Trump this week acknowledged that Ford's allegation should be heard as he praised Kavanaugh, he suggested in a Tuesday evening tweet that the allegation against Kavanaugh was part of a "playbook."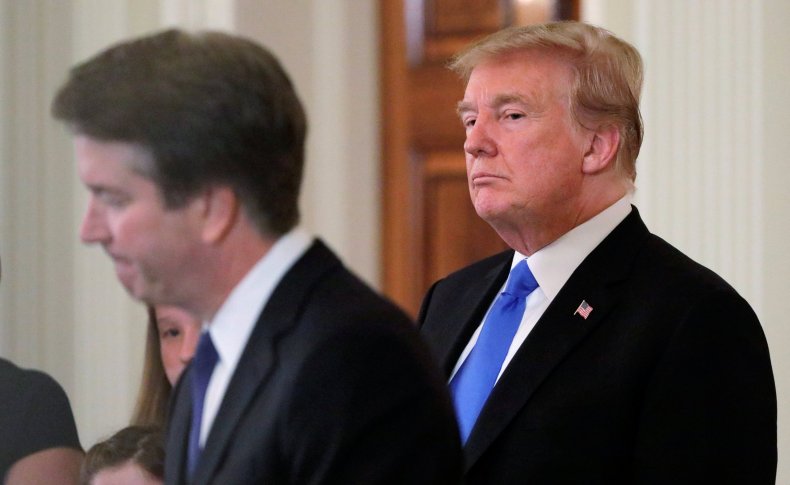 "The Supreme Court is one of the main reasons I got elected President. I hope Republican Voters, and others, are watching, and studying, the Democrats Playbook," Trump wrote, appearing to double down on comments he made suggesting the timing of the allegations was planned.
Speaking to reporters at the White House on Tuesday, the president said: "I feel so badly for him that he is going through this, to be honest with you.
"This is not a man who deserves this. Honestly, I feel terribly for him, for his wife, who is an incredible, lovely woman and for his beautiful young daughters. I feel terribly for them."
He also said that the Democrats "knew what they were doing," accusing them of waiting to reveal the allegations against Kavanaugh and suggesting that they should have shared the information when they first learned of the allegation.
"Why didn't the Democrats bring it up then? Because they obstruct, and because they resist. That's the name of their campaign against me—they just resist and they just obstruct," he said.
In speaking of the upcoming vote, Trump said, "if it takes a little delay," that's OK, given that a number of senators, both Democrat and Republican, had said they wanted to hear more from Ford and Kavanaugh before they voted.