Donald Trump Calls Racial Sensitivity Training Racist
President Donald Trump defended his cancellation of critical race theory training during Tuesday night's presidential debates in Cleveland, Ohio.
In September, Trump ended the racial sensitivity classes throughout branches of the federal government. He also signed an executive order banning the training by contractors the government uses. While some observers consider the training to be an important step towards racial equality, Trump said the training asked people to do things that were "absolutely insane."
"I ended it because it's racist," Trump said. "I ended it because a lot of people were complaining that they were asked to do things that were absolutely insane, that it was a radical revolution within our military, in our schools, all over the place."
"We have to go back to the core values of this country," Trump added. "They were teaching people to hate our country, that it's a horrible place, it's a racist place, and they were teaching people to hate our country. And I'm not going to allow that to happen."
"Nobody's doing that," Biden responded, pointing to President Trump. "He's just-- he's the racist."
Newsweek reached out to the Trump campaign for comment.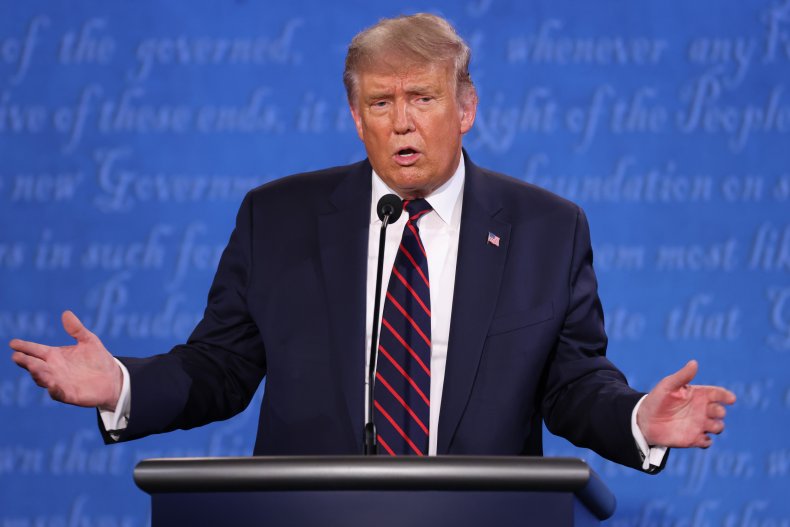 Biden said that racial sensitivity training was important because "people have to be made aware what other people feel like, what insults them, what is demeaning to them."
"Many people don't want to hurt other people's feelings," Biden continued, adding that learning empathy could make a "gigantic difference" in forming a child's sense of self-esteem.
Trump's eradication of racial sensitivity training came in the wake of a summer of protests across the U.S. against racism and police culture. Demonstrators have pointed at the concept of "white privilege" as one of the root causes of systemic racism found in aspects of U.S. society.
The Trump administration called for the banning of critical race theory in September with no federal funds being earmarked for its teaching. In a memo, Director of the U.S. Office of Management and Budget Russell Vought called the classes "divisive, un-American propaganda training sessions."
Director of the U.S. Office of Management and Budget Russell Vought said in a Monday memo that workers who violate Trump's orders concerning the training could be subject to disciplinary action.
"Agency employees and contractors are not to engage in divisive training of federal workers," the memo read. "Noncompliance by continuing with prohibited training will result in consequences, which may include adverse action for federal employees who violate the order."
During a campaign event in Jacksonville, Trump referred to critical race theory as being "like a cancer."
"That hateful Marxist doctrine paints America as a wicked nation that seeks to divide everyone by race, rewrites American history and teaches people to be ashamed of themselves and be ashamed of their country," Trump said.