Donald Trump Accuses Black Reporter of Asking 'Racist Question' About His Nationalist Rhetoric
President Donald Trump fired back at a black female reporter who asked the president if his rhetoric about nationalism could be seen as heartening white supremacists across the country. The president called the question "racist."
"On the campaign trail you called yourself a nationalist, some people saw that as emboldening white nationalists," Yamiche Alcindor from PBS Newshour asked Trump before she was interrupted.
"I don't know why you would say that," Trump fired back at Alcindor's inquiry. "That is such a racist question."
"There are some people that say now the Republican Party is seen as supporting white nationalists because of your rhetoric," Alcindor pushed on, despite the president's interruption. "What do you make of that?"
Alcindor was, of course, referring to the president's comments during a rally for Republican Ted Cruz in Houston in October. During the event Trump proudly asserted: "You know what I am? I'm a nationalist. Okay? I'm a nationalist." The comment received significant amount of backlash from both sides of the aisle.
"I don't believe that," Trump said of the accusation that his rhetoric was emboldening white supremacy. He then jumped on the offensive and touted his likability among black voters. The president's popularity among African-Americans has continually inched upward since his election in 2016, with one Rasmussen poll in late-October placing his approval rating among blacks at 40 percent.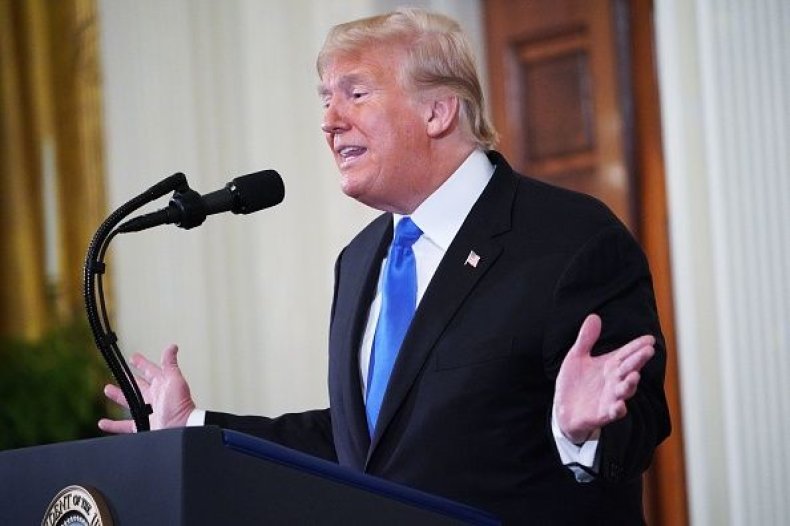 "Why do I have my highest poll numbers ever with African-Americans?" Trump replied. "Why do I have among the highest poll numbers with African-Americans? That is such a racist question. Honestly I mean, I know you have it written down and you're going to tell me...but that is such a racist question."
"To say that, what you said to...is so insulting to me. It's a very terrible thing that you said," Trump said before taking another question about middle-class tax cuts.
The exchange came during a heated press conference in the White House with Trump addressing reporters for the first time since the 2018 midterm elections. Despite Democrats regaining control of the House, Trump repeatedly told the crowd that he and the Republican Party came out victorious.
"I love our country, I do. You have nationalists and you have globalists. I also love the world, and I don't mind helping the world but we have to straighten out our country first," Trump said.
Alcindor posted about the exchange on Twitter, writing: "I'm simply asking the questions the public wants to know."