President Donald on Wednesday evening referred to RINOs—an initialism for Republicans in Name Only—as "the lowest form of human life."
"I'm not just running against Joe Biden," Trump said during a campaign rally in Bullhead, Arizona, "I'm running against the left-wing mob and the left-wing media, the big tech giants, and I'm also running against the RINOs. Do you know what RINO is? A RINO may be the lowest form of human life."
The president's comment may be a dig at Republican senatorial candidates who have distanced themselves from his campaign, as well as those who have publicly contradicted or criticized him in a bid to attract undecided voters and protect Republican control of the Senate.
In an audio recording released mid-October by The Washington Examiner, Republican Nebraska Senator Ben Sasse said that Trump has "flirted" with white supremacists, "kisses dictators' butts" and "spends like a drunken sailor." Trump has called Sasse a RINO previously in an August tweet.
Other Republican senators have openly criticized Trump's handling of the coronavirus.
When asked on October 6 if she was proud to serve under Trump while in the Air Force, Republican Arizona Senator Martha McSally replied, "I'm proud that I'm fighting for Arizonans on things like cutting your taxes."
In an October 20 CNN interview, Republican South Dakota Senator John Thune criticized the president's re-election campaign, saying, "Stay away from personal attacks. Quit attacking the media. Quit attacking Fauci and focus on issues.... That's how you're going to win over the middle people."
Republican Senators Steve Daines of Montana, Thom Tillis of North Carolina and Lindsey Graham of South Carolina have all recently distanced themselves from Trump's comments against infectious diseases expert Dr. Anthony Fauci, stating that they either trust the doctor or prefer focusing on the pandemic rather than the doctor.
Republican Texas Senator John Cornyn told The Houston Chronicle that he believed that Trump had "let his guard down" when handling COVID-19. At the beginning of the month, Republican Senate Majority Leader Mitch McConnell of Kentucky admitted that he hadn't visited the White House since August because he didn't want to catch COVID-19.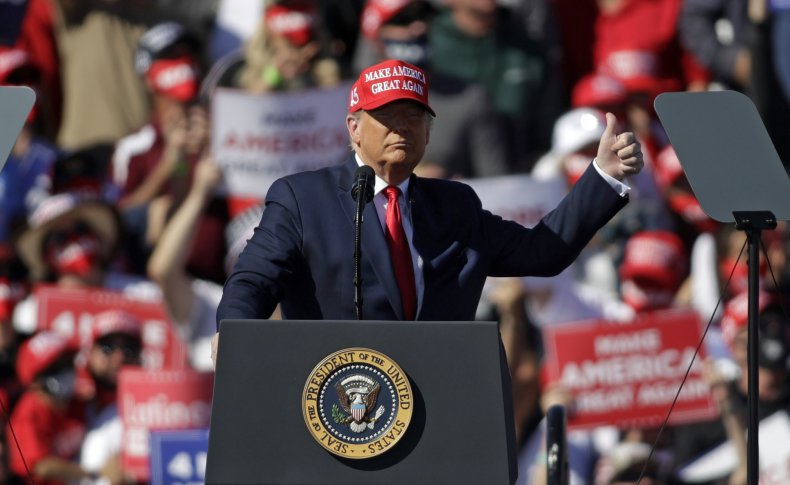 During the rally, Trump also touted his support among women, stating, "We're going to win a historic share of women. Remember last time? 'He will not get women,' remember? ... Well ,it didn't work out that way, right? ... We did very well with women."
In 2016, 54 percent of women voted for the Democratic presidential candidate, but only 39 percent backed Trump, a difference of 15 points, according to the Pew Research Center.
Newsweek contacted the Trump campaign for comment.