Donald Trump Randomly Calls Senators at All Times of Day and Night, Often to Talk About TV or Golf: Report
Unlike his recent predecessors, President Donald Trump reportedly calls senators on a regular basis at any time he sees fit, often to chat about what he sees on television or his favorite pastime, golf.
Trump phones senators regularly if he sees their states in the news, or on other occasions to converse about what was on television moments ago or with questions about golf, The Washington Post reported on Tuesday.
"He calls me regularly to talk about issues," Wyoming Senator John Barrasso told The Post. "He's always helpful for both of us."
Barrasso added, "I just feel comfort in calling President Trump." In contrast, he said, "I never called President Bush or President Obama."
Republican senators said Trump sometimes calls them for no other reason than to chat, while they normally call him with a clear agenda in mind. Representative Mark Meadows of North Carolina, chairman of a conservative faction of House Republicans, has mostly impromptu calls with Trump a few times each week.
Senators familiar with multiple administrations recounted that Trump is the most easily accessible president they have ever worked with.
"I've never seen anything like it," said an unnamed Republican senator, who phones Trump on occasion.
Trump reportedly makes his many calls during his unstructured "executive time," which leaked schedules have shown to take up the better part of many of his days, moreso than formal meetings and public appearances.
"It's a different world," said Republican Senator John Thune of South Dakota, who does not talk to Trump regularly but tells his colleagues to dial the president.
Trump's habit of calling senators right after he sees them speak on TV has apparently caused White House aides to occasionally scramble, reaching out to senators' aides if they are not able to get in touch with the lawmakers themselves.
The White House did not immediately respond to a request for comment on the report from Newsweek on Tuesday.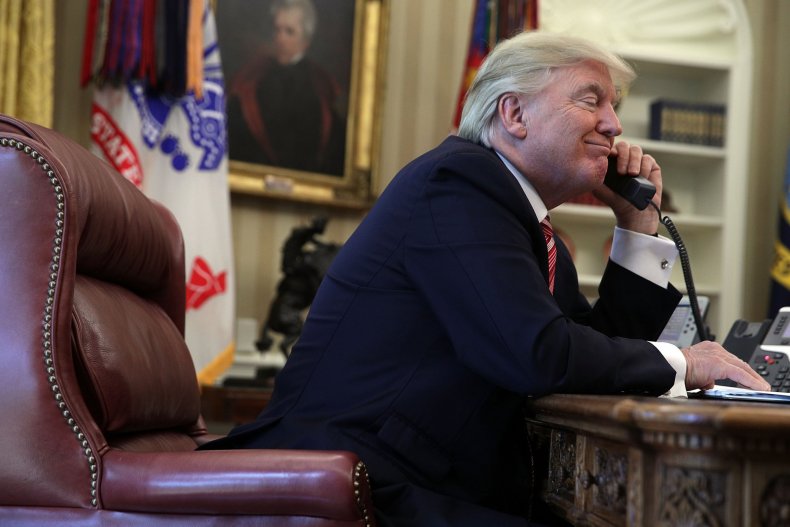 Besides chatting about golf or television appearances, Trump also asks senators to weigh in on policies or nominations he is considering. And lawmakers are not the only people the president contacts regularly to inform his decisions for the country.
Trump often speaks with conservative TV personalities, including his close friend Fox News host Sean Hannity. Hannity apparently has Trump's direct White House phone line and the two reportedly talk several times each day. Trump, in turn, tweets and sometimes seems to craft his policies based on what he sees on Fox News.