Donald Trump Campaign Blames Joe Biden Camp for Changes in Debate Rules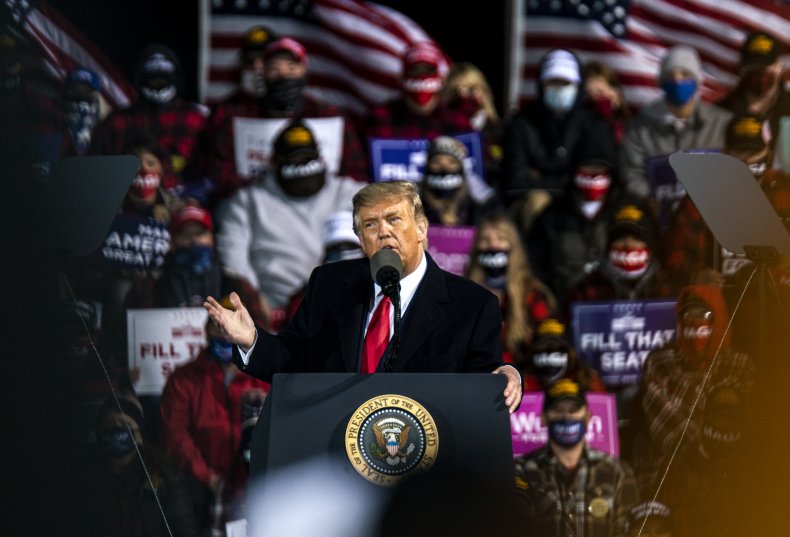 President Donald Trump's campaign is pushing back on suggestions that changes be made to future debates between him and Democratic rival Joe Biden after this week's explosive showdown between the two presidential candidates.
"We do not want any changes to what has already been laid out and agreed to," Senior Campaign Adviser Jason Miller told reporters Thursday. "We have not asked for any changes. The Biden camp has."
On Wednesday, the bipartisan commission that oversees the general election presidential debates released a statement saying that the previous night's debate in Cleveland, Ohio "made clear that additional structure should be added to the format of the remaining debates to ensure a more orderly discussion of the issues."
"The CPD will be carefully considering the changes that it will adopt and will announce those measures shortly," the Commission on Presidential Debates said in its statement.
The changes are expected to be announced by the end of the week.
The next Biden-Trump debate is scheduled to be a town hall where candidates will face questions from 15-20 people in Miami on October 15. Before that, Vice President Mike Pence will debate Biden's running mate, U.S. Sen. Kamala Harris next week in Salt Lake City, Utah.
Miller stopped short of threatening that Trump and Pence might withdraw if changes are made.
"President Trump fully plans on participating in and winning the second and third debates," he said when asked if they may not show up. "There should not be any changes to what's been agreed to and set out."
Max Miller, who has been leading the Trump campaign's debate negotiations with the Biden campaign, claimed that Biden's camp wants guaranteed uninterrupted opening and closing statements for each candidate and to cut back on discussions between the two. He said the prospect of installing mute buttons, to stop candidates from interrupting was also suggested.
Trump aggressively interrupted Biden repeated times during the debate Tuesday.
Biden's campaign didn't immediately respond to Newsweek's request for comment.
Just a few hours after the debate ended, the Biden campaign released a statement arguing that Trump "offered nothing but interruptions and lies."
"Trump was desperate, weak, and angry," the Biden campaign statement read. "He's losing the race, and tonight, he lost his temper."
Biden's deputy campaign manager Kate Bedingfield said in a statement to reporters that Biden would go along with whatever rules the commission develops, despite some calls among Democrats for him to decline future debates because of how the first one went.
"Joe Biden is looking forward to the Town Hall in Miami," she said. "He'll be focused on answering questions from the voters there, under whatever set of rules the Commission develops to try to contain Donald Trump's behavior."
Jason Miller said that the Trump campaign viewed his performance favorably and doesn't plan any major changes to his strategy.
"We think President Trump did absolutely fantastic," he said.