Donald Trump Campaign Asks Supporters for Money to 'Send Bricks' to Nancy Pelosi and Chuck Schumer to Prove 'Walls Work'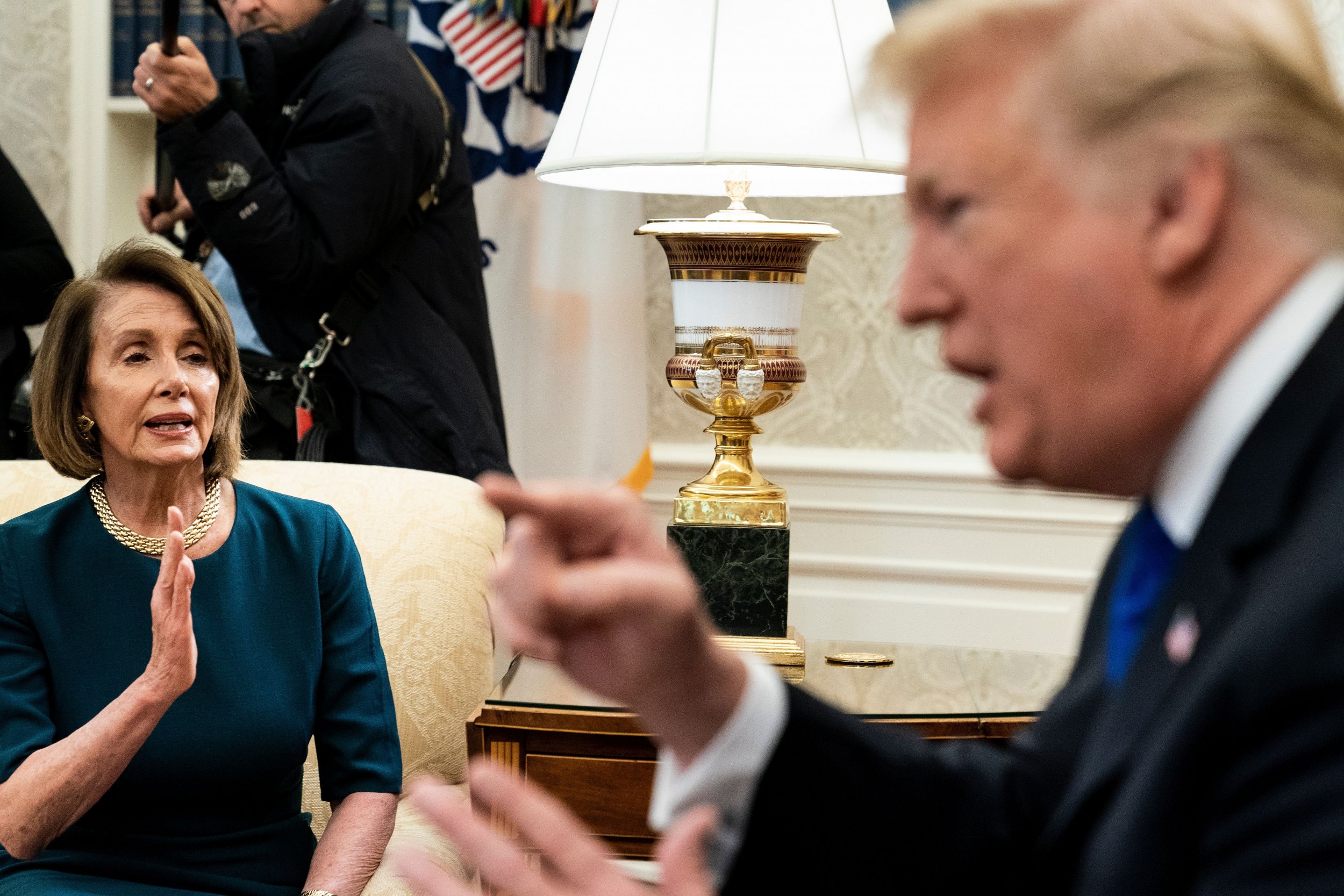 Through text messages and emails, President Donald Trump's 2020 re-election campaign on Friday asked for donations of at least $20.20 to send fake bricks to House Speaker Nancy Pelosi or Senate Minority Leader Chuck Schumer while they continue to refuse funding for Trump's border wall.
"Team Trump: Pres. Trump wants to send BRICKS to Chuck & Nancy for every donation of at least $20.20 in the NEXT HOUR. BUILD THE WALL! Donate NOW," the text message reads, along with a link.
The link routes to a website with a brick and wall graphic set up by the Trump campaign. It says he "came up with a brilliant idea to make sure Chuck and Nancy have no idea but to listen to the American people."
It also states that the goal is to send "100,000 BRICKS" to their offices "to prove that WALLS WORK!" and asks for contributions by midnight. There are several tiers of donations, from $20.20 to send the Democratic leaders one brick to $140 for seven bricks.
The campaign also created a website, BuildTheBorderwall.com, with options to send bricks to Pelosi and Schumer and the same brick graphic with text saying "2018: Fentanyl at the border" and "Enough entered U.S. to kill every American." The brick also asks supporters to text "WALL" to 88022.
"The Democrats have been stonewalling President Trump for too long, as the President remains fully committed to make a deal to secure our border," 2020 campaign manager Brad Parscale said in a statement to The Hill. "Now the American people can send a message directly to Chuck and Nancy on a faux red brick that tells them to build the wall."
Parscale said that because Pelosi and Schumer "clearly don't understand the facts about the critical need for a wall and border security, our bricks will teach them the truth about the crime, drugs, and human trafficking that result from open borders."
Trump is holding to his demand of $5.7 billion in funding for the border wall as the government shutdown goes to its 28th day, the longest in U.S. history. Democrats have refused to fund the wall and are offering a fraction of that amount for border security.
The president earlier this month said his administration is pursuing a steel barrier along the border with Mexico instead of a concrete wall. Trump suggested that Democrats "don't like concrete, so we'll give them steel" and said the material would be "beautiful" and "stronger" than concrete.