Donald Trump Campaign Says Pennsylvania Officials 'Mismanaged' Election in Lawsuit
President Donald Trump's campaign filed suit Monday to prevent Pennsylvania officials from certifying the state's presidential election tabulations.
Republicans have alleged that observers from the Trump campaign were not allowed proper access to areas where mail-in ballots were counted. During his campaign, Trump warned that an increased usage of mail-in ballots could lead to election fraud. On Saturday, President-elect Joe Biden was projected by the Associated Press and major TV networks to be the winner in Pennsylvania. Trump has not conceded the election to Biden and has mounted legal challenges in several battleground states, including Pennsylvania.
Filed against Pennsylvania Secretary of State Kathy Boockvar and election boards in seven Pennsylvania counties, the lawsuit alleges that the defendants "have so mismanaged the election process that no one—not the voters and not President Trump's campaign—can have any faith that their most sacred and basic rights under the United States Constitution are being protected."
"The evidence is plain that defendants have been and are blatantly violating the protections and procedures, including those enacted by the Pennsylvania General Assembly, vitally necessary to ensure that the votes of the citizens of Pennsylvania are not illegally diluted by invalid ballots and that the election is free and fair," the lawsuit continued.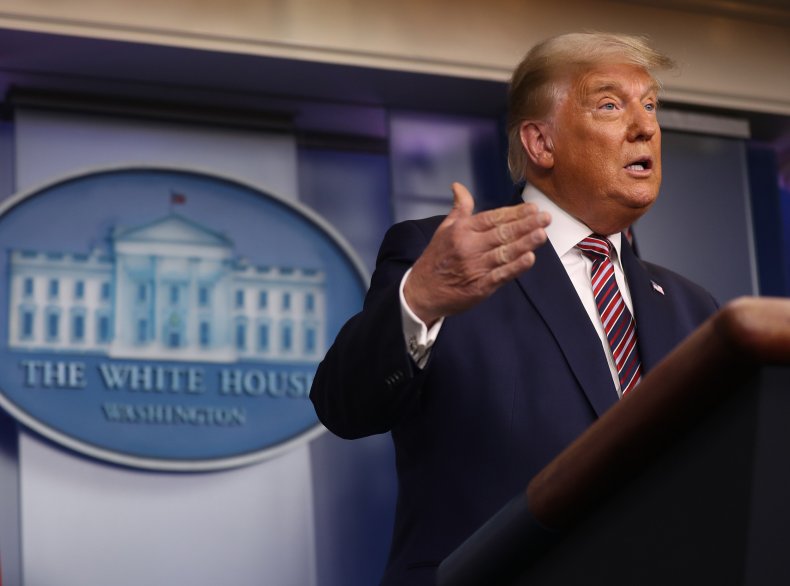 According to the lawsuit, Pennsylvania "created a two-track system of voting resulting in voters being treated differently depending on how they chose to exercise their franchise."
The filing alleges that representatives of the Trump campaign were not permitted enough access to observe the tabulation process at some election centers.
"Watchers were kept by security personnel and a metal barricade from the area where the review, opening, and counting were taking place," the lawsuit read, making it "physically impossible" for observers to see the ballots.
Other allegations in the lawsuit included the inclusion of ballots received past the deadline in the ballot tabulation. Ballots that were received in improper envelopes and ballots filled out by voters who did not request them were also allegedly included.
The Pennsylvania Department of State declined to comment to Newsweek for this story.
Trump has blamed the tabulation process of mail-in ballots for his projected loss to Biden. "If you count the legal votes, I easily win," Trump said during a Thursday news conference. "If you count the illegal votes, they can try to steal the election from us."
"I've said very strongly that mail-in ballots are going to end up being a disaster," Trump added. Some observers have claimed that Trump's claims of election fraud were unsubstantiated.
Trump's campaign has also filed suit in Michigan, Georgia, Arizona and Nevada over allegations of improprieties in the voting process.