Donald Trump Campaign Site Hackers Ask For Donations to Reveal Data
On Tuesday evening, the campaign website of Republican President Donald Trump was briefly hacked by cryptocurrency scammers. The yet-to-be-identified hackers asked for donations in exchange for a promise to release alleged proof of Trump's creation of the coronavirus and criminal collusion with foreign actors looking to influence the 2020 elections.
The hacked site's text was only viewable by some but not all of the site's users.
"Earlier this evening, the Trump campaign website was defaced and we are working with law enforcement to investigate the source of the attack," the Trump campaign wrote in a statement following the hack. "There was no exposure of sensitive data because none of it is actually stored on the site."
The text on the hacked webpage read, "This site has been seized. The world has had enough of the fake-news spreaded daily by president Donald j trump. It is time to allow the world to know truth."
"Multiple devices were compromised that gave full access to trump and relatives," the hacked site continued. "Most internal and secret conversations strictly classified information is exposed proving that the trump-gov is involved in the origin of the corona virus."
"We have evidence that completely discredits mr trump as a president. proving his criminal involvement and cooperation with foreign actors manipulating the 2020 elections. The US citizens have no choice," the text said.
Next, the text read, "Today is the day - the whole world can decide if they want to know that truth or not. After the deadline we will compare the funds and execute the will of the world. In both cases we will inform you. You can identify our key."
The hacker's text then offers readers two alphanumeric "keys" associated with Monero, a "private, secure, and untraceable digital" cryptocurrency. In this case, readers are told to make donations using one of the keys to tell the hackers whether they should share the data that they allegedly have on Trump or to not share it.
The hacked text doesn't specify when the donation deadline is.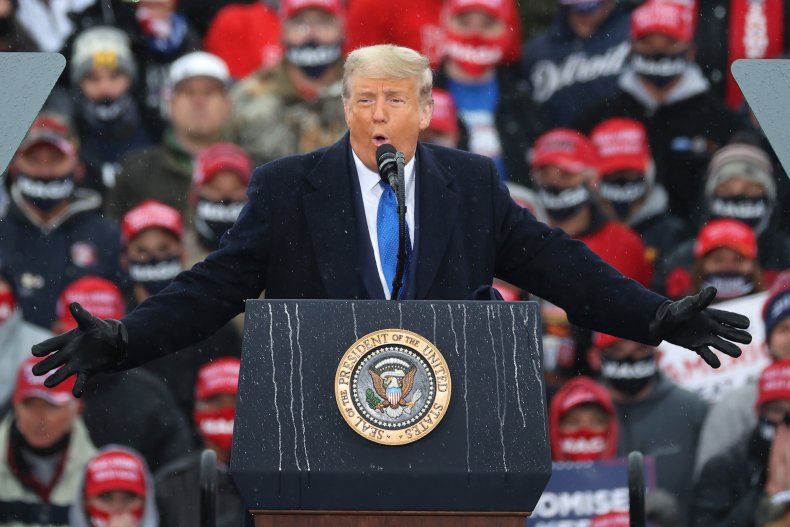 The third, much longer key mentioned on the hacked website is meant to operate as an identification code that donors can use to make sure that their money goes to its intended recipient.
While the hackers' poorly worded English text suggests a foreign actor, no suspects behind the hacking have yet been publicly named. The hacking seems to have affected the site for only a few minutes.
"Campaign and other elections-related websites are high value targets for hackers because they are associated with entities like Trump but are not as secure as official sites like whitehouse.gov," the technology news website TechCrunch wrote about the hacking.