Trump Campaign to Sue Ex-White House Aide Cliff Sims for Violating NDA, Despite President Saying Book Is 'Fiction'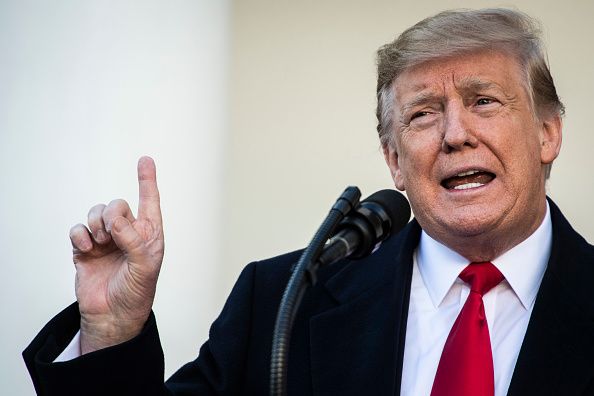 President Donald Trump's campaign announced Tuesday that it is preparing to sue former communications aide Cliff Sims for violating a nondisclosure agreement (NDA) with the publication of a tell-all book about the White House, despite the president's previous claims that the book is purely "fiction."
"The Trump campaign is preparing to file suit against Cliff Sims for violating our NDA," Michael Glassner, the executive director of Trump's campaign committee, tweeted on Tuesday morning. The announcement was made on the same day that Sims's tell-all book, Team of Vipers: My 500 Extraordinary Days in the Trump White House, hit bookstores.
The book is the latest look behind the curtain of Trump's turbulent presidency. The former communications aide describes the administration as "completely out of control" as he details the more controversial aspects of Trump's tenure in the Oval Office.
But the president bashed the account as "boring" and "based on made up stories and fiction" in a tweet on Tuesday morning. He also referred to Sims, who left the administration last May, as nothing but a "gofer."
"A low level staffer that I hardly knew named Cliff Sims wrote yet another boring book based on made up stories and fiction. He pretended to be an insider when in fact he was nothing more than a gofer. He signed a non-disclosure agreement. He is a mess!" he tweeted.
Trump has similarly attacked other former staffers who have written exposés about the administration. After Omarosa Manigault Newman published Unhinged: An Insider's Account of the Trump White House, the president described his former adviser as "that dog" and a "crazed, crying lowlife."
In Team of Vipers, Sims focuses on some of the innermost members of the president's circle as they follow Trump's orders while also pursuing personal agendas.
In one excerpt, Sims describes White House counselor Kellyanne Conway as a "cartoon villain brought to life." In one scene, the aide allegedly sees that Conway is leaking information about the president to reporters, though she responded to the allegation by saying she preferred to "knife people from the front, so they see it coming."
Throughout the book, Sims often describes Trump's obsession with television news and positive coverage. In another excerpt, Trump requests that a New York Times cover story about the Republican tax reform legislation be framed in gold and hung up in the White House.
In a recent interview with ABC's Good Morning America, Sims said he left the White House to pursue a job at the State Department because he wanted to be a part of a "team environment."
"You know what, I was a viper, I was a part of that team. I did a bunch of things that I wish I would've done different, but I wanted to get into a place that was a really strong team environment," he said.