Donald Trump Is Selling 'Where's Hunter?' Biden Shirts for $25 on Official Campaign Website
President Donald Trump's 2020 campaign website is selling T-shirts about former Vice President Joe Biden's son Hunter, as the administration and supporters attempt to shift attention away from the Democrats' impeachment inquiry.
The $25 shirts reading "Where's Hunter?" are part of the campaign pushed by the commander-in-chief to insist that Trump has not acted inappropriately--and that Joe Biden, not Trump, should be investigated for his conduct while representing the country.
As vice president, Joe Biden pushed for the dismissal of a Ukrainian prosecutor looking into Burisma, a Cyprus-registered natural gas company. Hunter Biden was a board member of Burisma who earned $50,000 per month.
Trump and his supporters have sought to paint the elder Biden's attempt to remove the Ukrainian prosecutor general, Viktor Shokin, as using his governmental position for personal benefit.
"Joe Biden promised Ukraine $1 billion if they fired the prosecutor investigating his son's company," a Trump re-election campaign video says.
The president's allegations about Biden's conduct ignore the international support for dismissing Shokin. European countries had pushed for Shokin to be removed, saying that he hadn't acted forcefully enough to crack down on corruption. And four days before Shokin resigned, some Republican lawmakers had signed onto a letter calling for Ukrainian president to "press ahead with urgent reforms to the Prosecutor General's office and judiciary."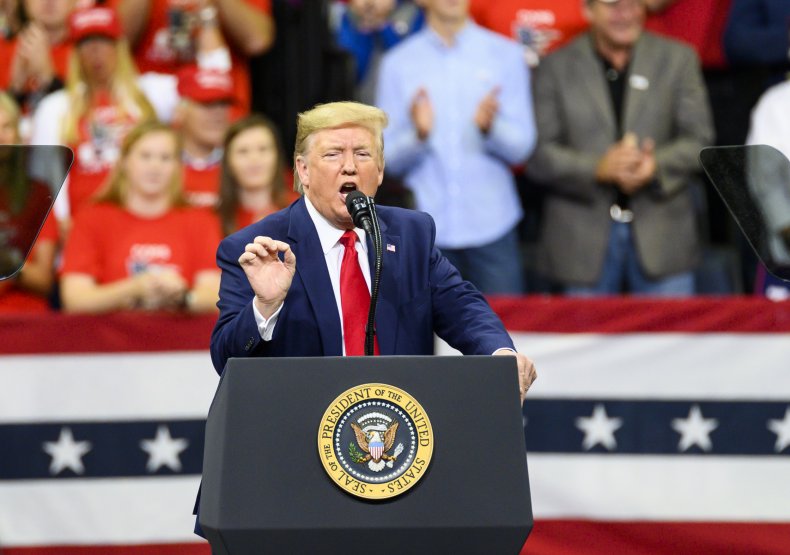 The president mentioned the T-shirt during a Thursday night rally in Minneapolis where he railed against the Bidens.
"Joe's son Hunter got thrown out of the Navy and then he became a genius on Wall Street in about two days," Trump said. "Whatever happened to Hunter? Where the hell is he?
"Hey fellas, I have an idea for a new T-shirt," he continued. "Let's do another T-shirt: 'Where's Hunter?'"
A Trump campaign official told Newsweek that "the T-shirts were not pre-planned or prepped in anyway. The team moved to create once POTUS mentioned the idea, and it was up before he even finished his speech."
Trump has escalated his attacks against Democrats since House Speaker Nancy Pelosi announced the start of impeachment proceedings last month, after news reporting on a whistleblower complaint about a call Trump had with Ukrainian President Volodymyr Zelensky on July 25. Trump pushed Zelensky to investigate Biden during the call, and Democrats have alleged that the request amounted to a quid pro quo.
As more details have emerged about the call, Trump has lashed out more aggressively against Democrats, accusing both Pelosi and Adam Schiff, the chairman of the House Intelligence Committee, of treason. On Thursday, he said that Biden "was only a good vice president because he understood how to kiss Barack Obama's ass."
While Republican politicians have largely stayed silent, public support for impeachment has been rising. A Fox News poll released on Wednesday night found that 51 percent of Americans want Trump impeached and removed from office.
This article has been updated to include comments from the Trump campaign.