Donald Trump 'can Be My Guest in Moscow', Says Vladimir Putin
Vladimir Putin has said he wants U.S. President Donald Trump to be his guest in Moscow, a suggestion which received the approval of the White House.
Speaking during a visit to South Africa, the Russian president explained "appropriate conditions" were needed in both countries for another meeting to take place, after encounter between Putin and Trump in Helsinki earlier this month was met with scathing criticism in the U.S.
"We need for the appropriate conditions to exist, to be created, including in our countries [for more U.S.-Russia summits]," Putin told reporters, as quoted by Reuters.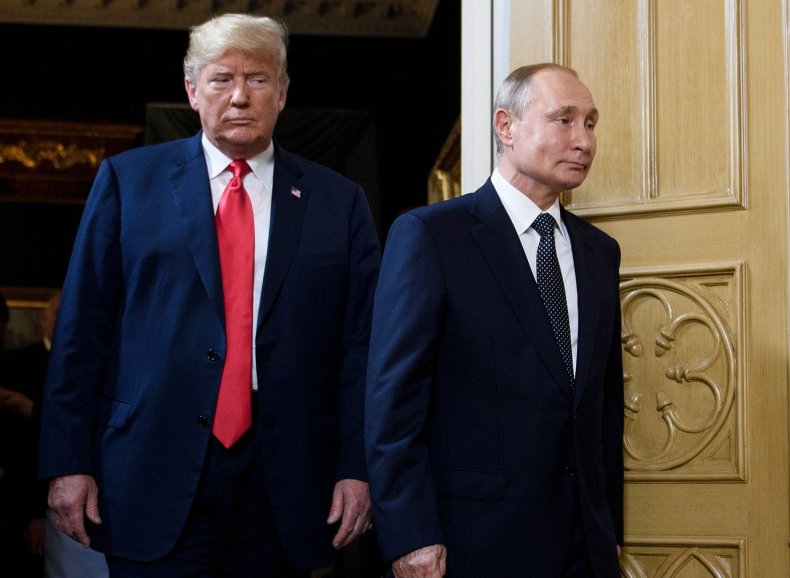 The Russian leader added he had already extended an invite to Trump to visit him in Moscow.
"Be my guest. He has such an invitation, I told him that," he added.
The White House said Trump remained committed to improve the relationship with Moscow and was looking forward to travel to Russia.
"President Trump looks forward to having President Putin to Washington after the first of the year, and he is open to visiting Moscow upon receiving a formal invitation," White House spokeswoman Sarah Sanders said in a statement.
A follow-up meeting to the one in Helsinki was originally expected to be scheduled for later this year in Washington but both the Kremlin and the White House opted to postpone it in the wake of the public backlash.
On Wednesday, the White House said the meeting would not be held until next year, by when the federal investigation over Russia's interference in the 2016 U.S. Presidential elections is expected to be concluded.
The U.S. president repeatedly defended Moscow over accusations of interference in the 2016 election during a press conference while also undermining special counsel Robert Mueller's investigation.
"They said they think it's Russia. I have President Putin; he just said it's not Russia," Trump said while standing next to the Russian president. "I will say this: I don't see any reason why it would be. So I have great confidence in my intelligence people, but I will tell you that President Putin was extremely strong and powerful in his denial today."
After facing enormous backlash not only from his usual critics but also some pro-Trump media outlets, the president backtracked on his speech and claimed he mistakenly said "the word 'would' instead of 'wouldn't.'"
According to the latest poll released by Quinnipiac University on July 24, just 38 percent of voters approved of Trump's job performance, according to the survey. Fifty-eight percent disapproved. Last month, the Quinnipiac University poll found 43 percent approved of Trump's job performance while 52 percent disapproved.