Donald Trump 'Cannot Be Trusted' About COVID, Warns Washington Governor Jay Inslee
Washington Governor Jay Inslee told people not to believe President Donald Trump about the COVID-19 pandemic in a Monday tweet.
Trump spent the weekend at the Walter Reed National Military Medical Center after announcing his positive coronavirus test on Friday. Trump checked out of the hospital Monday afternoon and returned to the White House. In a Monday news briefing, White House physician Sean Conley said Trump was "not out of the woods yet," leading some observers to say he was heading home too soon.
Trump tweeted on Monday that Americans should not "be afraid of Covid." Inslee, who has been critical of Trump's coronavirus response, said that Trump's coronavirus advice was not trustworthy.
"I can't believe I have to say this, but don't listen to this President about the COVID crisis," Inslee tweeted. "He cannot be trusted."
In a Monday statement, Inslee said that Trump "hasn't learned a thing" since his hospitalization with COVID-19.
"Since he tested positive for COVID, more than 2,000 additional Americans have died and downplaying this danger is the best he can do?" Inslee wrote. "His only statement now should be an acknowledgment that COVID is dangerous; that he was wrong when discouraging the use of masks and wrong to mock the experts. He certainly should not be telling people there isn't anything to worry about."
Newsweek reached out to Trump's re-election campaign for comment.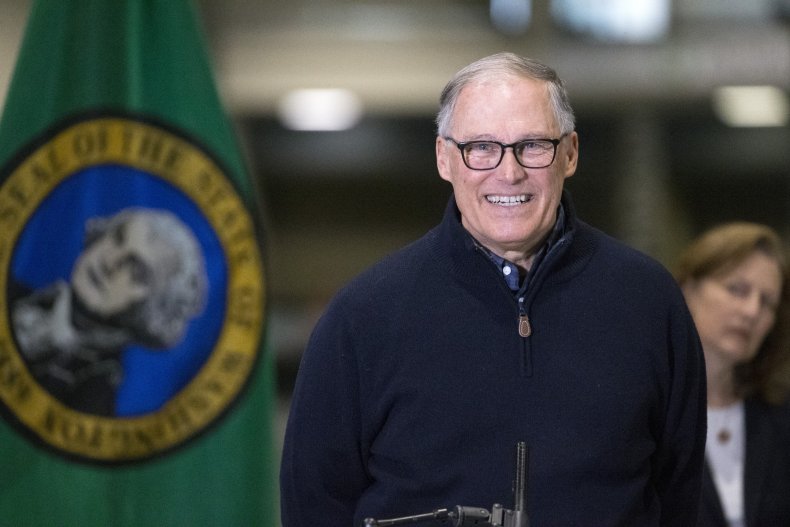 Inslee has been a vocal critic of Trump's coronavirus response. In June, Inslee said face masks were an important factor in curbing the spread of the virus. In an interview on Face the Nation, Inslee said wearing masks "has an enormous impact. And if we can get everybody wearing a MAGA hat to wear a mask, we're going to tame this virus, because this masking is very, very effective."
Before leaving Walter Reed on Monday, Trump tweeted that he was "feeling really good! Don't be afraid of Covid. Don't let it dominate your life. We have developed, under the Trump Administration, some really great drugs & knowledge. I feel better than I did 20 years ago!" Upon Trump's return to the White House, he was observed removing his face mask during a photo opportunity.
Trump has been treated with remdesivir, an antiviral medication that was authorized for emergency use in the treatment of coronavirus by the FDA in May. Trump has also received dexamethasone, an anti-inflammatory steroid that suppresses the human immune system.
According to Monday data, the U.S. has reported 7,672,760 total cases of COVID-19 with 35,848 new cases added to the running tally on Monday.