Donald Trump Can't Ignore His Ron DeSantis Problem Anymore
Since talk first began circulating of Florida Governor Ron DeSantis' presidential ambitions, former President Donald Trump was still by-and-large considered the de facto leader of the contemporary Republican Party.
Even after his 2020 defeat, polls throughout 2021 and 2022 consistently showed Trump to be the clear choice of the conservative grassroots, with DeSantis representing a relatively small hold on the party's voters.
Trump's endorsements defined last summer's Republican primaries. And for better or worse, Trump's words continued to control the news cycle, even as media buzz began to grow around the outspoken man from Jacksonville.
But times change. And Trump—now faltering in those same polls—can't ignore his DeSantis problem anymore.
In recent weeks, a number of credible polls have shown that DeSantis—consistently in Trump's shadow—has suddenly begun to surge in favorability among Republican voters while Trump, long considered the thought leader of the Republican Party, has begun to put himself opposite key positions held by the base.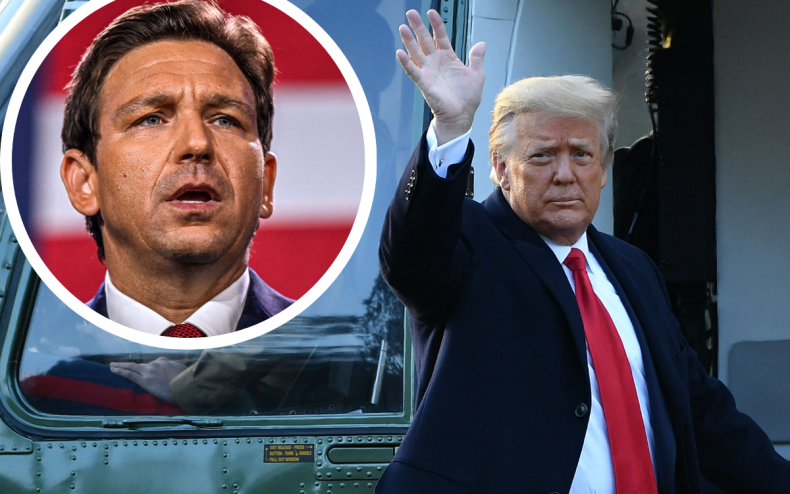 One poll released by Marquette University's Law School showed DeSantis leading Trump by nearly 30 points—64 percent to 36 percent—among Republican voters in a hypothetical head-to-head matchup for the party's nomination for president, while enthusiasm for a future Trump run has declined by 7 points since his party's underwhelming performance in a 2022 midterm election he'd largely helped define.
While a similar poll released Thursday by the University of New Hampshire evaluating multiple candidates' favorability in that early voting state proved more promising for Trump, the former president still found himself 12 points behind DeSantis, with enthusiasm for another run even lower than that seen in the Marquette poll.
To some degree, the numbers can't be taken too seriously at this juncture of the campaign.
Trump has already begun netting a few key endorsements early in an effort to consolidate support. He also has the inherent advantage of having already been in the White House.
And for the most part, Trump is still dominant among the Republican field: Most polling shows Trump to be a clear favorite among the Republican primary field, with DeSantis' edge largely only coming when the two men are pitted head-to-head, as was the case in a December Wall Street Journal poll where DeSantis enjoyed a 14-point advantage, 52 percent to 38 percent.
However, the latest numbers come on the heels of several disappointing weeks for the former president, whose campaign for president will officially commence in earnest with scheduled appearances in South Carolina and at the New Hampshire Republican Party's annual meeting this weekend.
Several key candidates he endorsed who closely mirrored his brand—Arizona candidates Blake Masters and Kari Lake, Pennsylvania's Doug Mastriano and Mehmet Oz—all lost races they stood likely to win in the midterm elections this past fall, while the GOP candidates who proved most successful in competitive districts during the general election were more moderate.
Trump was publicly rebuked by some of his most ardent supporters in Congress amid a recent fight for speaker of the House after his endorsement of California Congressman Kevin McCarthy went largely ignored by allies like Colorado Congresswoman Lauren Boebert and Florida Congressman Matt Gaetz.
He has also faced attacks from the anti-vaccination crowd within his own party after his public efforts to take credit for the speed of the country's COVID-19 vaccine rollout, saying in a recent interview that vaccines helped save "tens of millions of lives."
While some have sought to defend Trump, others are beginning to question whether he was being steered by establishment figures around him or why he wants to take credit for the vaccines at all.
"[People say] there's always a plan with Trump," DeAnna Lorraine, a former Republican candidate for Congress, said on a recent podcast. "Tell me what exactly would be the 500D chess move when you're knowingly maiming and killing millions of people with a bioweapon. What is that chess move? I mean, it doesn't make sense to me. Doesn't make sense to any rational person. Because there is no chess move here."
Newsweek has reached out to Trump's campaign for comment.
Though they share similar views on major issues, DeSantis has gone in the other direction on just about every issue he can in an attempt to curry favor with the fringes of the Republican base and outrun Trump from the right.
Where Trump has dismissed concerns about the safety of the COVID-19 vaccine, DeSantis has been an ardent skeptic of the science behind the vaccine, using state resources to convene fringe medical experts to cast doubt over its safety.
And amid reports Trump and his team were privately supporting the more mainstream candidate, Ronna McDaniel, for the chair of the Republican National Committee ahead of its upcoming election, DeSantis Thursday came out in an interview with Florida's Voice praising her opponent, Harmeet Dhillon.
"I think we need a change, I think we need to get some new blood in the RNC," he said. "I like what Harmeet Dhillon has said about getting the RNC out of D.C....We need some fresh thinking."
DeSantis also has something Trump does not have: a higher chance of winning. As things stand, DeSantis currently holds significantly lower unfavorable numbers than Trump in a majority of polls conducted recently, increasing the likelihood of Republican victory against sitting President Joe Biden in a hypothetical 2024 matchup.
However, that could simply be due to the fact fewer people know who he is.
For the last six years, Trump has been the subject of end-to-end media coverage, with searches for Trump's name often doing numbers four times as high as DeSantis over the past year, according to Google Analytics. And recent polling shows Trump still remains the most recognizable brand in the GOP.
In a survey by Morning Consult earlier this month, pollsters noted 36 percent of potential 2024 primary voters reported hearing something positive recently about Trump, with more of them reporting hearing something positive than negative about the former president for the first time since November.
While DeSantis' name recognition was just 10 points behind the former president in the December Wall Street Journal poll, 43 percent of those polled by Morning Consult said they'd heard nothing about DeSantis following his inauguration in early January.