A Brief History of Donald Trump's Ridiculous Cease-and-Desist Letters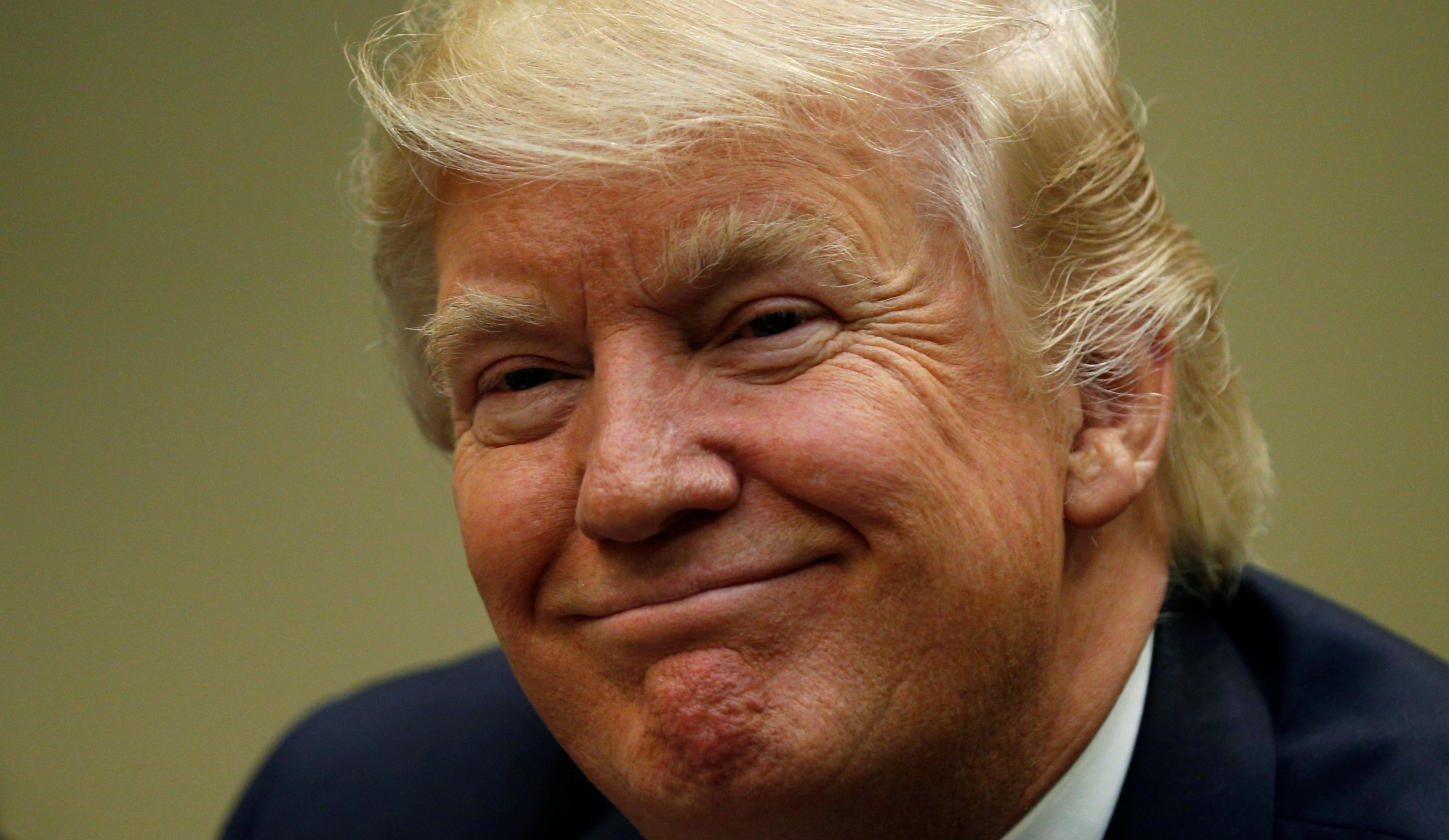 Earlier this month, Donald Trump's lawyers sent a cease-and-desist letter to a 17-year-old girl named Lucy who made a website that visitors to scratch the face of the president with cat paws. The site's original domain was trumpscratch.com, but the aspiring web developer changed it to kittenfeed.com after receiving a letter complaining that the "internationally known and famous" name of the "well-known businessman" had been infringed upon. She then received another letter from Trump's lawyers because the site featured a link to an anti-Trump shirt.
"The fact that as president he still has teams going around bothering to shut down silly sites like mine is outrageous," Lucy told The Hollywood Reporter. "Literally all my site is, is punching him with kitten paws. A president should not have the time or care to hire people to shut sites like mine down. He should be running the country, not tweeting about TV ratings or anything else like that."
The New York Observer confirmed that the letter was real, but Alan Garten of the Trump Organization later told the publication that the story is "completely false" and that "no such letter was ever sent by us.
Related: Trump campaign was subject to 'incidental' surveillance
Neither the letter or the denial are particularly surprising. Yes, Donald Trump is the president of the United States, but just over two months into his administration, such distractions have become routine. Trump also has a long history of threatening litigation, from the willful intimidation of contractors without the financial backing to withstand a lawsuit, to comically frivolous cease-and-desist requests meant to protect Trump's ego. In honor of 17-year-old Lucy and #TrumpCat, here are some of the latter.
The one domain name Trump didn't buy
Trump was once planning to open a housing complex in Dubai called Trump Estates. Unfortunately, a man named Scott Stephens bought the trumpestates.com domain name in 2004. Though "Trump Estates" is not trademarked, Trump legal counsel Alan Garten decided to go ahead and send Stephens a cease-and-desist demanding that he transfer the domain. The letter accused Stephens of "cyber squatting."
Stephens, who first posted the domain name on eBay for $21 million and then said he would give it to Trump in exchange for a spot on The Apprentice, wound up suing Trump for defamation. Stephens lost the case, and had to turn over the domain name to Trump for nothing.
Though the letter itself wasn't surprising, the fact that it even had to be sent was. Just as Trump buys up real estate, so too has the Trump Organization bought up domain names they might want to use in the future. As Jon Hendren pointed out last summer, the Trump Organization owns over 3,000 Trump-related domain names. "In looking at the domains it buys and the sites it runs, it would appear the Trump Organization is awash in half-baked impulses, poor management, little-to-no planning and is more concerned with its own vanity than any sort of substance or quality," Hendren wrote. "In other words, it's par for the course."
The original "Dump Trump"
Before cutting ties with Trump following his comments about Mexican "rapists" in June of 2015, Macy's carried the future president's line of clothing. "Macy's is a company that stands for diversity and inclusion," they wrote in a statement announcing their split with Trump. "We have no tolerance for discrimination in any form."
But the comments in question were simply the first instance of Trump's tendency to discriminate that Macy's felt public pressure to acknowledge. Others, like Angelo Carusone, took notice earlier. In 2013, he organized a "Dump Trump" campaign protesting the department store's relationship with the reality star, citing his sexist and racially charged comments. Trump did not take kindly to the campaign, and in December, Carusone received a cease-and-desist letter from Trump general counsel Alan Garten. The letter laid out that Trump would be seeking damages of "not less than" $25 million if the protest continues."
"I would hope that Macy's would recognize now that the things we've been saying about Donald Trump are in fact accurate, and they are cause for concern," Carusone told The Hollywood Reporter. "That Trump does engage in bullying and intimidation. That his brand is inconsistent with the Macy's brand."
Trump doesn't like attack ads
Back when Trump's campaign was first gathering momentum last September, a conservative group called Club for Growth thought it would be wise to run an attack ad against the aspiring president. The ad itself did not contain anything particularly libelous. It featured an old clip of Trump saying that "in many cases" he identifies "more as a Democrat," and called him "just another politician."
In response, Trump general counsel Alan Garten sent Club for Growth a truly remarkable cease-and-desist letter, calling Club for Growth a "pitiful little group" and claiming the ad was "the very definition of libel." Garten accused the group of extortion, knowingly disseminating lies and damaging Trump's reputation. He demanded that Club for Growth remove the ads and promise not to make anymore "factually baseless" charges, otherwise "we will commence a multi-million dollar lawsuit against you personally and your organization."
The spat carried over onto Twitter.
As you can see, the ad was never removed.
No, seriously, he doesn't like attack ads
In 2015, back when Jeb Bush was a viable presidential candidate, a Bush donor took out a full-page ad in the Miami Herald attacking Trump. The ad referred to Trump as "narcissistic BULLYionaire." The donor, Mike Fernandez, then received a cease-and-desist letter from Trump general counsel Alan Garten.
"Please be advised that in the event your ads contain any false, misleading, defamatory, inaccurate or otherwise tortious statements and representations concerning Mr. Trump, his businesses or his brand, we will not hesitate to seek immediate legal action to prevent such distribution and hold you jointly and severally liable to the fullest extent of the law for any damages resulting therefrom... and will look forward to doing it," the letter read.
Garten sent the same letter to Jeb Bush's Right to Rise leadership PAC, which raises funds for conservative candidates but does not produce attack ads, prompting a glorious response from Right to Rise legal counsel Charlie Spies. "If you have the time between bankruptcy filings and editing reality show contracts, we urge you to flip through the Supreme Court's decision in New York Times v. Sullivan," Spies wrote. This was only one of the letter's several burns, however, and we encourage you to read it in full. "Just as your client is attempting to quickly learn the basics of foreign policy, we wish you personally the best in your attempts to learn election law," Spies concluded.
Garten sent similar letters to a super PAC supporting John Kasich, a manufacturer of anti-Trump merchandise and an untold number of other perceived infringers who tossed the letter in the garbage before thinking to send it to a news outlet.
Ted Cruz, Sympathetic Figure
In the heat of Trump's early-2016 feud with Ted Cruz, the Texas senator's campaign ran an attack ad against Trump in South Carolina, before their upcoming primary. Trump's legal team sent Cruz a cease-and-desist letter, which Cruz called "one of the most remarkable letters I have ever read." The letter took issue with the ad's use of a 1999 clip of Trump on Meet the Press in which he said he was pro-choice, and accused the ad of being "not only completely disingenuous, but replete with lies, false, defamatory and destructive statements, and downright fabrications."
"I have to say, Mr. Trump, you have been threatening frivolous lawsuits your entire adult life," Cruz said to a South Carolina crowd while brandishing the letter. "Even in the annals of frivolous lawsuits, this takes the cake. So Donald, I would encourage you, if you want to file a lawsuit—challenging this ad, claiming it is defamation—file the lawsuit."
A deal gone sour
In July of 2016, Art of the Deal ghostwriter Tony Schwartz spoke to the New Yorker about his experience with Trump, and why his former subject would make a terrible president. The day the piece was published, Schwartz appeared on Good Morning America, where he distilled his sweeping disapproval of Trump for a TV audience. Soon thereafter, Schwartz received a cease-and-desists letter from Trump general counsel Jason D. Greenblatt.
The letter included all of the usual charges—"defamatory statements," "outright lies," "downright fabrications"—as well as the usual ridiculous demands. For Schwartz's transgressions, Greenblatt demanded that he write Trump a check for all royalty payments received since the book's publication, as well as his advance for writing the book. He also demanded that Schwartz provide a written statement retracting his claims, and "written assurances" that he would never speak ill of Trump in the future.
Pussy-grabbing damage control
There are plenty of reasons for Trump's vendeta against the "Failing New York Times." The biggest might be a story from October in which they spoke with two women who claimed Trump "touched them inappropriately." The allegations were particularly relevant in that it came less than a week after the Washington Post leaked audio of Trump bragging about sexual assault.
Trump's attorney Marc E. Kasowitz was ready with a cease-and-desist letter.
Nothing came of the threats, of course, although Trump is currently the president of the United States.
Read more from Newsweek.com:
- Trump labor nominee grilled on billionaire sex offender
- 5 key things to know about Trumpcare
- Freedom caucus could kill Trumpcare